Last week I shared my new addiction, Thai Iced Coffee and this week I decided to bring a Thai main dish that is a new favorite around here. This Pineapple Shrimp Fried Rice is so simple to put together and tastes even better than takeout.
And everyone in my family enjoyed it which is a miracle in and of itself. I would have preferred it with chicken as I'm not really a fan of seafood but everyone else is here so I took one for the team.
I've never used fish sauce in fried rice so I was a little worried as it can easily become overpowering. But have no fear, when combined with the soy sauce and a bit of butter it smooths out and is just right.
I was very tempted to switch out the Thai jasmine rice for brown rice since that's what I cook 95% of the time but I'm so glad I fought the urge and used the white stuff instead. It's so worth the splurge in my opinion. Fried rice just isn't the same with brown rice.
It's best to make fried rice with cold rice so if you think about it, make the rice the night before while you are prepping your meal for that day and you'll be set to make dinner tonight in a flash.
First we scramble and cook the eggs and after removing them from the wok, quick cook the shrimp. Empty the wok again and melt the butter and add the rice. Cook for a few minutes then add the rest of the ingredients (including the cooked eggs and shrimp) then cook another 2 to 3 minutes and dinner is served.
My favorite part of this meal is the presentation. It looks so fancy but is super easy to do. And if you have kids, it will go far in getting them to be excited to eat what you've cooked for dinner. I mean, who doesn't want to eat their dinner out of a pineapple boat?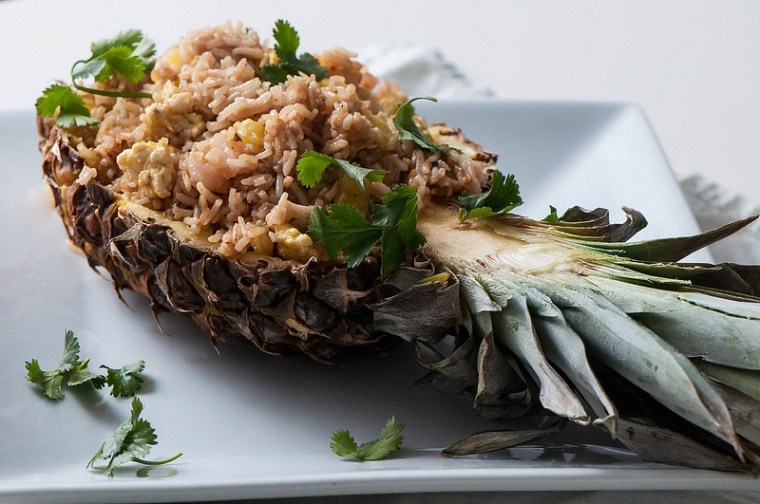 Pineapple Shrimp Fried Rice
2016-02-16 21:08:32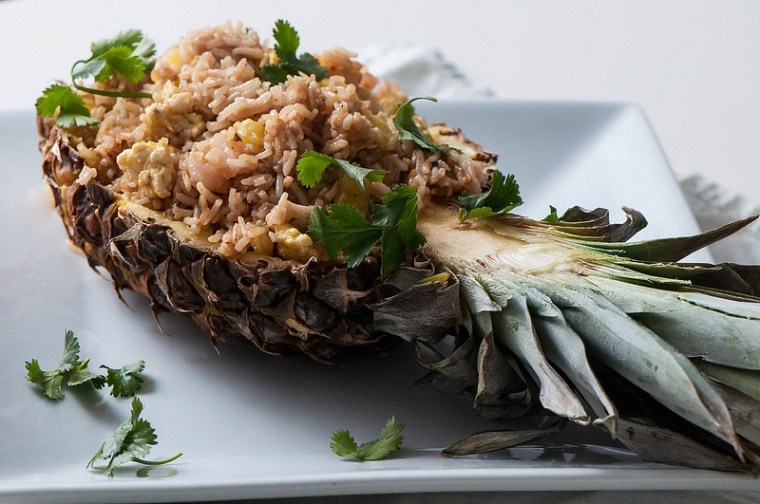 Ingredients
1 whole pineapple
3 large eggs, slightly scrambled
1 tsp. salt
pinch of black pepper
1 lb. raw shrimp, peeled, deveined and cut in half
2 Tbsp. canola oil, divided
1 garlic clove, grated
3 cups cooked Thai jasmine rice, cold
1 Tbsp. butter
2 Tbsp. soy sauce
2 Tbsp. fish sauce
1/2 cup frozen peas, thawed
Cilantro, for serving
Instructions
Cut pineapple in half and scoop out the insides. Discard core and dice pineapple into small, bite size chunks. Set aside.
Heat wok over medium high heat. Add 1 tablespoon of canola oil. Once hot, add eggs and season with 1/2 teaspoon salt and pepper. Cook, stirring constantly until done through but still moist. Transfer to a bowl and set aside.
Add remaining tablespoon of oil and add the shrimp and garlic. Cook for 2 to 3 minutes, or until cooked through. Transfer to the bowl with eggs.
Melt butter in the wok and add the rice. Stir so that all the rice is coated. Add remaining salt and more pepper to taste. Add soy sauce, fish sauce, eggs and shrimp and combine thoroughly. Cook for 2 to 3 minutes, or until heated through. Add peas and cook another minute.
To serve, mound rice into pineapple halves. Sprinkle with cilantro.
Adapted from
Everyday Thai Cooking
Adapted from
Everyday Thai Cooking
Meg's Everyday Indulgence https://www.megseverydayindulgence.com/