So, I'm sure you all have noticed something a little different. We did a major overhaul of the blog and I hope you all are liking the new, clean look. I still have a lot of ideas up my sleeve that I will slowly implement such as a gallery style recipe index that I'm really excited about! If you visited the site in the last few days you may have run into some errors but we're pretty sure everything is fixed so please let me know if you find any issues. I'm sorry for any trouble it may have caused.

If there's anything new you would like to see, suggest it! I'm always looking for fresh ideas. The new contact tab in the menu makes it super easy to drop me a line.
Ok, enough with the business talk and onto the recipe. I know some people love pumpkin and think it's never too early and I'm so one of those people. If you're on the other spectrum, sorry. Everywhere I turn, the pumpkin latte is back whether it's Starbucks or Dunkin or my favorite local coffee shop. I've shared my relatively new love for coffee before and at this time last year, I didn't drink coffee so I've never experienced pumpkin coffee.
Since it's been on my mind, I decided to create it at home. I'm also a huge smoothie drinker in the morning but that can get to be a lot of liquid so I figured I'd combine them for a deliciously seasonal breakfast coffee concoction, this Pumpkin Latte Smoothie. It was a good decision.


Don't be afraid of the bananas. They don't overpower the drink but instead lend a nice, thick and creamy texture. If you don't want a strong coffee taste, or use milk in your coffee, go ahead and add the milk in the recipe.
If you prefer coffee black, leave it out. This is officially my new favorite way to have my caffeine and breakfast all in one. Plus, all the pumpkin goodness. I'm so ready for fall!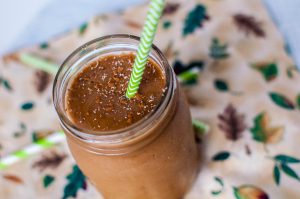 Pumpkin Latte Smoothie
2015-09-11 19:04:17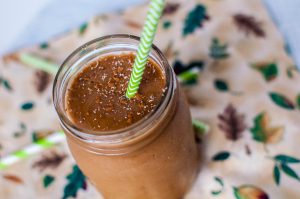 Serves 1
Ingredients
3/4 cup coffee, cold
2 bananas, frozen
3 Tbsp. pumpkin puree
3 Tbsp. milk, optional
1/4 tsp. cinnamon, plus more for sprinkling
pinch fresh nutmeg
1 Tbsp. vanilla
1 tsp. honey
Instructions
Place all ingredients in blender and blend until smooth. Sprinkle with additional cinnamon.
Meg's Everyday Indulgence https://www.megseverydayindulgence.com/