If there is a major carnivore in your life, stop everything you are doing and make this. They will pretty much love you forever and request it on any occasion celebrating them. Trust me, I know from experience.
This skillet is inspired by a diner that we used to frequent often when we lived in Fargo. It was a total hole-in-the-wall joint but don't those always end up being the best? The "Lotsa Meat Skillet" was the first and only item Joel ever ordered there and he misses it dearly.
So this year for Father's Day, I attempted a copycat version with much success.

As any good skillet should, it starts with a base of potatoes, shredded hash browns in this case. Then you top it with three different varieties of pig as you can see.
This isn't for the faint of heart…or those with high cholesterol.
It's then sprinkle with cheese and put under the broiler until it reaches melty perfection. Top it with a few over easy eggs and hollandaise sauce to complete the meat masterpiece. It's seriously intense and only for special occasions but oh so delicious.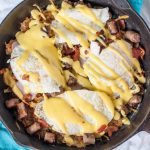 Print
Meat Lovers Skillet
Ingredients
15

oz.

frozen hash browns

2

Tbsp.

olive oil

1

Tbsp.

butter

4

slices

bacon, cooked and crumbled

6

links

breakfast sausage, cooked and cut into bite size pieces

5

slices

Canadian bacon, cut into bite size pieces

1/2

cup

grated sharp cheddar

4

eggs
For the Hollandaise:
4

egg yolks

1/2

Tbsp.

fresh lemon juice

1/2

cup

butter, melted

Pinch of

salt
Instructions
Preheat broiler. Heat large skillet (preferably cast iron) over medium high heat. Add olive oil and butter. Pour hash browns into pan and press down. Cook for 5-6 minutes, until golden and crispy. Carefully flip and cook until other side is golden.

Meanwhile, prepare the hollandaise sauce. Vigorously whisk the egg yolks and lemon juice together in a stainless steel bowl until the mixture is thickened and doubled in volume. Place the bowl over a saucepan containing barely simmering water (make sure the water does not touch the bottom of the bowl). Continue to whisk rapidly. Be careful not to let the eggs get too hot or they will scramble. Slowly drizzle in the melted butter and continue to whisk until the sauce is thickened and doubled in volume. Remove from heat and whisk in the salt. Cover and place in a warm spot until ready to use. If the sauce gets too thick, whisk in a few drops of warm water before serving.

Layer the hash browns with bacon, sausage and Canadian bacon. Sprinkle with cheese. Place under broiler until cheese has melted. Meanwhile, cook 4 eggs over easy (or to your preference). Top skillet with eggs and drizzle with desired amount of hollandaise sauce. Cut into wedges and serve.