Now that the weather is finally getting bearable, I have grilling and cookouts on my mind. Basically, my favorite part of summer.
There's nothing better than getting together with family and friends, throwing some burgers and corn on the grill and some cool refreshing salads. Well, baked beans make any barbeque better.
These are our favorite recipe but I decided to change it up a bit and try something a little different recently. Joel grew up on those baked beans so he was very leery of something new and I have to say he didn't totally embrace them but I thought they were a nice change of pace.
This recipe is definitely more on the smoky side of things versus the super sweet version we're used to gobbling down. That is due to the fact that barbecue is used, in addition to other ingredients, to make the sauce.
It adds some extra flavor and zing and it makes these beans customizable depending on your taste. If you're a KC BBQ fan like us, use your favorite sweet sauce (this is what we love) or if you like it spicy go that route. It's all up to you and the sauce you choose really dictates the direction of these beans.
I'm kind of cursing myself right now because the thing I've been craving the most since going vegetarian for Lent is a big, juice bacon cheeseburger. And now I can't stop thinking about them.
That would be so good right now with a side of these beans and some cucumber salad. How many more days until Easter? And is it appropriate to have a burger for breakfast that morning?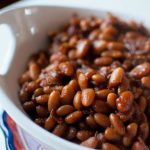 Print
Bacon and Brown Sugar Baked Beans
Bacon and Brown Sugar Baked Beans are perfect for potlucks, picnics and barbecues.
Ingredients
1/2

lb.

thick-cut bacon, cut into small pieces

1

large

yellow onion, finely chopped

3/4

cup

barbecue sauce

1/2

cup

brown sugar

2

Tbsp.

ketchup

2

Tbsp.

yellow mustard

3

15 oz. cans

white beans, drained and rinsed

1/2

cup

chicken stock

Salt and pepper to taste
Instructions
Heat a skillet over medium-high heat. Add bacon and onion and cook until crispy. Drain on paper towel.

Add all ingredients to the slow cooker and stir well. Cook on low for 4 to 6 hours, stirring occasionally.