This Loaded Broccoli Cheese Soup totally ups the ante. Cheesy broth, broccoli, potatoes, carrots and bacon make up this warm and filling soup.
It seems like people fall into two categories when it comes to soup, love it or hate it. My boys both moan and groan when they find out we're having soup for dinner. It doesn't matter what kind, they still complain. The grown one says it's not filling enough. The little says it's too hot (even when I ladle it out 15 minutes before everyone else's).
Hannah and myself on the other hand love soup. But Hannah will eat anything so I guess that's not too much of a feat. Seriously, anything. She was begging for a snitch when I was preparing this so I gave her a bit of raw onion to see what she would do. She ate it and opened her mouth for more.
Do you guys know what "snitch" means when in the kitchen? It's a little bite or sample of something while you're cooking. I was talking to one of the babysitters where I work out and was telling her how if we ask Hannah if she wants a snitch she comes running to the kitchen with her mouth open.
She's really starting to understand what we're telling her and reacting so I thought it was really funny that one of the first things she truly understands is related to eating. The babysitter just looked at me, confused. I thought this was a common thing but maybe it just was in my family. I don't know, it should totally be a thing if it's not.
Broccoli cheese soup and potato soup are my two favorites and this recipe combines the two into perfection. Cheese, broccoli, potatoes, bacon, can't get much better than that.
This soup is loaded with veggies which makes it super filling but if your people are still complaining, give them a pretzel stick to carb load. They are pretty heavenly when dipped in this soup.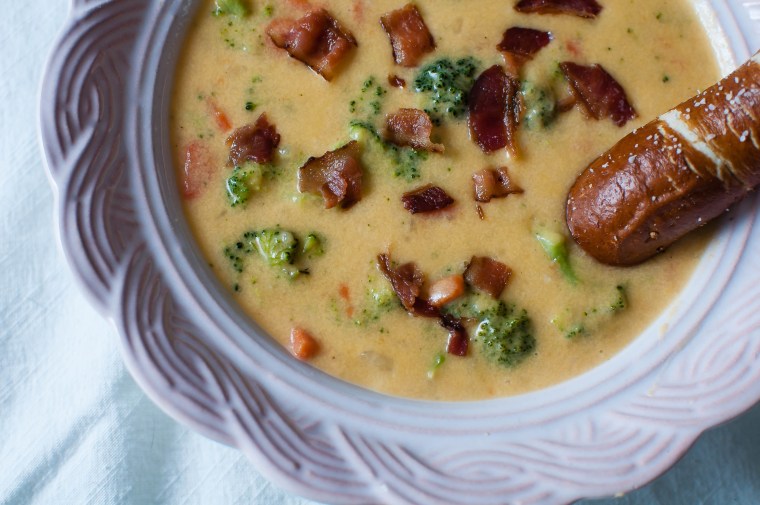 Loaded Broccoli Cheese Soup
2016-02-26 19:09:52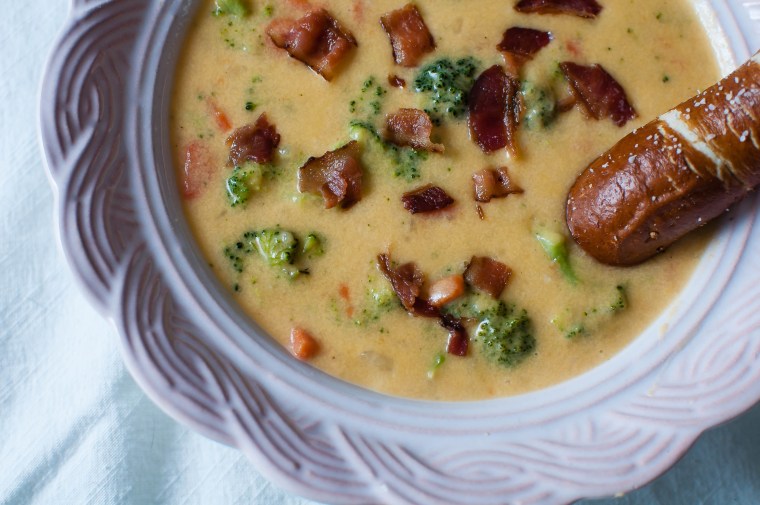 Ingredients
3 cups chicken stock
1 cup peeled and chopped carrots, diced small
3 cups potatoes, diced small
1/2 cup finely minced onion
4-5 cups broccoli crowns, diced small (about 2 heads of broccoli)
4-6 slices bacon, cooked and crumbled
3 tablespoons butter
1/3 cup flour
3 cups milk (I used half Vitamin D, half skim)
4 cups shredded sharp cheddar cheese (about 16 ounces)
1 teaspoon salt
1/2 teaspoon pepper
1 teaspoon dried mustard
Instructions
In a dutch oven, combine the chicken broth, carrots, potatoes and onions. Bring to a boil then cover and simmer for about 10 minutes, or until veggies are starting to soften. Add the broccoli and cook another 10 minutes.
Meanwhile in a separate saucepan, melt the butter then sprinkle in the flour. Stir and cook for a minute then slowly add in the milk, whisking the whole time. Simmer until it thickens. Take off the heat and stir in the cheese until melted. Season with salt, pepper and dried mustard.
Slowly stir and incorporate the cheese sauce into the broth/veggie mixture. Make sure it is combined well then stir in the bacon. If you prefer a thinner soup, you may stir in a bit more broth or milk until you reach the desired consistency.
Adapted from Mel's Kitchen Cafe
Meg's Everyday Indulgence https://www.megseverydayindulgence.com/