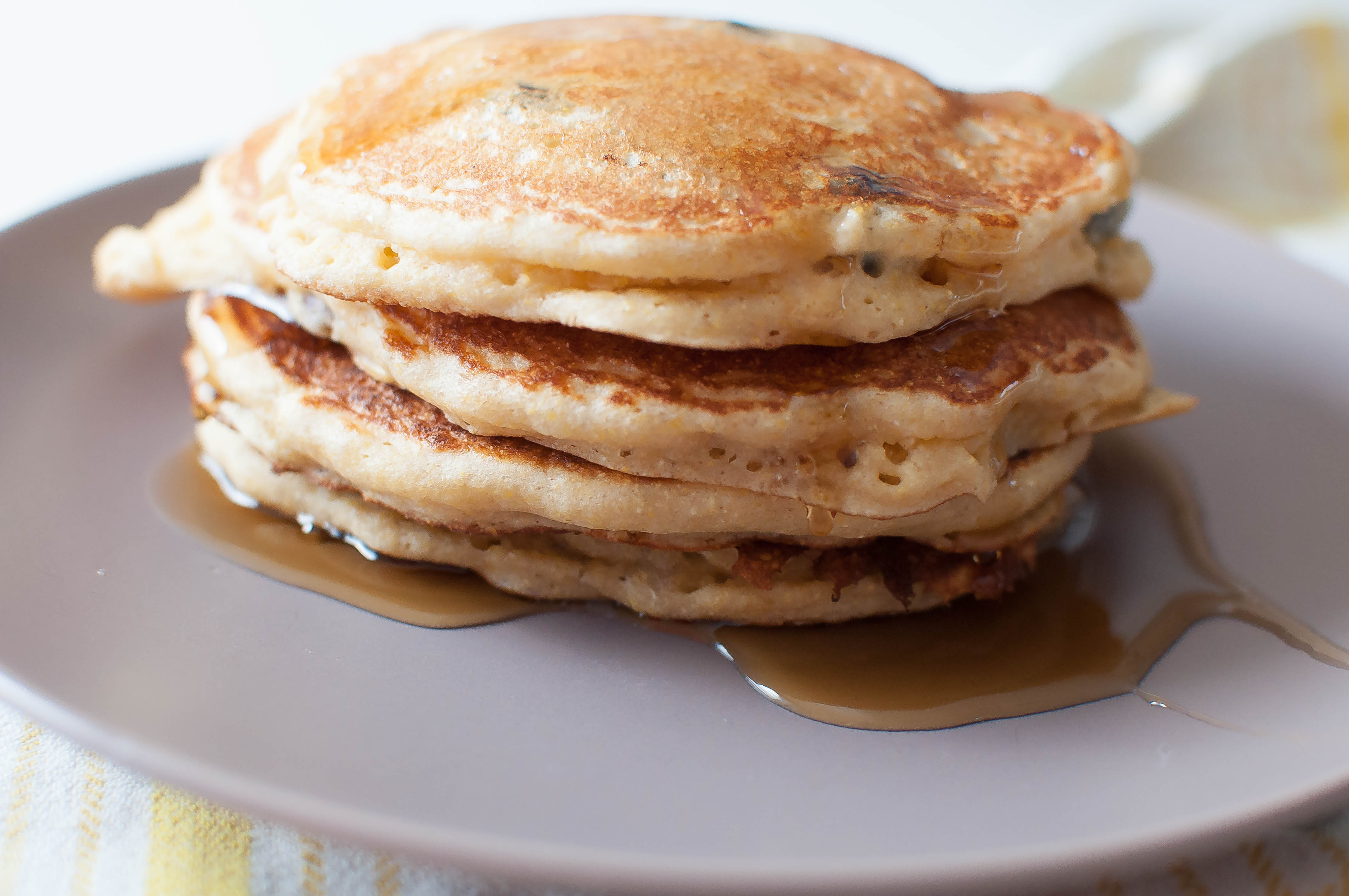 I have another recipe from The Skinnytaste Cookbook to share today. When I get a new cookbook, I flag the must try recipes with little sticky notes and this was one that jumped out at me. So we tried it right away naturally.
We really enjoy pancakes on a lazy Saturday morning but I've found that it's really hard to make a yummy tasting pancake that's healthy too. We've had some serious fails but I don't have to look any further now.
I just love the flavor and texture that the cornmeal lends to the pancakes. The ingredients are approachable and you most likely have them all in your house already yet they combine to create a such a fancy and unique pancake.

My whole philosophy behind this blog is just what these pancakes prove. You can take normal, affordable ingredients and turn them into something special. Love it!
And just think about the other mix ins that would be tasty in these. Swap out the blueberries for chocolate chips and a sprinkle of cinnamon or diced strawberries. These pancakes are definitely a new breakfast favorite. So much so that I'm doubling the recipe next time and freezing half for easy, healthy breakfasts on school days. Can't beat that.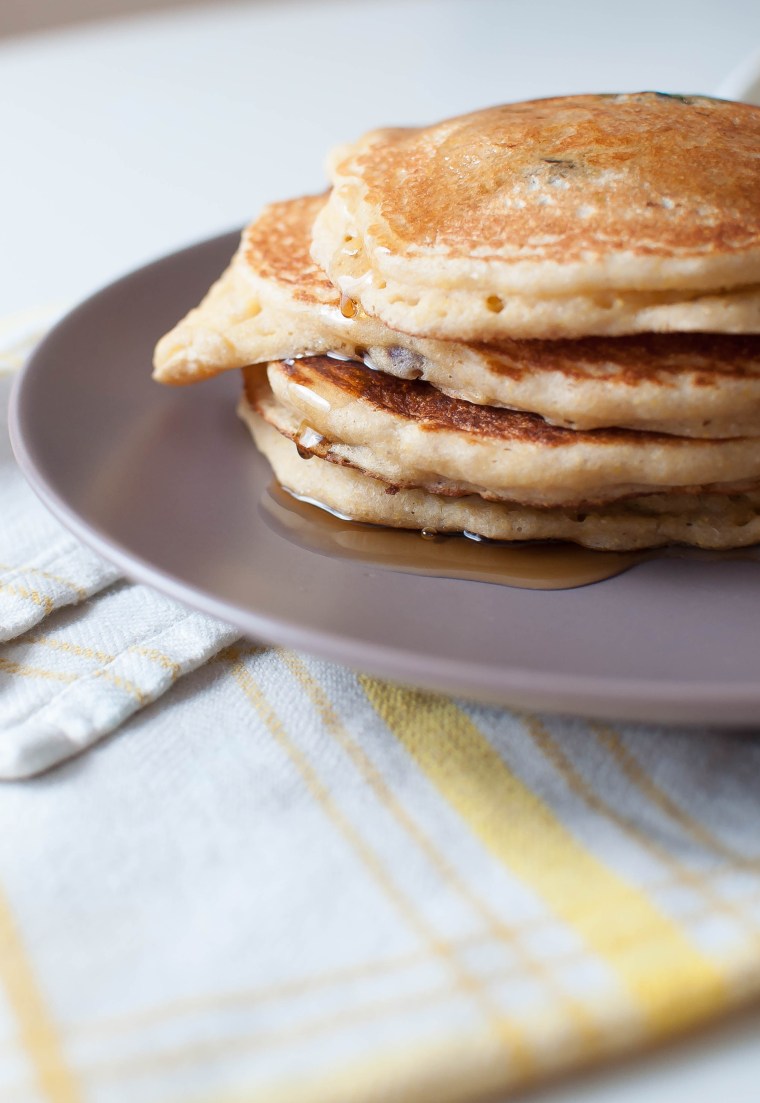 Corny Banana Blueberry Pancakes
2015-10-02 01:31:11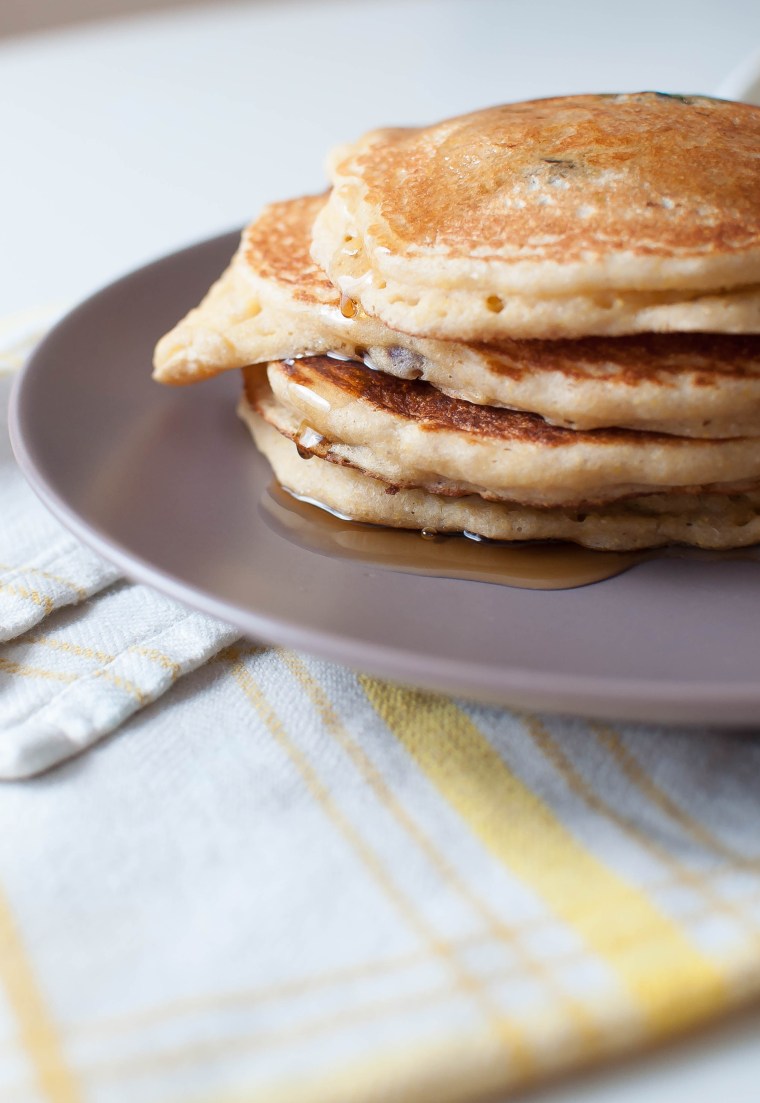 Ingredients
3/4 cup white whole wheat flour
1/2 cup fine ground cornmeal
2 tsp. baking powder
1/4 tsp. kosher salt
1 large ripe banana, mashed
1 cup plus 2 Tbsp. low-fat buttermilk
3 large egg whites
2 tsp. canola oil
1 tsp. vanilla extract
1 cup blueberries
Cooking spray
Maple syrup, for serving
Instructions
In a large bowl, whisk together the flour, cornmeal, baking powder and salt.
In another bowl, mix the banana, buttermilk, egg whites, oil and vanilla.
Add the dry mixture to the banana mixture and stir until just moist. Be sure not to overmix as to keep them light and fluffy. Gently fold in the blueberries.
Heat a large griddle over medium-low heat. When hot, lightly spray with oil.
Scoop out 1/3 cup of batter for each pancake and cook until it starts to set and is golden on the bottom, about 3 minutes. Flip the pancake and cook again until golden brown, another 2 minutes. Repeat with remaining batter. Serve with maple syrup.
Meg's Everyday Indulgence https://www.megseverydayindulgence.com/