I always have an ongoing list of cookbooks I want to add to my "collection." I haven't counted but I'm sure I already have close to 30 and have officially run out of space to store them in my kitchen. So rather than get rid of some, or stop buying more, I add this Ikea cart to my dining room for storage #cookbookproblems.

It's research and inspiration I tell you…or at least that's what I tell Joel. I'm not sure he's falling for it though.
This year, my cookbook wish list consisted of all food blogger cookbooks recently released and I got them all, yay! I'm very excited to cook out of all them but I was especially motivated by The Skinnytaste Cookbook with the new year and eating healthy and all that. Don't worry Seriously Delish by Jessica Merchant (have you seen her baby, so stinkin' cute), Homemade Decadence by Joy the Baker and The Girl Who Ate Everything by Christy Denney will get plenty of use too!
Do you sit and read cookbooks or is it just me? I spent hours perusing through them, flagging recipes and making a grocery list so that all the deliciousness could come to my kitchen.
We love brinner around here (breakfast for dinner) so I decided to try this Chicken Sausage Frittata first. The original recipe calls for kale but the kale didn't look so great at the store so I decided to add in some broccoli instead.
Spinach would be a great alternative but I knew broccoli would go over better in my house.
This frittata is lightened up with egg whites, chicken sausage and a healthy dose of veggies. It would be a great way to start off your day or a filling way to end it.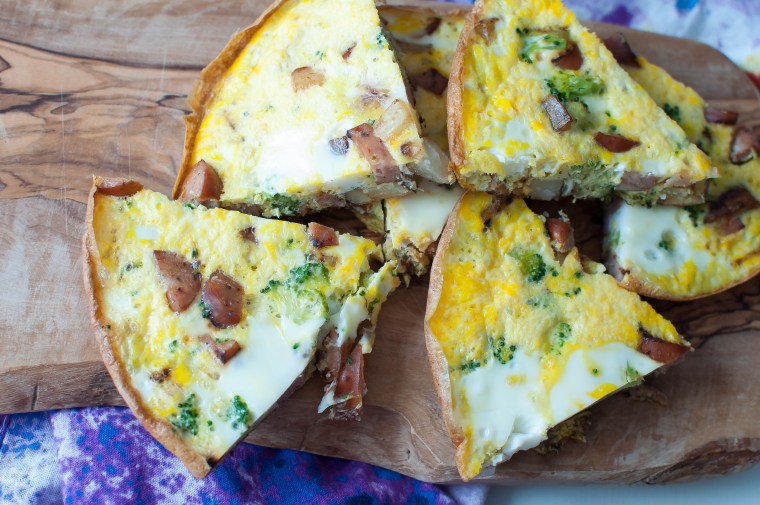 Chicken Sausage, Broccoli and Potato Frittata
2016-02-26 19:27:15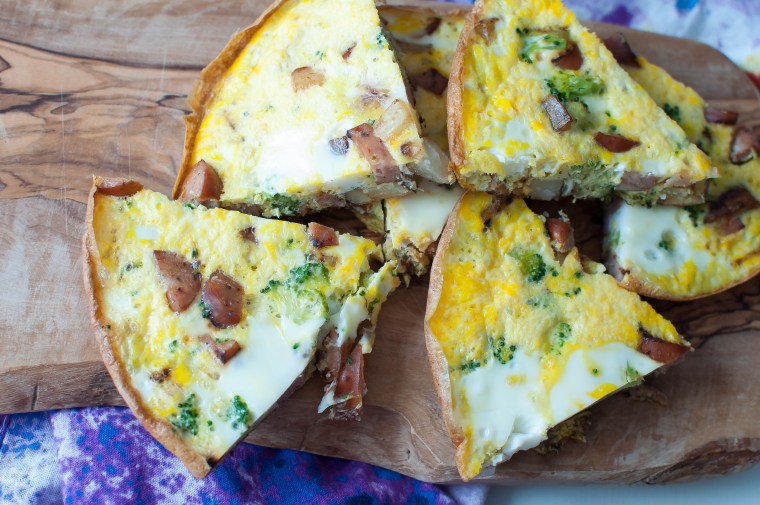 Ingredients
5 large eggs
3 large egg whites
2 Tbsp. grated Romano cheese
Kosher salt
Freshly ground black pepper
6 oz. fully cooked Italian chicken sausage, cut into half moons
1 cup broccoli florets, finely chopped
10 oz. Yukon gold potatoes, diced into 1/2-inch pieces
1/8 tsp. garlic powder
1/8 tsp. paprika
Grape seed oil spray*
Instructions
Preheat oven to 400 degrees F. Whisk eggs, egg whites, Romano cheese and a pinch of salt and pepper together in a bowl. Set aside.
Heat a 10-inch skillet over medium heat (ensure that it is oven safe). Add a spritz of grape seed oil then add the sausage and broccoli. Cook for a few minutes, or until browned. Transfer to a plate.
Add another spritz of grape seed oil then place potatoes in pan in a single layer. Cook for 5 minutes with the lid on then carefully flip, cover and cook another 5 minutes or until brown and crispy. Add the sausage and broccoli and stir to combine everything. Pour the egg mixture into the pan, reduce heat to low and cook for about 6 minutes, or until edges are set.
Transfer pan to oven and bake until the frittata is set, 8 to 10 minutes. Remove from the oven and carefully slide the frittata onto a plate. Cut into 6 wedges and serve.
Notes
*Located with the nonstick cooking sprays. If you can't find it, you can use 2 tsp. olive or grape seed oil instead.
Adapted from
The Skinnytaste Cookbook
Adapted from
The Skinnytaste Cookbook
Meg's Everyday Indulgence https://www.megseverydayindulgence.com/