Thought you guys would like to know that my computer is back up and running! Yay! I'm pretty sure that was the longest week of my life (dramatic much?). I was getting a bit worried because our Lake of the Ozarks trip is coming up this weekend and I had a lot of new meals ideas/recipes saved on my laptop to try out while we are there.
Luckily, my dad saved the day with an extra charger that did the trick. Speaking of next week….
The 4th of July, my favorite holiday, is totally sneaking up on me. I kind of went into a panic the other day when I realized I didn't have any patriotic treats to share with you all yet.
So I got to thinking about everything I love about the holiday. Celebrating our freedom is wonderful but the fireworks totally put it over the top for me! I'm a pyro at heart and fire gives me great joy.


And what makes fireworks even better? Well, a strawberry daiquiri but since that can't happen this year how about some Patriotic Pudding Pops? They are perfect on these hot summer nights.
These pudding pops are incredibly easy to put together and are sure to impress. Instant pudding is mixed up, colored and layered in between fun patriotic sprinkles to make a treat that is sure to please both young and old.
And how cute are those paper straws? Noah and I were able to take care of a batch of these on our own in record time. He kind of went to town on them.


When I told him he had a blue tongue, he had to go the the bathroom mirror right away to check it out.


We will definitely be whipping these up in all kinds of flavor combinations throughout the summer. I'm thinking mix up two different kinds of puddings then layer….mmmm the possibilities!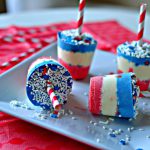 Print
Patriotic Pudding Pops
These red, white and blue Patriotic Pudding Pops are a super fun treat for the 4th of July. Super easy and lots of fun for the kids to make.
Ingredients
3.4

oz.

pudding mix (vanilla, white chocolate, coconut cream, cheesecake)

2

cups

milk

Red and blue food coloring (preferably gels)

2.5

oz.

patriotic sprinkles

Popsicle sticks or paper straws cut in half

Small paper cups or popsicle molds
Instructions
Combine pudding mix and milk according to package directions. Divide equally into three bowls. Tint one bowl red and one bowl blue. I used coconut cream and it was a yellowy color so I added some white coloring to brighten it up.

Equally divide the red pudding among the paper cups or popsicle molds (I used cups and got 7 out of this recipe). Top with sprinkles. Repeat with white pudding and more sprinkles. Lastly, top with blue pudding and remaining sprinkles. Place sticks or paper straws in the middle of the cups. Place in the freezer until hardened. Enjoy!