Have you ever done something that you immediately regret? I am usually a pretty cautious person and think things through but lately I've been having some blonde moments. I call pregnancy brain. It's not been anything major but just enough to make me slap my head and think "well that was dumb."
I totally had one of those moments when making this sauce. Who in the world thinks wearing a white shirt while making a tomato pepperoni sauce is a good idea? Apparently me. And it will surely end in tragedy. I even thought as I was pouring the sauce into my food processor "I better be careful otherwise I am going to splat…" and it was done….all over my shirt.
The pasta needed to be drained and the sauce smooth-ified so I kept on working. What are you gonna do? And just and FYI, Oxyclean gets this out of clothing. Ya know, in case you may possibly encounter the same problem.
Moral of the story, wear an apron. And make this sauce, because it's worth any stain you may encounter.


I would have never thought of adding pepperoni to a tomato sauce and pureeing it but I am so glad I stumbled upon the idea. It's spicy and has a fennel punch. The recipe is from the Bravo show Top Chef and it's definitely worthy.
I love the spiciness that the pepperoni lends to the sauce and the addition of fennel really puts it over the top. I love fennel so I doubled the amount and it was just perfect. I also bumped down the red pepper flakes since, as you know, I live with a big wimp (who I love dearly) who can't handle the heat.
Noah even likes things spicier…that's my boy. So, adjust the spices as you prefer.
If this was healthier, I would eat it once a week. So unique and delish!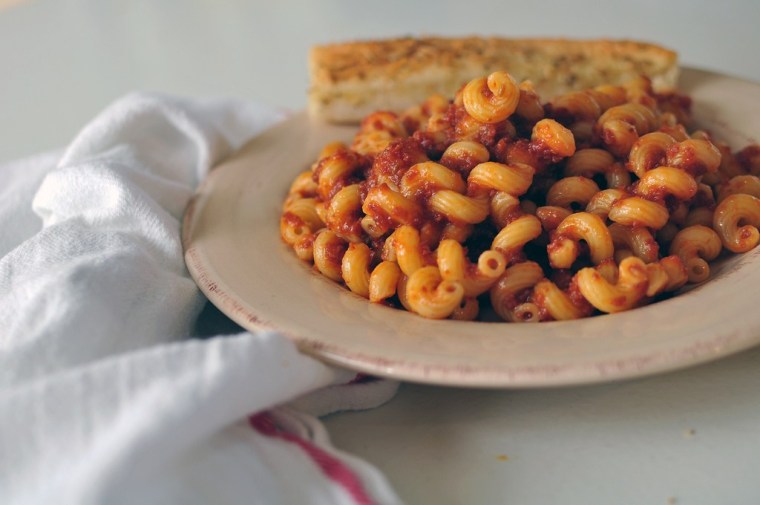 Pepperoni Sauce
2016-03-30 11:54:10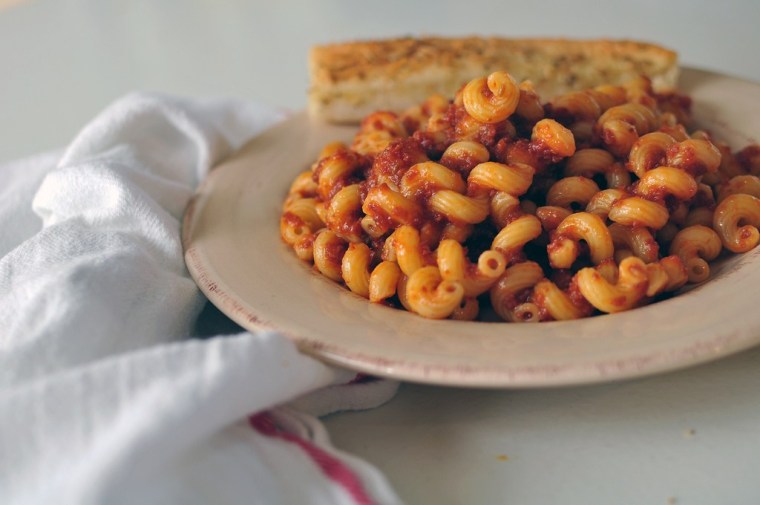 Ingredients
6 Tbsp. extra-virgin olive oil
1 small onion, finely diced
5 medium cloves garlic, minced
1/2 lb. pepperoni, cut into thin slices
2 tsp. fennel seed, toasted
1/2 - 1 tsp. crushed red pepper flakes
14 oz. canned Italian tomatoes, chopped, with their juices
1 1/2 cups low-sodium chicken broth
1 fresh bay leaf
Parmesan, for topping, optional
Instructions
In a dry skillet heated to medium, toast the fennel seed making sure to constantly move them around. Once they slightly darken and become fragrant they are ready. Remove from the pan.
In a large, heavy bottomed skillet (I used the same as the one used to toast the fennel), heat olive oil over medium heat. Saute onions and garlic until softened and caramelization begins, 5-10 minutes.
Stir in the pepperoni and cook for another 5 minutes. Stir in fennel and red pepper flakes and cook for 1 minute.
Stir in the tomatoes, chicken broth and bay leaf to the pepperoni mixture. Bring to a simmer and cook, covered, for 45 minutes. Stir the sauce occasionally.
Remove the skillet from heat and fish out the bay leaf. Place sauce, you may need to do this in batches, into your food processor or blender and process until smooth. Serve over hot cooked pasta. Sprinkle with parmesan if you wish.
Adapted from Cassie Craves
Meg's Everyday Indulgence https://www.megseverydayindulgence.com/