So, I know I have already shared a couple cucumber salad recipes with you all (here and here) but Noah and I are big cucumber fans and we go through quite a few every week.
Because of this, we are always looking for new ways to eat them and this Cucumber Tomato Salad is our current favorite. My mom whipped this up one night when we were over for dinner and it was amazing and so simple to make.
And the ingredients are ones I almost always have on hand. I don't think I have to tell you how much I love those kinds of recipes!
The recipe recommends making this two hours before you are going to serve it but I think it is soo much better the next day so if you have the time, mix it up the night before so that it has time to marinate and soak up the delicious dressing.


This is going to be my official summer side dish. Delish!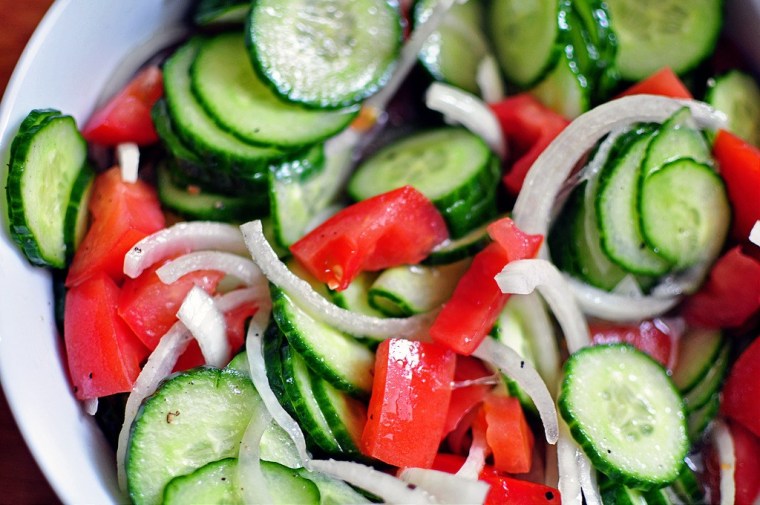 Cucumber Tomato Salad
2015-10-01 18:37:31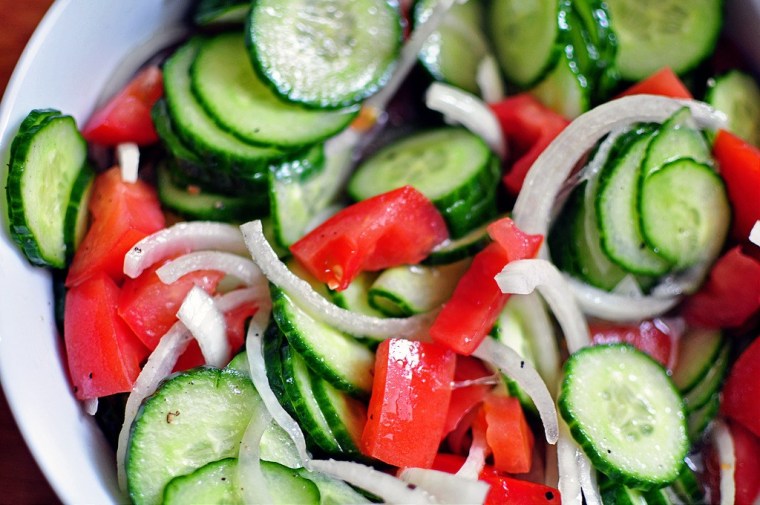 Ingredients
3 English cucumbers, washed and thinly sliced
3 medium tomatoes, washed and diced into bite size chunks
1 medium onion, thinly sliced
1/2 cup vinegar (I used plain 'ole white but red wine vinegar would be really tasty too)
1/4 cup sugar
1 cup water
1/4 cup oil (veggie or canola)
2 tsp. salt
1 tsp. course ground pepper
Instructions
Place cucumbers, tomatoes and onions in a medium sized bowl. Add vinegar, sugar, water, oil, salt and pepper to a mason jar or some container with a tight seal. Shake until thoroughly combined. Pour over veggies and stir to combine. Refrigerate for at least 2 hours (preferably overnight) before serving.
Meg's Everyday Indulgence https://www.megseverydayindulgence.com/