My dad doesn't like cheese. Seriously, it's lucky I love him because otherwise he would have to be disowned. Who doesn't like cheese? I truly don't understand what would cause such a thing? I totally get people not liking blue cheese or gorgonzola. Those are strong cheeses and a bit too much sometimes. But cheddar, mozzarella, gouda….I can't fathom a life without them!
Cheese is pretty much it's own food group in our house. So when I saw this 5 Cheese Pasta Bake, I knew it would have to grace our table.

This was a great weeknight meal as it was easy to throw together and has a quick cooking time. The boys loved it because, well, there are five cheeses. That was a no-brainer for them. I thought it was yummy and cheesy but it lacked a bit of flavor for me.
Next time I would definitely switch out the Swiss or provolone for sharp cheddar for a bit more of punch (they aren't my favorite cheeses anyway so I wouldn't miss them). I also think some cayenne would be nice if you don't have a bunch of wimps in your house like I do.
It's definitely a calorie-buster but would be worth it when you are craving some warm, cheesy, ooey-gooey pasta.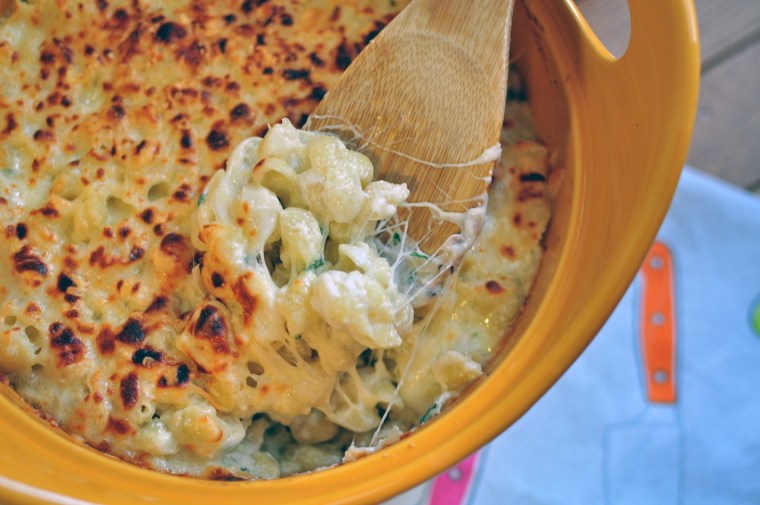 5 Cheese Pasta Bake
2016-03-28 18:45:53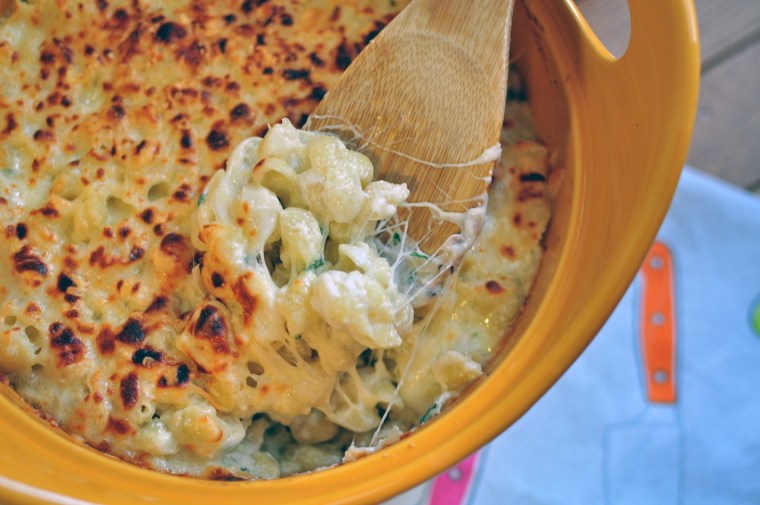 Ingredients
1 pkg. (16 oz) elbow noodles or other small pasta
1 cup mozzarella, shredded
1 cup swiss, shredded
1 cup Parmesan, shredded
1 cup provolone, shredded
1/2 cup ricotta (I used part-skim)
1/2 cup sour cream (I used light)
1/2 cup heavy cream
1 Tbsp. fresh parsley, chopped
1/2 tsp. dried Italian seasoning
1 tsp. garlic salt
1 tsp. black pepper
Instructions
Preheat the oven to 400 degrees F. Lightly grease a 9x13 inch baking dish. Bring a large pot of lightly salted water to a boil. Add macaroni, and cook until tender, 6 to 8 minutes. Drain.
In a large bowl, toss together the mozzarella cheese, Swiss cheese, Parmesan cheese and Provolone cheese. Remove about 1/2 cup for topping and set aside. In a separate bowl, stir together the ricotta cheese, sour cream and heavy cream. Season with parsley, Italian seasoning, pepper and garlic salt.
Pour the ricotta cheese mixture and drained macaroni into the bowl with the cheeses and toss lightly. Do not mix too thoroughly, it's better left messy. Pour into the prepared baking dish. Sprinkle the reserved cheese over the top.
Bake in the preheated oven until cheese is melted, about 10 minutes, then turn the oven to broil. Broil for 3-5 minutes to brown the top (keep a close eye so it doesn't burn).
Meg's Everyday Indulgence https://www.megseverydayindulgence.com/