Besides cucumber dip, this Baked Spinach Dip is my absolute favorite dip/appetizer EVER. And it's obviously healthy since cream cheese, bacon, mayo, cheddar cheese, spinach is such a prominent ingredient. Duh. How could you go wrong with that list of ingredients?
It's really one of those things you indulge in rarely, but when you do it's totally worth every.single.calorie.
You can bake this dip in a bread bowl or baking dish or you can throw it in the crock pot on low a few hours before serving. I have made it all three ways and I have to say my favorite is when it's just in a baking dish. It seems to get more melted and gooey that way which is always a good thing in my opinion.


If I am making this for a party where people will be eating over the course of a few hours, I either put it in the crock pot after all the ingredients have been mixed up (like stated above) or bake it in a dish then put it in the crock pot on warm.
This dip almost always graces our football gatherings…it's kind of become a requirement and expectation.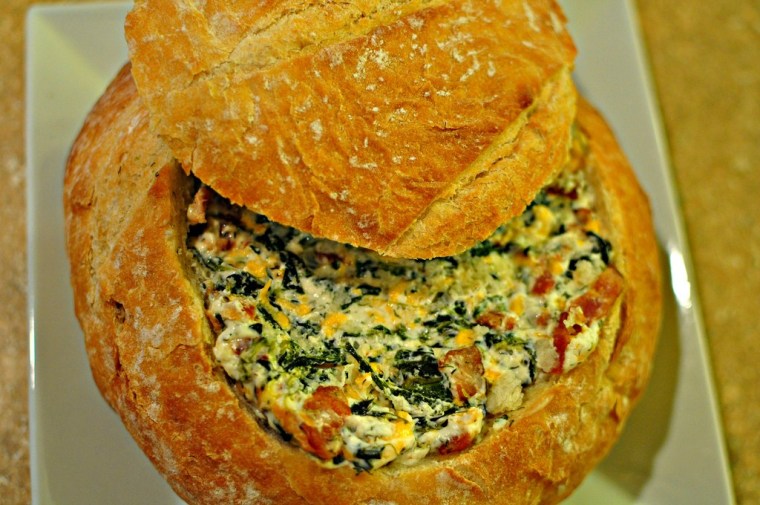 Baked Spinach Dip
2016-03-22 02:43:56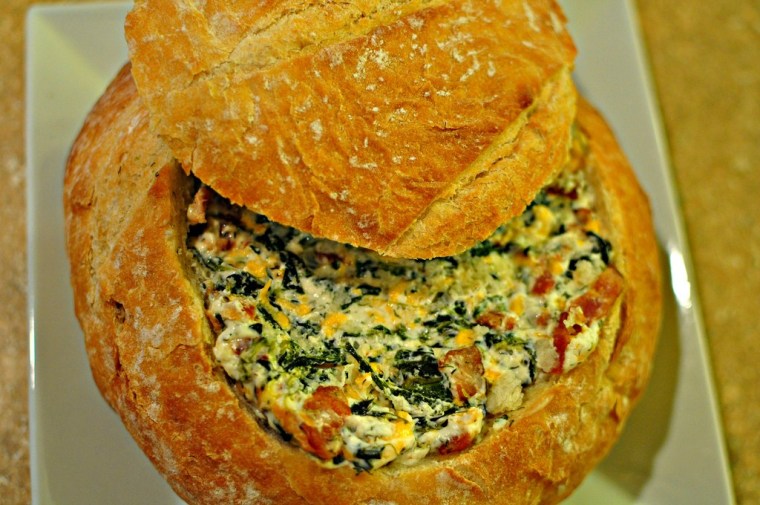 Ingredients
2 pkgs. (8 oz. each) cream cheese, softened (I use 1/3 less fat)
1 cup mayonnaise (I use the reduced fat olive oil kind)
1 pkg. (10 oz.) frozen chopped spinach, thawed and squeezed dry*
1 cup (4 0z.) shredded cheddar cheese
1 lb. bacon, cooked and crumbled
1/4 cup onion, finely chopped
1 Tbsp. dill weed
1 to 2 garlic cloves, finely minced
1 round loaf (1 lb.) unsliced sourdough bread
Assorted fresh vegetables
Tortilla chips
Instructions
In a large mixing bowl, beat the cream cheese and may until blended (I sometimes use my food processor for this to make quicker work of it). Stir in spinach, cheese, bacon, onion, dill and garlic; set aside. This can be made ahead of time and refrigerated until it's time to bake.
Cut a 1 1/2-in. slice off top of bread; set aside. Carefully hollow out bottom, leaving a 1/2-in. shell. Cube removed bread and place on a baking sheet. Broil 3-4 in. from the heat for 1-2 minutes or until golden brown; set aside.
Fill bread shell with spinach dip; replace top. Place any dip that doesn't fit in the shell in a greased baking dish. Wrap bread in a large piece of foil. Place on a baking sheet.
Bake at 350 degrees F for 1 hour or until dip is heated through. Cover and bake additional dip for 40-50 minutes or until heated through. Open foil carefully. Serve dip warm with veggies, reserved bread cubes and tortilla chips.
Notes
*Make sure it is really dry! After it is thawed, I put it in a kitchen towel and squeeze the heck out of it until no more liquid drips through the towel (sometimes I go through two towels). I didn't dry it enough once and a weird green liquid collected on the top of the dip. It tasted fine but looked quite unappetizing.
Adapted from
The New Appetizer: The Best Recipes for Today's Party Starters
Adapted from
The New Appetizer: The Best Recipes for Today's Party Starters
Meg's Everyday Indulgence https://www.megseverydayindulgence.com/