For some reason, English muffin pizza's seem nostalgic to me. I don't particularly remember eating them a lot as a kid but they still bring me back.
Anyway, we eat pizza a lot around here….Sunday night has been deemed pizza night for quite a few years now. So, needless to say, I am always trying to think of ways to mix it up. Two of our favorites, Cheesesteak Pizza and Buffalo Chicken Pizza, have been featured here and are eaten on a lot of Sundays.
By looking at the ingredients, you tell that these are calorie busters and since we have been trying to eat healthier I thought I would revamp the buffalo chicken into a more waistline friendly version. And although it contains many of the same ingredients, the English muffin element creates variety in this Buffalo Chicken English Muffin Pizza.


These come together very quickly and require a small amount of ingredients making them a great weeknight meal option. The whole grain English muffins and shredded chicken fill you up without consuming too many calories.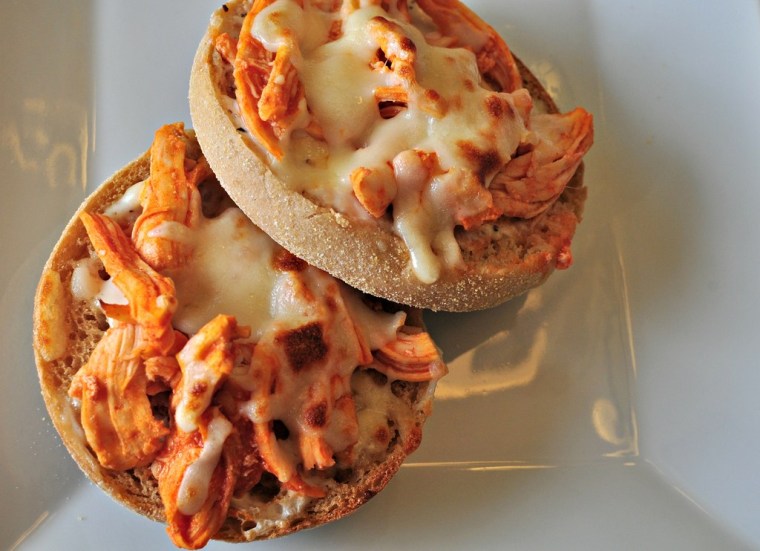 Buffalo Chicken English Muffin Pizza
2016-03-23 12:27:13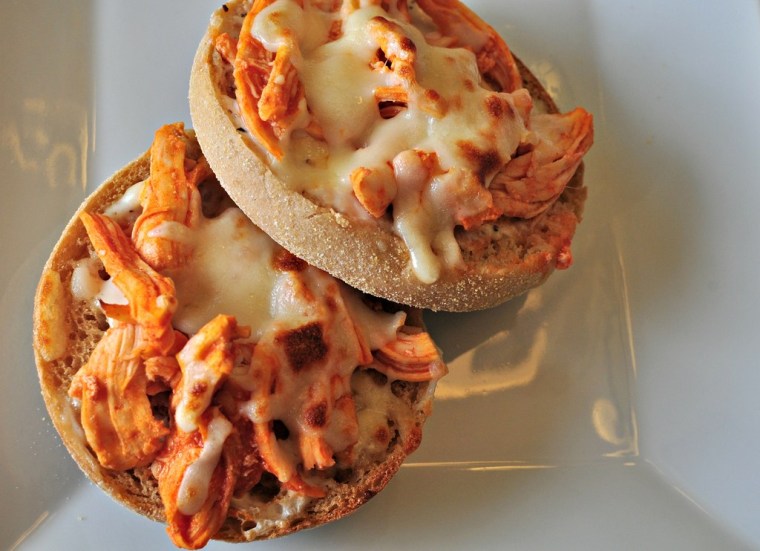 Serves 4
Ingredients
4 whole grain English muffins
2 cups shredded chicken breast (about 2 large boneless, skinless breasts)
1/4 cup buffalo sauce
4 Tbsp. light ranch
1 cup mozzarella, shredded
Instructions
Preheat broiler. Slice English muffins in half and lay cut side up on a pizza stone or cookie sheet. Spread 1 1/2 tsp. ranch on each muffin half.
Combine shredded chicken and buffalo sauce in a small bowl. Divide chicken mixture evenly among the muffins. Top each with 1/8 cup mozzarella. Place under broiler for 4-5 minutes, keeping a close eye on them so they don't burn.
Meg's Everyday Indulgence https://www.megseverydayindulgence.com/