Ever since I was a child I have loved Catalina dressing. Like a dip my chicken nuggets in Catalina while other normal kids dipped in ketchup kind of love. I even liked to drizzle a little on my cottage cheese.
Strange, I know. I still love it today, but just on my salad (although I may just have to try the cottage cheese thing again).
So when I saw this Catalina Taco Salad I knew I had to try it. The salt and crunch of the fritos is a nice contrast to the rest of the salad. Every salad needs a crunch in my opinion. And the warm ground beef makes it extra yummy and filling.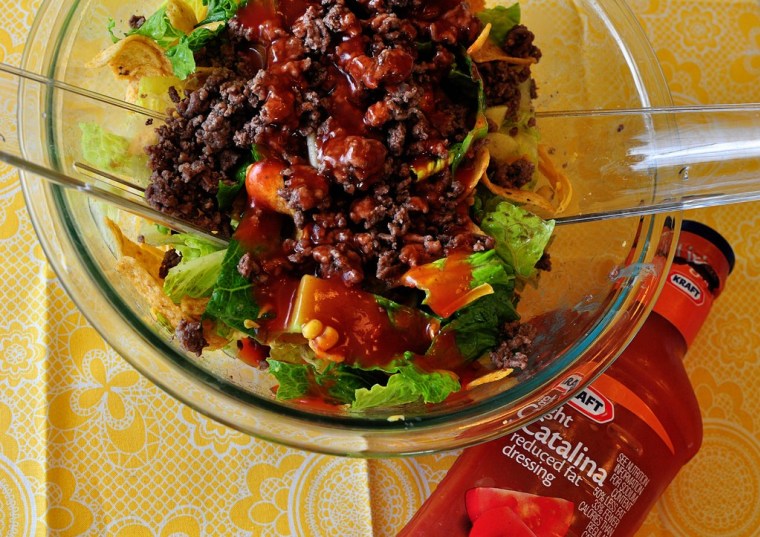 Catalina Taco Salad
2016-03-21 15:45:44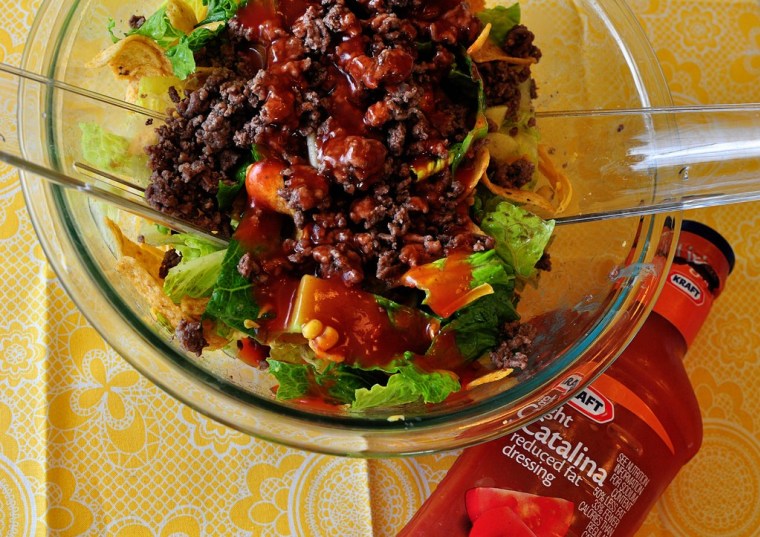 Ingredients
8 cups torn romaine lettuce or lettuce blend
1 ½ pounds ground beef
2 cups grated cheddar cheese
1 (15 ounce) can black beans, rinsed & drained thoroughly
1 (15 ounce) can corn, drained thoroughly
1 cup cherry tomatoes halved
1 bunch green onions, sliced
1/2 English cucumber, peeled and thinly sliced into half moons
1 (14 ounce) bag Fritos corn chips
1 (24 ounce) bottle Catalina salad dressing
Instructions
In a large skillet, cook beef over medium heat until no longer pink; drain. Set aside and cool slightly while preparing other ingredients.
In a very large serving bowl, combine lettuce, grated cheese, beans, tomatoes, olives, and onions. Toss gently to blend.
Just before serving, add cooked ground beef and corn chips; toss gently to combine with salad ingredients. Begin drizzling salad dressing over salad mixture and lightly toss salad until the desired amount of dressing is used.
Adapted from Jennifer Cooks
Meg's Everyday Indulgence https://www.megseverydayindulgence.com/