Key Lime Cheesecake with Fresh Strawberry Sauce will take your cheesecake over the top. It's creamy with a citrus zing and sweet from the strawberries.

This month's Crazy Cooking Challenge is cheesecake…my absolute favorite dessert! I was kind of excited to have an excuse to make a cheesecake. I have only made a couple in my life and very rarely eat cheesecake (like once a year maybe) because it is just way too dangerous for me.
I would literally eat the whole thing if left alone with it. I always think of the Friends episode with the cheesecake…if you don't know what I'm referring to you have to check it out!
While cheesecake is my favorite, I am really particular about what varieties I will devour. The crazy cookie dough peanut butter chocolate ones or others filled with tons of toppings and flavors always look really yummy but when it comes to what kind to eat I stick to the simple. I just don't like those crazy flavors in my cheesecake. I guess I'm a cheesecake purist.


Since the Challenge recipe no longer has to come from a blog, I decided to scour my cookbooks to see if I could find a simple, yet tasty cheesecake to whip up. I went straight to one of my favorites for dessert, Classic Southern Desserts
and found just what I was looking for in a cheesecake.
Not only are the flavors pure and simple but they feature sweet and zingy fruit making it the perfect summer indulgence.
I was also attracted to the recipe because it reminded me of our Florida vacation last month that now seems so far away. I enjoyed a really tasty slice of key lime pie there so I was hoping this recipe could bring me back, if only for a few minutes!
The cheesecake was dense and creamy with a slight zing from the key limes. The strawberry sauce tasted so incredibly fresh and added a nice sweetness. It was definitely worth the time and calories!
Oh, and it didn't have any cracks so I totally knocked something off my Top 100 list! Yay!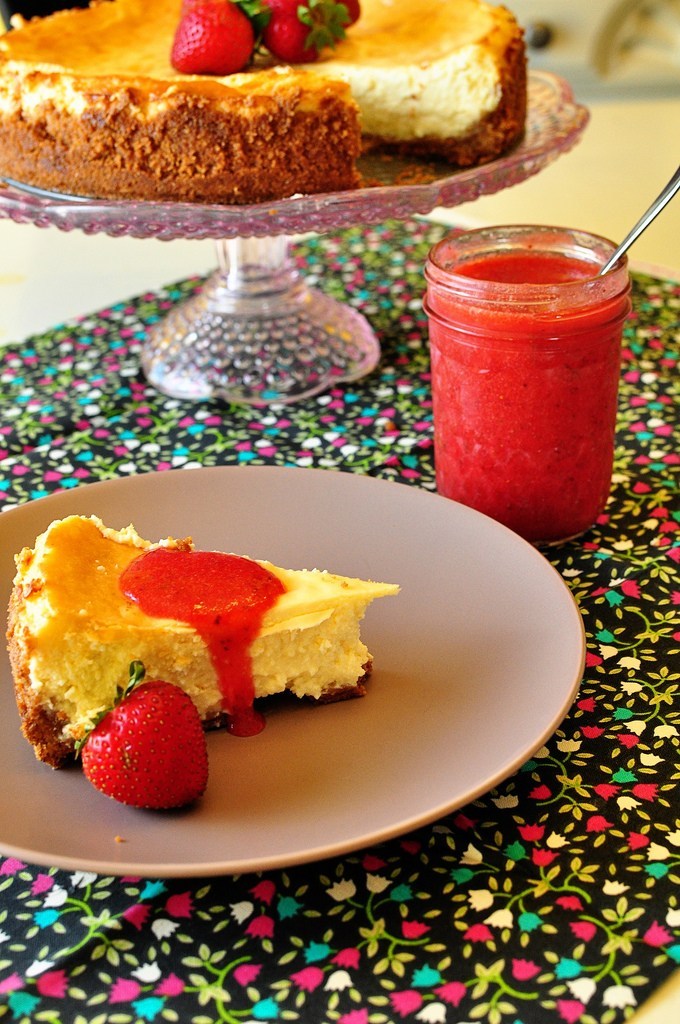 Key Lime Cheesecake with Fresh Strawberry Sauce
2016-03-15 12:58:23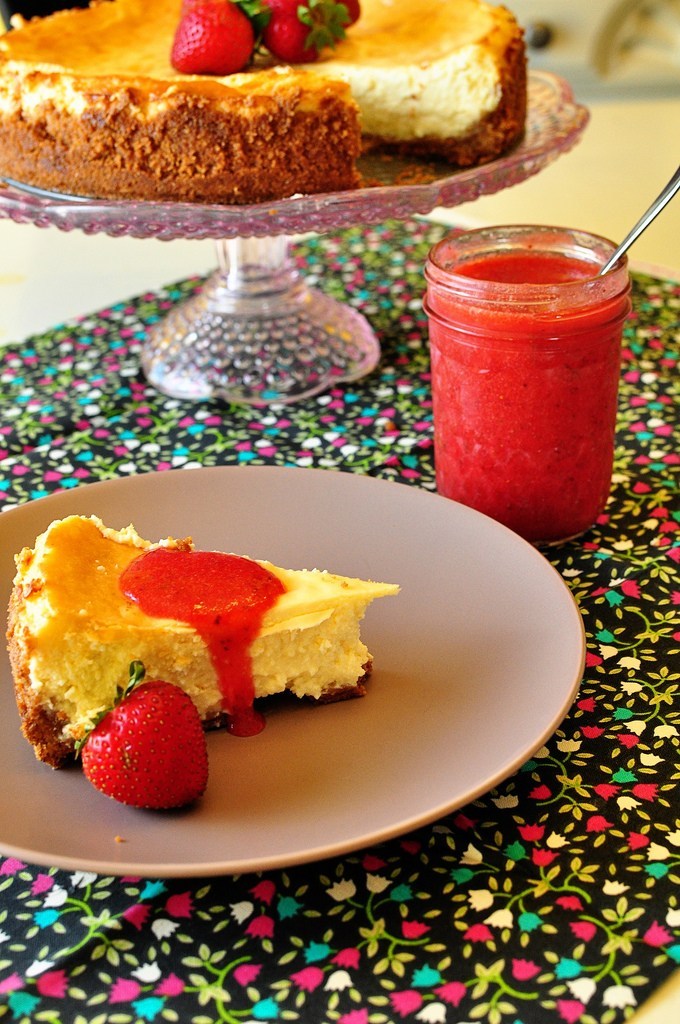 For the Cheesecake
2 cups graham cracker crumbs
1/4 cup sugar
1/2 cup butter, melted
3 (8 oz.) packages cream cheese, softened
1 1/4 cups sugar
3 eggs
1 (8 oz.) container sour cream
1 1/2 tsp. lime zest
1/2 cup Key lime juice
For the Fresh Strawberry Sauce
1 1/4 cup fresh strawberries, washed with tops removed
1/4 cup sugar
1 1/2 tsp. lime zest
Instructions
Preheat oven to 350 degrees F. Stir together first three ingredients and press on bottom and 1 inch up sides of a greased 9-inch springform pan. Bake for 8 minutes; let cool. Reduce oven temperature to 325 degrees F.
Beat cream cheese at medium speed with an electric mixer until fluffy; gradually add 1 1/4 cup sugar, beating until blended. Add eggs, 1 at a time, beating well after each addition. Stir in sour cream, zest and Key lime juice. Pour batter into crust.
Bake at 325 degrees F for 1 hour and 5 minutes; turn oven off. Let stand in oven, with door partially open, 15 minutes. Remove from oven and immediately run a knife around edge of pan, releasing sides.
Let cool completely in pan on a wire rack; cover and chill at least 8 hours. Garnish, if desired, and serve with strawberry sauce.
For the strawberry sauce: process all ingredients in a food processor until smooth, stopping to scrape down sides.
Adapted from
Classic Southern Desserts
Adapted from
Classic Southern Desserts
Meg's Everyday Indulgence https://www.megseverydayindulgence.com/