We got a panini press a little over a year ago and love using it whenever we get the chance. Joel requested panini's a few days ago and I decided to do something different from our usual Ultimate Grilled Cheese or Honey Mustard Chicken. We don't eat a whole lot of red meat but I have been craving it so I decided a steak panini would do the trick. And so came the Steakhouse Paninin.
Instead of scouring the internet for a recipe I wanted to come up with something on my own. Since we were using steak I figured I could turn a classic all the elements of a steak dinner into a sandwich.
Steak, caramelized onions, steak sauce, melty cheese and some bacon (for good measure of course) between two slices of bread sounded just perfect to me! And it was.


I asked Joel to describe the panini so he thought about it then stated that it was "man-licious." I think that might be the perfect description. This woman enjoyed it too!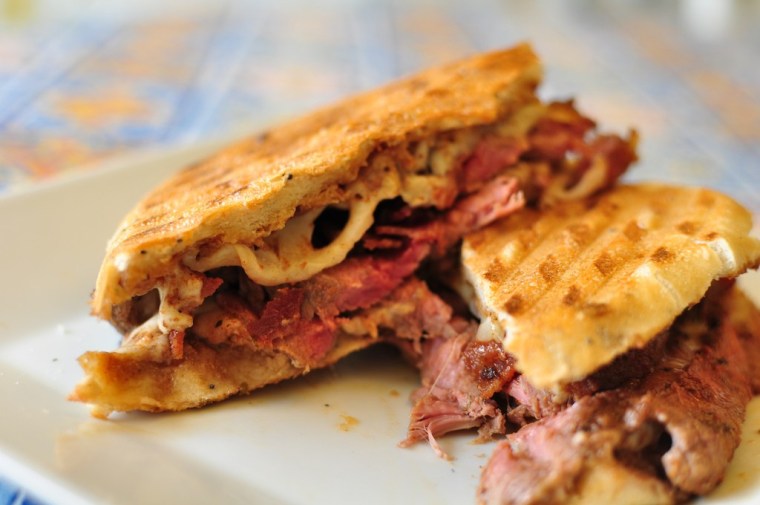 Steakhouse Panini
2016-03-20 02:25:23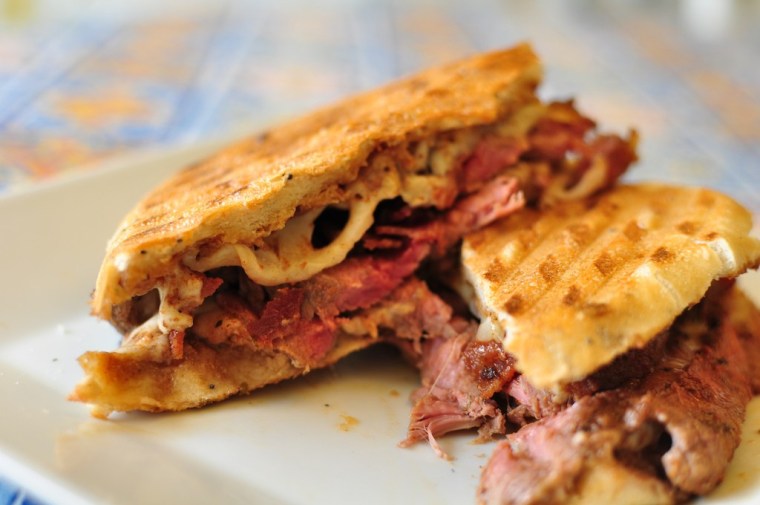 Ingredients
1 large sirloin steak
2 Tbsp. olive oil
1/2 Tbsp. onion powder
1/2 Tbsp. garlic powder
1/2 Tbsp. oregano
1/2 Tbsp. paprika
1/2 Tbsp. kosher salt
2 Ciabatta rolls (I used onion poppy seed ones)
6 strips bacon, cooked until crispy
1 small yellow onion, thinly sliced
4 slices provolone (or replace with blue cheese or gorgonola)
4 Tbsp. steak sauce
Instructions
Preheat panini grill. Heat grill pan or outdoor grill over medium high heat. Mix onion powder, garlic powder, oregano, paprika and kosher salt together then rub liberally on steak (I didn't use it all - store remainder in airtight container).
Heat olive oil in a medium sauce pan over medium heat then add onions and cook until caramelized.
Sear steak for on grill for about 2 minutes per side or until desired doneness has been reached. Let rest for about 5 minutes then slice thinly against the grain.
Spread 1 Tbsp. of steak sauce on each side of the ciabatta rolls. Top each halve with a slice of provolone then pile on the sliced steak, bacon and caramelized onions. Put the sandwich halves together then place on the panini grill. Grill for about 5 minutes or until the cheesy is melted and bubbling.
Meg's Everyday Indulgence https://www.megseverydayindulgence.com/