Sometimes you just need some good 'ole classic home cooking but you don't always have the time it often takes to prepare it. When I find myself in this situation this recipe for mini meatloaves immediately pops into my head. The meatloaf is cooked in muffin tins rather than a loaf pan which cuts down on the cooking down considerably. And the sauce that is mixed up while they cook is just delicious.
Now I know that people either love or hate meatloaf and I hope that you all are in the first rather than the latter category. I grew up with one parent that enjoyed it and one that despised it. That meant that whenever mom wasn't going to be home for dinner, we had meatloaf…because it was our only chance to eat it.
We always liked brown gravy rather than the typical ketchup or tomato based sauce that most use. It always looked so dried up and boring and I have never cared for ketchup all that much. Well, Joel isn't a fan of gravy (say what?) so I went on the hunt for a topping that was still saucy but also somewhat tomato-y for a compromise. And I found it in this sauce. It's tangy and has a gravy-like consistency that made us both happy campers.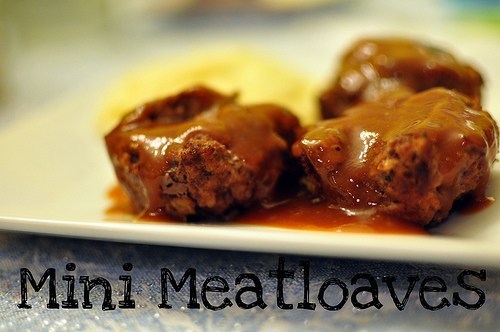 Mini Meatloaves
2016-02-25 02:20:04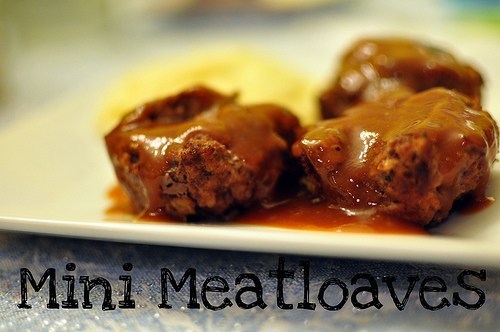 Ingredients
1 cup soft bread crumbs
½ cup tomato sauce
1 egg
1 ½ tsp. salt
¼ tsp. pepper
1 ½ lbs. lean ground beef
For the Sauce
½ cup ketchup
3 Tbsp. brown sugar
3 Tbsp. Worcestershire sauce
2 Tbsp. cider vinegar
2 Tbsp. yellow mustard
Instructions
Preheat oven to 350 degrees F. In a bowl, combine the first 5 ingredients. Crumble beef over mixture and mix well. Divide evenly between 16 muffins tins. Bake 20-30 minutes until cooked through.
Meanwhile, in a saucepan, combine the sauce ingredients. Cook and stir over low heat until the sugar is dissolved. Spoon over mini meatloaves before serving.
Adapted from
Taste of Home: Winning Recipes
Adapted from
Taste of Home: Winning Recipes
Meg's Everyday Indulgence https://www.megseverydayindulgence.com/