I found some amazing Valentine's Day food and ideas on Pinterest…too many to make myself. But some look so spectacular that I just had to share with you all. And be sure to follow me on Pinterest here for more food inspiration.
I love the combination of raspberries and chocolate so these decadent brownies with raspberry buttercream by A Farmgirl's Dabble immediately caught my eye. My dad loves raspberries and would absolutely love these yummy treats.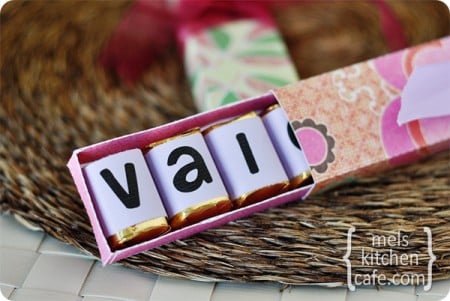 Mel's Kitchen Cafe is one of my favorite food blogs and I almost squealed when I saw these DIY Chocolate Boxes that she recently featured. What a great way to dress up store-bought chocolates.
So often all the Valentine's Day recipes we stumble across are for super rich desserts and chocolates so I totally loved the idea of heart shaped calzones for a yummy V-Day dinner. These would be so fun to make and eat with your kiddos.
Homemade Marshmallow Conversation Hearts…..enough said.
This Valentine's Chex Mix is fun, festive and totally tasty. I have had this before without the M&M's and sprinkles, mmmmm.
Holy Chocolate! These Kiss Chocolate Cupcakes by The Tomkat Studio are so darn cute but just too darn chocolate-y for Joel and me but I couldn't resist sharing them as I know many of you are die hard chocolate fans.