Rich cholate cake and refreshing mint frosting combine to make the most outrageous Chocolate Cake with Mint Chocolate Chip Frosting.
When Tina from Mom's Crazy Cooking informed us that this month's challenge was chocolate cake, I was a tad concerned. This will be shocking and slightly disheartening to many of you but I am not a chocolate cake fan. Please hold back your judgement, disgust and gasps. It's just too rich for me.
But I didn't want to miss out on the fun so I decided to bite the bullet and see if I could find a chocolate cake that we would truly enjoy. I thought the frosting could really make a difference for us so I went for one that I knew we would love.
After lots of searching, I came across this chocolate cake made by Aimee at Shugary Sweets and I knew I had found it! After reading that the frosting tasted like mint chocolate chip ice cream I thought I might die.
That's my favorite flavor so it had to find out for myself…and she is totally right.
he frosting was amazing and so was the chocolate cake. The coffee in the cake batter really enhanced the richness of the chocolate.

Layer Cake Tips
Although I don't make layered cakes too often, I have learned a few tips when it comes to icing them. The first is to place strips of wax paper under the first cake layer on the cake stand/plate so that you don't get any frosting on it. After frosting the cake, all you have to do is pull out the wax paper and you have a perfectly clean cake stand.
Another tip I have learned is placing the top cake layer upside down so that the bottom of the cake will be the top of the cake. This provides a nice, flat surface on the top of the cake to frost.

I passed along some of the cake to friends and also got rave reviews from them so you definitely need to give this a try!
Make sure to check out Aimee's other amazing eats and treats here…umm, Pumpkin Pound Cake with Caramel Walnut Sauce? Sign me up!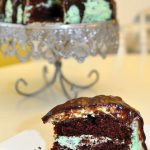 Print
Cake with Mint Chocolate Chip Frosting
Rich cholate cake and refreshing mint frosting combine to make the most outrageous Chocolate Cake with Mint Chocolate Chip Frosting.
Ingredients
For the Chocolate Cake:
1/2

cup

butter, softened

1 1/2

cups

granulated sugar

2

large

eggs

1 1/2

cups

all-purpose flour

1/2 cup

+ 1 Tbsp.

cocoa powder

1/2

tsp.

salt

1

tsp.

baking soda

1/2

tsp.

baking powder

1/2

cup

brewed coffee, cooled

1/2

cup

whole milk
For the Frosting:
1

cup

butter, softened

8

cups

powdered sugar

1/2

tsp.

peppermint extract

1/2

cup + 2 Tbsp.

milk

11

oz.

dark chocolate chunks

green food coloring
For the Ganache:
3/4

cup

heavy cream

1 1/2

cups

chocolate chips

1/4

tsp.

peppermint extract
Instructions
In medium bowl, sift cocoa with flour, salt, baking soda and baking powder, set aside. In measuring cup, mix coffee and milk together. Set aside.

In mixer, beat butter and sugar for about 5 minutes until smooth. Beat in eggs one at a time. Slowly add in dry ingredients alternating with the coffee/milk blend (about 3 additions of each).

Pour cake batter into two prepared pans (two 9inch cake pans lined with parchment paper and then greased and floured). Bake in a 350 degree oven for about 25 minutes. Remove and allow to cool about 10 minutes before removing from pans. Cool completely before frosting.

For frosting: in food processor, pulse dark chocolate until small bits (not powder). Set aside. In mixer, beat butter, powdered sugar and milk (slowly add the milk, you may not need it all) for 3-5 minutes, until smooth and creamy. Add in extract and food coloring gel. Mix until fully blended. Add more milk if necessary to desired consistency. Fold in chopped dark chocolate or chocolate chips.

Frost first layer of cake, then top it with second layer. Completely frost sides and top of cake.

For the ganache, heat 3/4 cup heavy cream in saucepan. Bring just to a boil and remove from heat. Place chocolate chips in a bowl then slowly add in hot cream and extract. Stir until smooth and completely combined. Allow ganache to cool then pour over chocolate cake.
Processing…
Success! You're on the list.
Whoops! There was an error and we couldn't process your subscription. Please reload the page and try again.