I think I may have died and gone to heaven….and I didn't even follow the recipe. After hours of cooking and cleaning, I finally got around to making these cookies. I had browned the butter hours earlier and I had to get these going. My mom was coming to visit so I was rushing through trying to get these thrown together before she arrived.
I saw brown sugar listed then sugar but what I failed to noticed as I quickly skimmed the recipe was that it was powdered sugar, not granulated. Ooops. This wasn't my first baking blunder and I know it won't be my last.
Would these have been better with the powdered sugar? I'm sure. They probably would have been more airy but in the end they were still pretty divine and that's all that matters! I mean, how could you go wrong with all that butter and the pecans can't hurt either.
I love that this recipe consists of only 5 ingredients that I always have in my pantry and fridge. Though they have few ingredients, they do have a few extra steps. Browning the butter adds about an hour and 15 minutes to the prep time (browning and cooling) but it gives the cookies a distinct, nutty flavor that is totally worth the time.
I've never browned butter so I wasn't sure if I cooked it long enough but by the taste of the cookies I think that I did.
The chilling time of 4 hours is also something you need to plan for that is very important. If the dough isn't chilled, it won't cut easily. I only chilled mine for 2 hours and it worked just fine.
The cookies have a nice crisp exterior and are soft and crumbly when you bite into them. I can't imagine how amazing they would be with the powdered sugar! They totally brought me back to my childhood. Pecan Sandies were one of my favorite cookies and these totally taste like them….but better if you can believe it!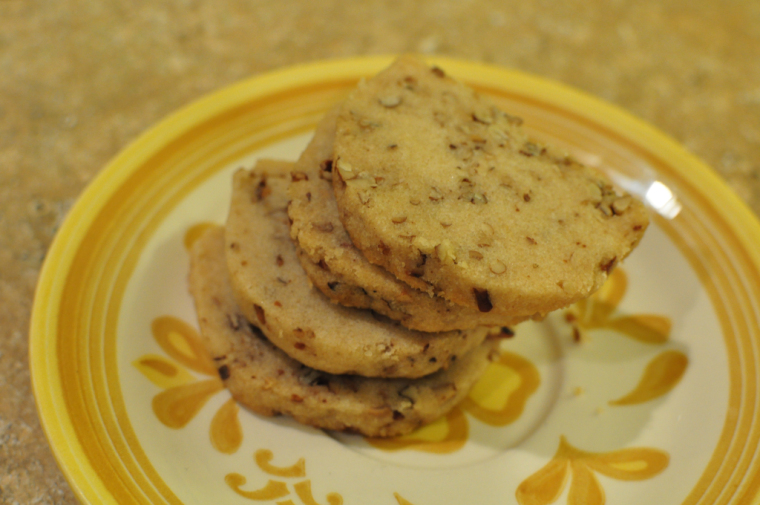 Browned Butter-Pecan Shortbread
2016-01-24 02:21:59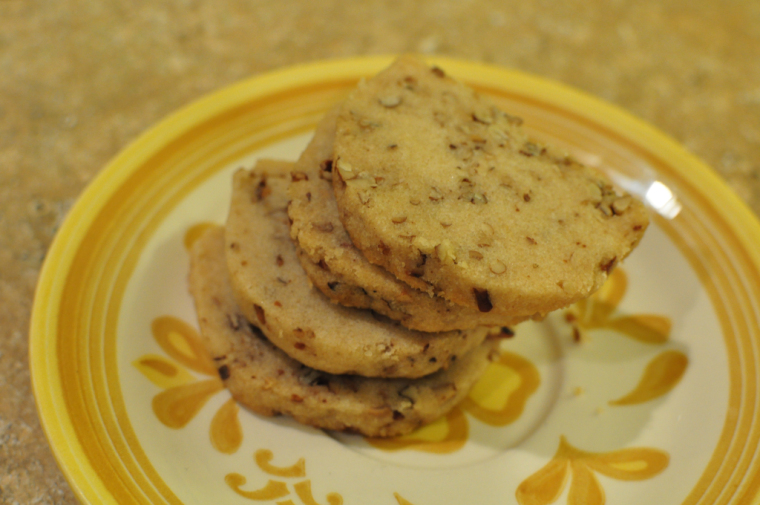 Ingredients
1 1/2 cups butter, cut into pieces
3/4 cup packed brown sugar
3/4 cup powdered sugar
3 cups all-purpose flour
1 1/2 cups finely chopped toasted pecans
Instructions
Cook butter in a large skillet over medium heat, stirring constantly, 6 to 8 minutes or until butter begins to turn golden brown. Remove pan from heat immediately and pour butter into a shallow dish. Do not cover. Chill 1 hour or until butter is cool and begins to solidify.
Beat butter at medium speed with an electric mixer until creamy. Gradually add sugars, beating until smooth. Gradually add flour to butter mixture, beating at low speed just until blended. Stir in the pecans.
Shape dough into 4 (8 inch) logs. Wrap logs tightly in plastic wrap and chill 4 hours or until firm.
Preheat oven to 350 degrees. Cut logs into 1/4 inch thick rounds; place on lightly greased baking sheets. Bake for 8-10 minutes or until lightly browned. Remove to wire racks and let cool completely.
Meg's Everyday Indulgence https://www.megseverydayindulgence.com/