This is my absolute favorite go-to recipe for white cake. It is light, airy, moist and fluffy but still has a dense enough texture to stand up to stacking. The deliciousness and ease of this recipe really is hard to believe. I love that there are so many variations on this cake and I can't wait to try them (I'm waiting for a reason to make pink champagne cake)! To check out the different variations on this cake, check it out here (steps 19-23)!
You really have to try this…you won't be sorry. Now that you have all checked out the recipe, you have seen that it starts out with a boxed cake mix. Don't judge. It really simplifies the recipe and with the addition of the sour cream, extracts and other ingredients you truly can't tell that it started out with a mix. Ok, enough raving about the cake and onto the 4th of July tutorial!
After seeing an amazing tie-dyed cake on Facebook made by my friend Dottilicous Sweets and Treats, I knew it was something I had to try. I couldn't think of an occasion for the cake so I just kept it in the back of my mind. Then I realized it would be fun for the 4th of July using red, white and blue dyed cake batter.
The tie-dye wasn't quite as effective with just 3 colors but still turned out really fun. I also decided to try out layered cupcakes which also look great. Today, I'm going to share the techniques on making these two awesome cupcakes. Later in the week, I will be sharing a fun DIY for cupcake picks and an amazing frosting to top these festive babies!
First, mix up your cake batter then divide it evenly between three mixing bowls. Dye one bowl blue and one red. I use Wilton Icing Colors (I bought mine at Michael's). They are a gel and they produce a much more vibrant color than the liquid dyes found at the grocery store.
Also, they are more concentrated so you don't have to use as much. A bit more pricey, but totally worth it in my opinion (and such fun colors).
To make the layered cupcakes, scoop even amounts of the red batter into the bottom of your cupcake liners. Then top with the same amount of white, then blue (filling 2/3 of the way).
Bake according to directions, cut open (or bite for that matter) and enjoy the layered fun!
Now onto the tie-dye! Take about a tablespoon of one batter and gob it into a cupcake liner. Place another tablespoon of another colored batter on top or beside the first dollop of batter. Continue this randomly until the liners are filled up 2/3 of the way.

Bake and gobble up to see the "tie-dye" effect.


Check out the completed cupcakes here!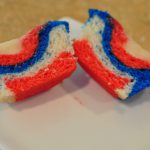 Print
White Sour Cream Cake
Ingredients
1

18 oz.

white cake mix

1

cup

all-purpose flour

1

cup

granulated sugar

3/4

tsp.

salt

1 1/3

cups

water

1/8

cup

vegetable oil

1

tsp.

vanilla extract

1

tsp.

almond extract

1

cup

sour cream

4

large

egg whites
Instructions
Preheat oven to 325 degrees F. In a large, whisk together all the dry ingredients. In another bowl, whisk together the wet ingredients. Create a well in the center of the dry ingredients and dump in the wet mixture. Stir together until combined but don't overmix.

Line muffin tin with paper liners. Divide batter evenly. Bake for 15 to 20 minutes.