If you are having a small holiday celebration, this Parmesan Crusted Filet Mignon is a perfect option over a big traditional ham. Perfectly cooked and bursting with flavor.
**This post has been updated since its orginal post date in 2012. Photos and text have been updated. The recipe has cook time has been updated to better reflect cooking times.
This post may contain affiliate links. For more information, please read my disclosure policy.
This Parmesan Crusted Filet Mignon is kind of perfection right now. It's suprisingly simple to prepare but will make a huge impression.
Current favorite reasons to make this: date night in and Christmas dinner. This dish will also be great when you have dinner guests.
Ingredients for Parmesan Crusted Filet Mignon
A Tip on Cooking Steaks
It's super important that when cooking steaks, you bring them to almost room temperature before cooking.
This ensures they cook evenly and sear nicely. It also results in a juicier steak. I promise you, it's a total game changer.
It doesn't have to be exactly room temperature but taking it out of the fridge about 30 minutes before cooking will take the chill off and give you a much tastier final product.
This rule applies to any bigger pieces of meat such as roasts, thick cut chops, whole chickens and more.
How to Make the Parmesan Crust
Start by making the parmesan crust. This needs to be done about 3 hours in advance because the butter needs time to solidify.
In a small bowl, mix together the butter, shredded parmesan, garlic, panko bread crumbs, salt and pepper.
Cut a piece of plastic wrap and plop the bread crumb mixture in the center. Wrap the plastic around it and form it into a log with the diameter being the same size as the tops of the steaks.
Once solidified, you'll be slicing it into 4 coin shapes for topping the steaks. Wrap tightly and refrigerate until hardened, about 3 hours.
How to Prepare Parmesan Crusted Filet Mignon
Grab the steak out of the fridge and allow them to sit at room temperature for about 30 minutes. Preheat the oven to 400 degrees F.
Heat a large skillet over medium high heat. I prefer using a cast iron skillet when making steaks for a few reasons.
Cast iron cooks incredibly evenly which is just what you want for steaks. It also creates the most perfect crusty sear.
Lastly, you can place it right in the oven so there will be no need to transfer and dirty another pan.
Rub both sides of the steaks with olive oil then season with salt and pepper. Sear the steaks for about 2 minutes per side then remove the skillet from the heat.
Slice the parmesan crust into 4 coins and top each steak with the crust. Place them in the oven and cook until you have reached the desired temperature.
A digital thermometer is key for cooking steaks perfectly. Program it 15 degrees less than your desired temperature since the steak gets broiled to get that crust nice and brown.
After you have reached desired doneness (minus 15 degrees), turn on the broiler and cook until the crust is browned. This will only take a minute or two so watch them closely.
All the Textures
The butter and cheese create this melty, gooey texture in the crust. But then the panko gives this incredible crunch.
And we can't forget the tender, melt in your mouth filets. This dish is just perfection.
Perfect for the Holidays
Do you want to change up your holiday menu this year? These Parmesan Crusted Filet Mignon are the perfect solution.
Individual servings and easy preparation make them a no-brainer. Plus, they are a little fancy too.
They also pair really well with a lot of traditional holiday side dishes if you can't part with those. Mashed potatoes, roasted veggies and rolls were made to go with these steaks.
More Steak Recipes to Try: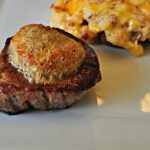 Print
Parmesan Crusted Filet Mignon
Parmesan Crusted Filet Mignon is the perfect date night dinner. Simple to make and sure to impress.
Ingredients
4

filet mignons

Kosher salt

Black pepper
For the crust:
1/4

cup

unsalted butter

1/4

cup

panko bread crumbs

1/3

cup

shredded parmesan cheese

2

cloves

garlic, grated on microplane

1/4

tsp.

kosher salt

Few cracks of black pepper
Instructions
The crust needs to be prepared at least 3 hours ahead of time so make sure you have time planned. In a medium bowl, mix together all the crust ingredients together. Place on the center of a piece of plastic wrap and form into a log with the diameter about the same as your steaks. Wrap tighly and refrigerate. You can make this the day before or even freeze it.

Preheat oven to 400 degrees F. Heat a skillet over medium-high heat. Rub each side of the steaks with a drizzle of olive oil and sprinkle with salt and pepper. Sear for 2 minutes per side. Transfer pan to the oven for 3 to 6 minutes, depending on temperature preference( I like to use a digital thermometer. Program it for 15 degress less than your desired temperature as it will continue to cook). Remove from oven.

Turn oven to broiler setting. Slice the crust mixture into four coin shapes and top each steak with one. Place under the broiler for 1 to 2 minutes, or until browned and crusty. Watch carefully as it can burn quickly. Let sit for 5 minutes before slicing.
Processing…
Success! You're on the list.
Whoops! There was an error and we couldn't process your subscription. Please reload the page and try again.