No ice cream maker? No problem! You can make this easy, incredibly rich Peanut Butter No Churn Ice Cream by hand with just 4 ingredients.
This post may contain affiliate links. For more information, please read my disclosure policy.
I love making homemade ice cream. It's SO much better than the store-bought stuff and just really fun to make. Dreaming up and bringing to life all the flavor combinations has to be my favorite part.
Have you ever made homemade ice cream before? It can seem super intimidating but this reicpe will definitely ease you in to the process.
I love my ice cream maker and use it often during the warmer months. But I know it's a purchase that lots of people won't make. But have no fear, you can make super creamy ice cream without a machine.
Ingredients
Like I said earlier, you only need 4 ingredients to make this ice cream. It's seriously so easy. Here's what you need:
If you're allergic to peanuts, you can definitely substitute your favorite nut butter for the peanut butter.
I chose to use creamy peanut butter but I think chunky peanut butter would be amazing. Honey roasted peanut butter would also be a great option. Can you imagine how good that would be?!
How to Make No Churn Ice Cream
So how exaclty do we turn these 4 simple ingredients into this rich and decadent ice cream?
We use the heavy cream to make our own whipped cream. Yep. That's right. Whipped cream is how we achieve that light, creamy texture.
If you've never made homemade whipped cream, don't start panicking. It's easiest to make with a stand or hand mixer but if you don't have either, you can definitely whip it by hand as well.
Whip the heavy cream to stiff peaks. That means when you lift the whisk out of the whipped cream it firmly keeps it's peak.
If it starts to melt down a little, keep going. Check here for a good visual of what your stiff peaks should look like.
Once you're whipped cream is ready, set it aside. In another large bowl, whisk together the sweetened condensed milk, vanilla and peanut butter.
Add the whipped cream to the bowl and gently fold it into the peanut butter mixture. Don't go crazy mixing it together, you want to do this lightly to keep the fluffly, airy texture of the whipped cream.
Spread the mixture into a freezer safe container and freeze for at least 4 hours.
Delicious Mix-Ins
This recipe is perfectly creamy and simple on its own. IT IS RICH too. Buuuut, if you like mix-ins the possibilities are quite dreamy.
Start simple with chocolate sprinkles or mini chocolate chips. If you want a double dose of peanut butter, mini peanut buter cups would be outrageously good.
M&M's or honey roasted peanuts would be great if you like a little crunch in your ice cream.
You could even swirl some hot fudge throughout the ice cream before freezing. So many delicious options.
More Ice Cream Recipes to Try: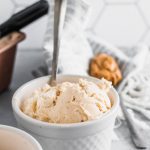 Print
Peanut Butter No Churn Ice Cream
No ice cream maker? No problem! You can make this easy, incredibly rich Peanut Butter No Churn Ice Cream by hand with just 4 ingredients.
Ingredients
1

14 oz.

can sweetened condensed milk

1/2

cup

peanut butter (creamy or chunky)

1

tsp.

vanilla extract

2

cup

heavy cream
Instructions
In a large bowl, whisk together sweetened condensed milk, peanut butter and vanilla extract. Set aside.

In a stand mixer, whisk heavy cream until stiff peaks form. You can also use a hand mixer or whisk by hand. Add whipped cream to the peanut butter mixture. Gently fold until combined.

Spread in a freezer safe container. Seal and freeze for at least 4 hours.
Processing…
Success! You're on the list.
Whoops! There was an error and we couldn't process your subscription. Please reload the page and try again.