These Scalloped Potatoes with Ham are the perfect side dish for Easter or after to use up your leftover ham. The addition of caramelized onions add amazing flavor.
This post may contain affiliate links. For more information, please read my disclosure policy.
It's almost springtime, we're nearing Easter and I'm thinking about all the recipes that need to grace your holiday table. And let's be real, it's all about the sides.
The Perfect Side Dish
One of the great things about this recipe is that you can make it for your holiday dinner or you can wait and use up all your leftover Easter ham to make it.
What else makes it perfect? It hits all the flavor and textures for an excellent side. There are tender potatoes, a creamy sauce, sweet caramelized onions and and a bubbly cheese topping.
What You Need to Make Scalloped Potatoes
The list of ingredients for these potatoes is pretty simple and easy. Let's break it down.
This recipe is the perfect way to use up any leftover ham you may have in the fridge. Those precut ham chunks are a great option for this recipe as well. You'll need two cups of diced ham.
The sharp cheddar can be optional here. Traditionally scalloped potatoes don't have cheese but I just love the crusty top it adds to a potato dish.
How to Make the Caramelized Onions
There are a few steps in making these scalloped potatoes but I promise they are easy.
Start out caramelizing the onions since the process can take up to 45 minutes. It's super simple and mostly passive cooking so don't worry too much about effort here.
Slice the onions in half, peel off the outer skin and slice into thin half moons. Add the onions to a skillet over medium heat along with the butter.
Once the onions start to soften, bump the heat down to low and season with salt and pepper. Stir them every 5 minutes until they are super soft and deeply golden. This can take anywhere between 25 to 45 minutes.
They become so sweet during the caramelization process. It's worth every minute.
How to Make the Bechamel Sauce
If you've made homemade macaroni and cheese before you already know how to do this. Don't let the fancy name scare you.
A bechamel sauce is butter, flour and milk. You start by making the roux. Melt butter in a saucepan and stir in flour.
Let that cook for a minute to get rid of the raw flour taste then stir in the milk. Let it cook until it thickens to coat the back of a spoon.
You can tell it's ready when after coating the back of the spoon you can run a finger along the sauce and it doesn't immediately meet back together. You don't want it as thick as a barbecue sauce but you also don't want it runny like milk.
Season with salt and pepper and it's ready.
How to Assemble Scalloped Potatoes
Once the onions are caramelized to perfection and the bechamel is thickened you are ready to assemble your dish.
It's super important that the potatoes are sliced very thinly so that it doesn't take FORever to cook. My favorite tool to use is a mandolin. It gets them sliced perfectly thin in a matter of minutes.
And if you use the provided guard there is no reason to be scared of them. I promise.
If you don't have a mandolin you can very carefully slice them with a knife. Just be sure to get them as thin as you can.
Layer half of the potatoes in the bottom of a 9×9 baking dish. Spread half the caramelized onions and half the ham over the potatoes. Drizzle evenly with half the sauce.
Repeat this process with the remaining ingredients. Sprinkle with shredded sharp cheddar cheese. Cover the dish loosley with foil and it's time to bake.
The scalloped potatoes will bake with foil for some time to ensure the top of the dish doesn't overcook before the potatoes are tender.
Once baked, let the scalloped potatoes rest for about 5 minutes before digging in.
More Holiday Worthy Sides: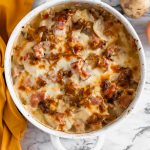 Print
Scalloped Potatoes with Ham
Make these Scalloped Potatoes with Ham with your leftover Easter ham or as a delicious holiday side dish.
Ingredients
For caramelized onions:
2

medium

sweet onions, cut in half and sliced into thin half moons

2

Tbsp.

butter

1

tsp.

kosher salt

1/4

tsp.

black pepper
For Bechamel Sauce:
3

Tbsp.

butter

3

Tbsp.

all-purpose flour

2

cups

whole milk

3/4

tsp.

kosher salt

1/4

tsp.

black pepper
To Assemble:
7

cups

thinly sliced, peeled russet potatoes (about 4 large potatoes)

2

cups

diced ham

1

cup

shredded sharp cheddar cheese
Instructions
Heat a large skillet over medium heat. Add 2 tablespoons butter and melt. Add sliced onions and stir to coat. Cook for 5 minutes, stirring often. Sprinkle with 1 teaspoon kosher salt and 1/4 teaspoon pepper. Lower heat to low and continue cooking until deeply golden and very soft, about 30 minutes or up to 45 minutes, stirring every 5 minutes.

Preheat oven to 350 degrees F. Meanwhile, make the bechamel sauce. Melt the butter in a medium saucepan over medium heat. Sprinkle in flour and cook for 1 minute. Stir in half the milk and cook, stirring often, until thickened enough to coat the back of a spoon. Add remaining milk and cook again until thickened.

To assemble. Layer half of the potatoes in a 9×9 pan. Spread half the caramelized onions over the potatoes. Sprinkle half the ham over the onions. Evenly drizzle half the sauce. Continue layers again. Top with shredded cheese. Cover lightly with foil.

Bake with foil for 40 minutes. Remove foil and bake 30 minutes. Allow to rest for 5 minutes before serving.
Processing…
Success! You're on the list.
Whoops! There was an error and we couldn't process your subscription. Please reload the page and try again.