This Easy Christmas Dessert Board will be the talk of your Christmas party. A homemade treat or two filled in with fun, festive cookies and candies.
This post may contain affiliate links. For more information, please read my disclosure policy.
Remember my 4th of July dessert board? I loved it so much I thought you all needed a festive Christmas option as well.
And this one is even easier! Just what we need for the busy holiday season.
There's one homemade treat on the board along with lots of fun sweets all found in the Christmas aisles of Target or Trader Joe's or your favorite grocery store.
The Perfect EASY Christmas Dessert
We all know the holidays are a crazy time of year between the work parties, Christmas concerts/plays/musicals, shopping and everything in between. And with all those events come the need for Christmas treats, appetizers and more.
Sometimes we don't have time to do it all. AM I RIGHT?!
That's where this Easy Christmas Dessert Board comes in. It's the perfect option between homemade and store-bought. And it literally only takes a grocery store run and quick arrangement to be on your way. But when it's all put together it's just gorgeous.
The board consists of lots of store-bought candies and cookies along with a simple homemade treat, Pretzel M&M Rings. These sweet and salty treats are one of our favorite holiday snacks.
I liked the idea of adding some saltiness to the board but you can add whatever homemade treat you like or keep it all store-bought.
Gather Your Ingredients
Because this is a board with an assortment of Christmas desserts, the ingredient list kind of depends on your taste but I'm going to provide a general guideline of what makes the best board (in my opinion).
First, you want to hit all the textures. Make sure you have some crunchy treats. Think cookies, like the little gingerbread men and chocolate stars on this board (both from Trader Joe's).
Fun caramel popcorn is a great option as well. Target has a whole aisle of all kinds of delicious varieties of festive popcorn. Chocolate covered pretzels (I included white chocolate peppermint pretzel thins here) and the Pretzel M&M Rings are also a great crunchy option.
Chewy candy, like the spiced gumdrops are great along with Christmas colored Twizzlers or any other gummy type candy. I also love the addition of holiday flavored marshmallows to add additional texture to the board.
Creamy chocolate like the peppermint bark snowmen round out everything. And add lots of cuteness too.
Bring the Color and Flavor
You also need to think about the colors on the board. You'll want a variety of reds, greens, whites and browns. That means you should choose some red and green treats and some white and regular chocolate treats. We'll talk more about how to arrange them in an eye catching way in a minute.
Make sure you grab treats with different flavor profiles. Think peppermint, gingerbread, chocolate, caramel, coffee. That way you have a variety of options for your guests.
How to Make the Pretzel M&M Rings
You're going to need to grab some pretzel rings (or snaps or mini twists), plain Hersey kisses and red and green M&M's of your choice. I usually go with plain M&M's but I decided to try the white chocolate peppermint variety this time and they were perfection.
You can read the full recipe here but I'll walk you through it too. Preheat the oven to 275 degrees F. Line a large baking sheet with foil and lay out pretzel rings in a single layer then set aside.
Unwrap all the kisses and place on top of the pretzels. Place them in the oven for 2 or 3 minutes, until melted but not in a puddle. Remove them from the oven and press an M&M in each one.
Allow to cool and harden. You can place the baking sheet in the refrigerator to get it done quicker.
Arrange Your Board
First, grab a large board or platter. You'll also want a few little bowls for the smaller items. I grabbed the little Christmas tree bowls in the Target Dollar Spot section a few weeks ago and they worked perfectly for the M&M's and spice drops. These scalloped bowls would be a pretty option as well.
Place the bowl on opposite sides on the board and fill in desserts around them. Make sure not to put items of the same color beside each other. Move things around until you have an eye catching arrangement of treats.
If you're traveling somewhere with your board you may want to bring your individual ingredients and arrange it there or have someone hold it on the drive.
More Easy Christmas Dessert Options: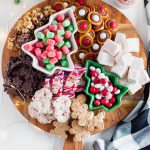 Print
Easy Christmas Dessert Board
This Easy Christmas Dessert Board will be the talk of your Christmas party. A homemade treat or two filled in with fun, festive cookies and candies.
Ingredients
Prepared Pretzel M&M Rings

recipe found in post

Assorted holiday cookies

Assorted festive Christmas candies

Caramel popcorn

Nuts

Festive marshmallows
Instructions
Place a few small bowls on a large board or platter. Fill with the small candies and/or nuts. Arrange remaining treats around the board, making sure not to put items of the same color next to each other.
Processing…
Success! You're on the list.
Whoops! There was an error and we couldn't process your subscription. Please reload the page and try again.