Homemade Jalapeno Jelly is easier than you would think and so delicious on all the things. Slather it on hot cornbread, a juicy burger or use it as a dip.


This post may contain affiliate links. For more information, please read my disclosure policy here.
So I need to admit something upfront. I've always been intimidated by homemade jelly. It just seems like SUCH a process and it's so much easier to just pick up a jar at the store.
But what really intimated me was the canning process. And you know what? It's not a requirement for homemade jelly and jams so I decided to say forget you canning and give it a go.


One thing to note though, if you don't do the whole water bath process your homemade jelly will only be good for a few weeks in the refrigerator. Keep that in mind when you make it and be sure you have plans to use it up within that time frame. You don't want this sweet and spicy goodness to go to waste.
And after I got over that fear, I realized homemade jalapeno jelly (or any flavor for that matter) is ridiculously easy to make. Like, why haven't I been doing this for years?
Let's break down the process. First, you need some fresh jalapenos. My store had GIANT jalapenos so I only needed 4 of them. If you have small guys, 6 will be a safe bet.


To prepare them for the jelly rinse and dry them. I recommend wearing gloves when handling raw jalapenos because no matter how many times you wash, they seem to stay on your hands. It's no fun when you rub your eyes later.
Cut off the stem then slice them in half and remove all the seeds. Roughly chop them then throw them in the food processor or blender. Add apple cider vinegar (or white vinegar in a pinch) and process them until they are finely minced but not completely smooth.
The jalapeno mixture, sugar and a little bit of butter then go into a saucepan and get a quick boil. This is to dissolve the sugar and cook the jalapenos a bit. Then the important ingredient that turns this into jelly, the liquid pectin, gets added to the mix and boiled another minute.


A quick chat about pectin. For this recipe, make sure you grab the liquid pectin. When recipes are boiled and the pectin is added at the end of the process, liquid pectin is what you want. The powdered stuff is good for freezer jams or when added to the raw fruit at the beginning of the recipe.
Once the pectin has been added and boiled, the jalapeno jelly is ready for jarring. The recipe results in about 3 1/4 cups of jelly so you can get about 3 jelly jars worth. Keep one for yourself and surprise friends or neighbors with a jar too.
The jelly will still be runny at this point so don't panic. It will thicken as it cools and turn into that perfect jelly consistency. Let it cool completely on the countertop before putting on the lids and refrigerating.


Now you may be wondering how to use this delicious little condiment. These crispy chicken cream cheese flautas are my very favorite way to eat this jalapeno jelly. You just need to heat the jelly just a bit to make it a little runnier then dip those flautas to your hearts desire.
You'll love it slathered on burgers or hot, fresh cornbread. Or mix it with softened cream cheese for a simple yet epic cracker dip. Let me know your favorite way to eat jalapeno jelly in the comments below.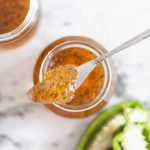 Print
Jalapeno Jelly
Homemade Jalapeno Jelly is easier than you would think and so delicious on all the things. Slather it on hot cornbread, a juicy burger or use it as a dip.
Ingredients
4

large

jalapenos (or 6 small)

1

cup

apple cider vinegar

3

cups

granulated sugar

1

tsp.

butter

1/4

cup

liquid pectin (a little less than a 3 oz. package)
Instructions
Remove the stems of the jalapenos. Slice in half lengthwise and remove the seeds and ribs. Chop into big chunks then add to a food processor or blender. Add apple cider vinegar. Process until very finely chopped but not smooth.

Add jalapeno mixture to a saucepan along with the sugar and butter. Place over medium heat and bring to a boil. Cook, boiling, for 3 minutes. Stir in liquid pectin and boil another minute. Remove from heat and carefully pour into jars.

Leave jars on the counter without their lids until they have cooled to room temperature. The jelly will thicken as it cools.