Whether it's game day or burger night, these Crispy Onion Rings with Buttermilk Dressing are a must make item. Super simple to prepare and even easier to eat.

So, I kind of think all you need in life right now is crispy onion rings. With buttermilk dill dressing of course. That's just another reminder that the midwest rules. We even dip our onion rings in a ranch-esque dressing. We're also down with a spicy fry sauce dip situation too you want some options.
Crispy Onion Rings for All the Things
There are so many ways you can serve and eat these onions rings. Make them as an appetizer before your main course. It could be for a dinner party, family gathering or just a Tuesday night.
You could serve them with a bunch of appetizers for the next football game or as a side at dinner. Or one of my personal favorite ways, use them as a topping for pretty much anything.

Have a burger? Throw on some onion rings. How about a salad? Onion rings. Grilled barbecue chicken? ONION RINGS. I could do this for awhile.
The All Important Dressing
It's best to make the buttermilk dill dressing first so that there's some time for the flavors to marry. It comes together in minutes and will last a few weeks in the refrigerator.
Simply whisk together sour cream, buttermilk, dried dill weed, garlic powder, onion powder and a pinch of cayenne pepper. Store it in a jar for dipping all the things.
How to Make Onion Rings
First, you are going to want to set up a breading station. One shallow bowl for the egg wash and one shallow bowl for the flour mixture is needed.

The flour is seasoned with dry ranch mix to add some garlicky, herby flavor. If you don't have dry ranch mix you could substitute a half teaspoon each of garlic powder, onion powder and dried dill weed for a similar vibe.
Slice the onions thinly into rings and seperate them. Next, dredge them through the flour mixture to get a light coating on them. Next, dunk them in the egg mixture then back into the flour they go for a nice coating.
Once all the onion rings are coated fry them to golden brown in vegetable or canola oil.

Because they aren't dipped excessivly or coated in a wet batter, they come out really light and crispy. Think like an onion straw situation. It makes it really easy to plow through a big batch pretty quickly. Not that I would know or anything.
More Crispy Goodness: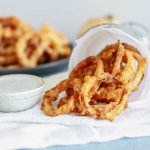 Print
Crispy Onion Rings with Buttermilk Dill Dressing
These Crispy Onion Rings with Buttermilk Dill Dressing will be the hit of the party. Perfect for appetizers, game day or to go with your burgers.
Ingredients
For the Buttermilk Dill Dressing:
1

cup

buttermilk

2/3

cup

sour cream

1

Tbsp.

dried dill weed

3/4

tsp.

garlic powder

3/4

tsp.

onion powder

pinch of cayenne pepper
For the Onion Rings:
Vegetable or canola oil, for frying

2

large

eggs

3

Tbsp.

milk

1 1/2

cups

all-purpose flour

1/4

cup

dry ranch seasoning mix

2

large

yellow onions, sliced into thing rings
Instructions
Whisk together the buttermilk, sour cream, dill, garlic powder, onion powder and cayenne pepper in a bowl. Store in an airtight container in the refrigerator.

Heat an inch of oil in a heavy bottom skillet over medium heat.

Whisk the eggs and milk in a shallow bowl or pie plate. Set aside. In another shallow bowl, whisk together the flour and dry ranch seasoning mix. Grab a large plate to place the dipped onion rings.

Dredge the onions through the flour mixture with one hand. With the other hand, dip them in the egg mixture. Drip off excess egg. Add back to the flour mixture using dry hand and toss until coated. Place on the clean plate.

Fry the onion rings in a single layer in batches for about 2 to 3 minutes. The rings should submerge in oil but if they don't, flip them to brown the other side. Remove to a paper towel lined plate or cooling rack.