Get your planning on with this Korean Meatball Meal Prep. A little time on Sunday afternoon will yield you hearty, flavorful lunches for the whole week.
This post contains affiliate links. For more information, please read my disclosure policy.
Happy 2019 friends! It's been a minute but I'm back at it and I have some delicious plans for the month and upcoming year that I'm so excited to share with you.
With the new year comes new goals in the food arena. I don't dig food restrictions and rules so my mantra is everything in moderation. That's just what works for me. If cutting sugar, gluten or following a certain diet works for you, I am so proud of you for committing and I'm cheering you on.
One thing I do know I need to work on is meal prepping. It takes time and work to plan and prep for the week and it's just not something I've been good at doing consistently. The thing is, when I do it I stay on track and I feel so much better.

Gathering a big list of meal prep options and ideas to keep it fresh and mix it up is something I've been focusing on. I have a fun Pinterest board if you need some inspiration too. 
I figured you all may be in the same boat so I brainstormed some meal prep ideas and came up with this flavor packed Korean Meatball Meal Prep. I'm pretty sure you're going to love it as much as I do.
Let's talk about the cooking method first. The meatballs and broccoli are all roasted in the oven on the same sheet pan. Yes, meal prep AND sheet pan. If that's not a winning combination, I don't know what is. 

While the meatballs and broccoli cook in the oven, you can cook the rice however you like. I prefer doing it in the Instant Pot because it's so quick and simple and I don't have to keep on eye on it. The sauce also gets mixed up during this time. 
While we're on the topic of the sauce. YOU GUYS. It's so flavorful and spicy thanks to the Korean gochujang sauce. And before you worry, this stuff is relatively easy to find in the Asian section of your grocery store. And there's always trusty Amazon too. 
Besides the gochujang, the sauce is composed of soy sauce, sesame oil, garlic powder, ground ginger and honey. So it's spicy, a little sweet and has a crazy depth of flavor. The meatballs get a good coating and there will even be a little extra if you want to drizzle it on your rice (note: YOU DO).

The meatballs are made with pork because it's just kind of a classic combination and pork takes on the flavor so well. If you don't eat pork, these would be equally delicious with ground chicken, turkey and even beef. Just be aware the cook time may vary so keep an eye on them.
Broccoli is my favorite vegetable forever and always. Even as a kid. I know it's not normal but we're going with it. If broccoli isn't your thing, substitute whatever vegetable you like. But if you've never had roasted broccoli you should definitely give it a try because the flavor changes in all the best ways.
This would be great with cauliflower, green beans, asparagus too. You do you. 

So I know Sunday's are for lounging and you don't want to spend too much time prepping your meals for the upcoming week. Because of that I tried to keep the prep time on your meal prep to a minimum.
It takes about 15 minutes to get the meatballs mixed up and formed and to chop the broccoli florets. Just enough time for your oven to preheat. 
Like I said earlier, the rice is cooked while everything else is baking and the sauce takes literally a minute to mix up. So at the end of the day, this takes about 45 minutes to make but most of that time is inactive cooking time.
I'm not normally a fan of eating the same thing several days in a row but I was so excited for lunch every day when I knew I had this Korean Meatball Meal Prep waiting for me in the refrigerator.
*This post contains affiliate links. For more information, please read my disclosure policy here.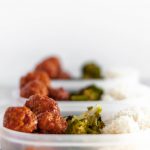 Print
Korean Meatball Meal Prep
Korean Meatball Meal Prep makes a delicious lunch throughout the week. Baked on a sheet pan along with broccoli. Spicy and so flavorful.

Ingredients
For the Korean Meatballs:
1

lb.

ground pork

1

large

egg

1/2

cup

cracker crumbs (or bread crumbs)

2

Tbsp.

gochujang sauce

1/2

tsp.

kosher salt

1/2

tsp.

garlic powder

1/4

tsp.

ground ginger
For the Roasted Broccoli:
1/2

lb.

fresh broccoli florets

1

Tbsp.

olive oil

1/2

tsp.

kosher salt

1/4

tsp.

black pepper
For the Rice:
1

cup

uncooked basmati rice

2

cups

water
For the Korean Sauce:
1/2

cup

gochujang sauce

1/4

cup

soy sauce

2

tsp.

sesame oil

1/2

tsp.

garlic powder

1/4

tsp.

ground ginger

1 1/2

Tbsp.

honey
Instructions
Preheat oven to 400 degrees F. Line a large, rimmed baking sheet with foil and spray with nonstick spray. Set aside. In a large bowl, combine all the meatball ingredients well. Divide the meatball mixture evenly into 25 meatballs. Place them on half of the prepared sheet pan in a single layer.

On the other half of the sheet pan, spread out the broccoli. Drizzle with the olive oil and sprinkle with salt and pepper. Toss with your hands. Bake for 25 minutes.

Meanwhile, prepare rice according to package directions.

Combine sauce ingredients in a large bowl. Set aside. Once meatballs have cooked for 25 minutes, drizzle the sauce over the meatballs and toss them evenly. Return to the oven and cook another 5 minutes.

Divide rice evenly among 5 meal prep containers. Place 5 meatballs in each container. Evenly divide broccoli.
Processing…
Success! You're on the list.
Whoops! There was an error and we couldn't process your subscription. Please reload the page and try again.