No matter what you need to season, I've got you covered with this All Purpose Spice Blend. It's the perfect combination of classic with a little something different.
School is out in T minus 4 days people. I'm preparing by creating a summer schedule, summer activity binder, signing everyone up for the summer reading program at our local library and stocking up on all the coffee. I also created a fun Summer Bucket List board on Pinterest with lots of fun activities, crafts, experiments and book lists.
I've got this. I've GOT this. Do you think if I keep telling myself that it will be true? Let's hope.
Speaking of summertime, it always means lots of grilling for us. It's simple, doesn't heat up the house and gives me more time to break up fights, I mean play with my kids. Whichever.
My new favorite thing to season all the grilled (or baked or sauted) foods with is this All Purpose Spice Blend that I'm sharing today. It's based off a spice blend I've bought in the past that I figured I could and should just whip up myself. And it has some mystery ingredients I wouldn't have normally put in a spice blend for savory things but I totally love. Trust me on this.
If you cook and bake these are all ingredients you should already have in your pantry and if they aren't they are super common and can be found at any grocery store. Flaky kosher salt, coarse black pepper and granulated garlic (or garlic powder) are what make up the majority of this spice blend. Then things get a liiiiitle weird and delightfully delicious. Allspice, cinnamon, cloves and ginger all join the party in small amounts to give that little "hmm, what is that?" to the background of the spice blend.
I've used this on chicken, beef, pork and all kinds of roasted and grilled vegetables. My favorites to use it on so far have been grilled barbecue chicken and grilled potatoes (sweet and yukon). I also loved it on burgers. So what I'm basically saying is put it on everything and you will be happy.
After it's mixed up, keep it in an airtight jar and you'll be good to go all summer long.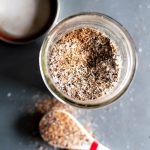 Print
All Purpose Spice Blend
Ingredients
1/4

cup

kosher salt

3

Tbsp.

coarse black pepper

2

Tbsp.

granulated garlic

1/2

tsp.

allspice

1/4

tsp.

cinnamon

1/8

tsp.

cloves

1/8

tsp.

ginger
Instructions
Add all ingredients to a bowl and mix well. Store in an airtight container.