Bourbon Bacon Meatballs are the perfect appetizer or main dish to devour while watching the Kentucky Derby this weekend. These meatballs are part ground beef, part ground bacon and tossed in a delicious homemade bourbon barbecue sauce.
I'm teaming up with a huge, lovely group of fellow food bloggers and food photographers on Instagram today to share our favorite takes on all things Kentucky Derby. If you want to follow along on Insta, search the hashtag #ThisIsHowWeDerby to see all the delicious creations.
I have to admit, I've never watched the Kentucky Derby and didn't know much about it besides the big, beautiful hats and mint juleps. I first considered creating a fun spin on the aforementioned drink of the derby but I'm sharing a fun drink creation soon and didn't want to overload on the boozy situation.
So instead of a drink, I took the bourbon normally in a mint julep and used it to make a barbecue sauce that I could literally eat with a spoon. If rich, sweet, slightly tangy barbecue is your thing, you're going to need to go ahead and run to the store right now for the ingredients so you can make a big vat of this stuff.
I've always been loyal to our favorite KC BBQ spot and kept their sauce in our fridge at all times but I may have found a new favorite. That's how much I love this stuff.
Now let's talk about these meatballs. They are a combination of 2 parts ground beef and 1 part bacon. The bacon gets ground up in the food processor until it has a similar consistency to the ground beef.
Then they are combined with an egg, spices and crushed buttery crackers to create this smoky, slightly spiced, rich meatballs that pairs so nicely with the homemade bourbon barbecue sauce.
The exterior of the meatballs get extra crisp and browned from the bacon which adds a really nice textural element.
I love these Bourbon Bacon Meatballs so much I'm making them again this weekend to not watch the derby. And I'll probably quadruple the sauce to have extra on hand for all the grilled things we'll be consuming in the coming weeks and months. It's going to be the official sauce of the summer.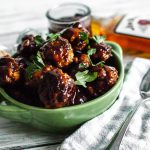 Print
Bourbon Bacon Meatballs
Ingredients
For the Meatballs:
1/2

lb.

bacon

1

lb.

ground beef

1/2

cup

Ritz cracker crumbs

1/4

tsp.

kosher salt

1/4

tsp.

black pepper

1/4

tsp.

onion powder

1/4

tsp.

garlic powder

1/4

tsp.

chili powder

1

large

egg
For the Bourbon Barbecue Sauce:
1/3

cup

brown sugar

1/3

cup

ketchup

1/4

cup

bourbon

1

Tbsp.

yellow mustard

1

Tbsp.

Worcestershire sauce

1

Tbsp.

apple cider vinegar

1/4

tsp.

onion powder

1/4

tsp.

garlic powder

1/4

tsp.

kosher salt

1/2

tsp.

chili powder
Instructions
For the meatballs: chop the bacon into 1-inch pieces and place in a food processor. Blend until it is finely chopped. Add bacon to a large bowl and mix together with the ground beef. Add remaining meatball ingredients and combine well with hands. Form into balls and place on a plate. I like to use my cookie scoop to get consistent size.

Preheat a skillet (preferably cast iron) over medium heat. While it's heating, combine all the barbecue sauce ingredients in a small sauce pan. Heat the sauce pan over medium heat until it comes to a boil. Bring it down to a medium simmer and cook for 10 minutes, stirring often.

Cook the meatballs while the sauce is simmering. Add a tablespoon of canola or vegetable oil to the skillet. Add meatballs and cook on one side until browned and crispy, 3 to 4 minutes. Flip over and cook another 3 to 4 minutes. Cook on sides for a minute to ensure the whole exterior is cooked through since they contain pork.

Remove meatballs from skillet and toss with bourbon barbecue sauce.