This homemade Bacon and Honey French Dressing is just what your salad needs this spring. Sweet, tangy with just a hint of smokiness.
It's finally getting warm my friends and that means it's salad time. Isn't it funny how our appetites shift with the weather? Now that the sun is shining I'm definitely in the mood for all the crisp, green veggies.
Don't get me wrong though, I'm not a frilly, fancy salad kind of person. I like them piled high with all the things to keep me full and happy. Check out my salad recipe index for proof. So, naturally a dressing with bacon in it would be right up my alley.
I especially love it on this Cobb Salad. Although I don't discriminate and would probably enjoy it on just about anything.
Do you make your own dressing or prefer to buy them? I have a couple dressings that I haven't been able to perfect a homemade version of so they always reside in my refrigerator but otherwise, I love whipping them up at home. It's super simple and usually only requires dumping the ingredients in a jar and shaking them up. Plus, it's cheaper and healthier too.
When it comes to salads, French dressing is almost always the dressing I choose. I love the sweet and tangy nature of it. The dressing also has a bit of bacon grease and lots of crumbled bacon to add a delicious salty, smoky flavor and complexity to the dressing. It hits all your taste buds in all the best ways.
This Bacon and Honey French Dressing is great as a dip for veggies too. I especially like dipping sliced cucumbers in it. Brings me back to childhood when one of my favorite snacks was cucumbers with lots of pepper and a sprinkle of salt that I would then dip in Catalina dressing. Ok, so I still enjoy that as a snack and it makes me happy every time I eat it.
So raise your forks to homemade dressing and happy food memories.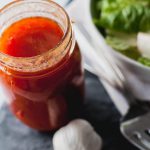 Print
Bacon and Honey French Dressing
Ingredients
6

slices

bacon, cut into small pieces

1

clove

garlic, grated

About 2/3

cup

canola oil

1/2

cup

white vinegar

3

Tbsp.

honey

1/2

cup

ketchup

1

tsp.

Worchestershire sauce

1/2

tsp.

paprika

1/2

tsp.

onion powder

1/2

tsp.

kosher salt
Instructions
Heat skillet over medium heat. Add bacon. Once bacon is halfway cooked add the grated garlic. Cook until bacon is crispy. Remove to a paper towel lined plate.

Pour 2 tablespoons of the bacon grease into a 2/3 measuring cup. Fill the remaining amount with canola oil then pour into a mason jar. Add remaining ingredients (including the bacon) and shake until well combined. You can also whisk well in a bowl if you don't have a jar. Refrigerate until ready to serve.

Allow dressing to sit at room temperature for 15 minutes before serving. Shake well or whisk to ensure bacon grease is well incorporated.