Set yourself up for success in the new year with these Chocolate Orange Energy Balls. Made simply with clean, healthy ingredients for a high energy and delicious treat.
Long time no see my friends. I took a looong break and as much as I missed you all, I enjoyed every minute of it. Having the time to recharge and spend time with my family was just what I needed before starting the new year. I hope you all enjoyed a wonderful holiday season.
What are your goals, resolutions, intentions for 2018? I jumped on the "word" bandwagon and decided my word for 2018 would be Joy. The last few months of 2017 were very stressful for our family between building a new home (and all the meetings and decisions that go along with that), preparing our current home and selling it, busy season for Joel at work and driving across town twice a day to take Noah to school so it's something that I have felt I have lacked.
So my focus this year is to find the joy in big moments and small and to try to make the not so fun parts of life more joyful. This means grabbing my phone less and telling my kids yes more. It means jamming to music while folding laundry (because that's the worst chore ever, am I right?). It means being more spontaneous and ditching the plan sometimes (hold me). It means stepping away from social media a bit because that comparison game can totally steal joy.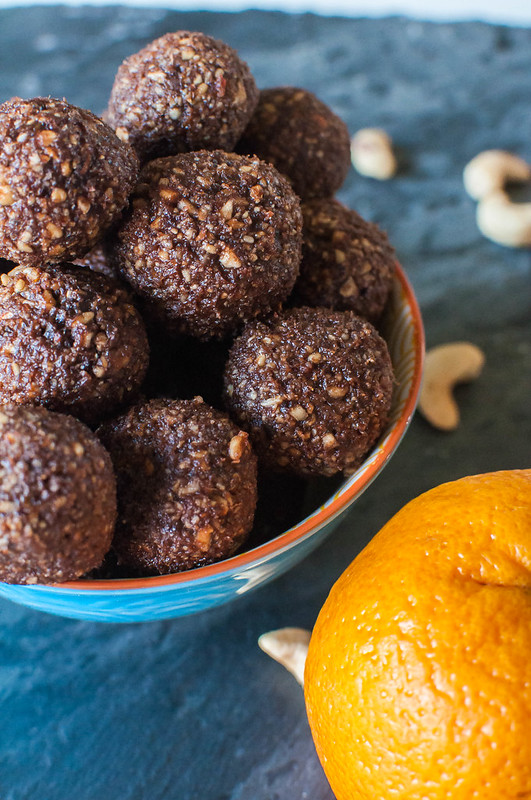 I also have the typical goals such as eating more healthfully and continuing to work out on a regular basis. I decided to go sugar-free this January with the Pinch of Yum Sugar Free January challenge and I'm surviving guys. I'm also ditching white flours and artificial ingredients so basically clean eating this month. But I'm also determined to give myself grace if I slip up.
So if you guys are on the healthy eating bandwagon like me but that sweet tooth still seems to strike around 8 at night, I've got a satisfying treat that won't throw you off track. These Chocolate Orange Energy Balls are full of good for you ingredients and ridiculously easy to make.
Cashews, almonds (or whatever combination of nuts you prefer) and dates are the base of these energy balls. The dates add a crazy amount of natural sweetness to really fill that craving. Cocoa powder and orange zest add another layer of flavor and sweetness. Do you guys love the combination of orange and chocolate as much as I do? I think it's the best so these really are satisfying for me when I need a little hit of sweet.
And because they are energy balls, they are a great way to kick start your day. Plus, they are portable for that daily grind.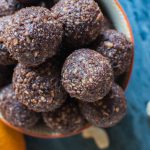 Print
Chocolate Orange Energy Balls
Ingredients
1

cup

raw cashews

1

cup

raw almonds

1

cup

pitted dates

3

Tbsp.

cocoa powder

1/4

tsp.

cardamom (optional)

1

large

orange, zested and juiced
Instructions
Add nuts to a food processor and pulse until fine but not turning into butter. Add dates, cocoa powder, cardamom, orange zest and 1/4 cup orange juice. Pulse until it comes together in a ball and everything is fine.

Using a tablespoon, scoop and roll into balls. Keep refrigerated for up to 1 week.