Let's keep the sides easy this Thanksgiving with Sweet and Spicy Sweet Potatoes. Done in 30 minutes with just a handful of ingredients.
Is it too early to start talking Thanksgiving? I apologize in advance if you think it is because I'm totally going there today. It's only about a month and a half away so that's not so bad, right?
I know there are two types of people in the world: last minute wingers and planners. I obviously fall into the second category. Obviously.
When I'm hosting a big event at our house the planning starts several weeks in advance and there is a grocery list, to-do list leading up to the event and one for the day of that has times included of when each item should all be started. I'm hardcore type A when it comes to events. The lists help me stay a little more calm and relaxed so I don't have to go over what needs to be done in my head constantly.
When it comes to Thanksgiving planning is necessary. But it doesn't have to be crazy busy or difficult. It's always a good idea to have some simple side dishes on the menu that don't take much effort or thought so you can focus on the dishes that need more attention like the turkey and the rolls.


I'm personally not a big fan of mashed sweet potatoes so if I were doing the Thanksgiving planning I would always opt for some version of roasted sweet potatoes (unless it's these because hello streusel, nutty topping). I love the dark caramelization sweet potatoes get when they are diced into bite size chunks and roasted in a hot oven.
I also love playing with the sweetness by adding some spiciness to the sweet potatoes. If it's just an everyday roasted sweet potato I usually reach for my favorite hot sauce but for these Sweet and Spicy Sweet Potatoes I created a delicious and simple spice rub to sprinkle over them.


The rub consists of pantry staple spices and a bit of brown sugar to add a little sweetness and help the caramelization along. Toss the sweet potatoes with a little olive oil and the spice blend and you're good to go. Seriously, they are as simple as that. You could even make a big batch of the rub ahead of time so all you have to do is sprinkle and bake.
Keep Thanksgiving or any meal simple and stress free this year with these Sweet and Spicy Sweet Potatoes.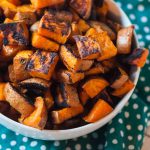 Print
Sweet and Spicy Sweet Potatoes
Ingredients
2

lbs.

sweet potatoes, bite size chunks

2

Tbsp.

olive oil

1/2

tsp.

kosher salt

1/2

tsp.

onion powder

1/2

tsp.

garlic powder

1/2

tsp.

paprika

1/4

tsp.

cayenne pepper

1 1/2

Tbsp.

brown sugar
Instructions
Preheat oven to 425 degrees. Place sweet potatoes in a large bowl. Drizzle with olive oil and toss to coat.

In a small bowl, combine salt, onion powder, garlic powder, paprika, cayenne and brown sugar. Sprinkle over the sweet potatoes and toss to distribute evenly. Pour onto a rimmed baking sheet. Bake for 15 minutes. Flip and bake 10 minutes.