With football season upon us, let's think about all the football food. These Baked Ranch Wings are super simple to make for big and small crowds alike. Sit on the couch, watch the football, yell at the TV and eat the wings.
Are you all yay or nay about football season? I'm kind of a mixed bag. I mean, I wear red and cheer for my Huskers because it's my alma mater and I want them to be successful but I don't really care for actually watching the game. I'm there for the friends and food.
It's also Joel's crazy busy season for work so that kind of makes it a little dreaded. But I press on and keep thinking about the food. That always seems to make things better.
Is there any other food better for consuming while watching football than chicken wings? Maybe nachos. Or pizza. But I'm pretty sure the wing is still king of the castle. If you can't tell, I kind of have a thing for wings.
I'm pretty loyal to the classic buffalo chicken wing but I do stray from time to time for some fun, unique flavors. That's where these Baked Ranch Wings come in.
Joel and the kids are major fans of ranch so I knew it would be a flavor that would be well received. It's almost a food group in the Midwest. People dip their pizza in it guys.
So to make these wings I started off by marinating them in pickle juice for a few hours or up to overnight. The brininess of the pickle juice helps keep the wings moist and tender when you bake them. This is a trick Chick-fil-A does and if it's good enough for them, it's good enough for me.
Once the wings marinate they get tossed in a rub of olive oil, ranch seasoning and extra dill because it's the best herb to ever grow.
Baking rather than frying makes these way easier to make. Less mess and you can cook a huge amount all at once. Plus, they are healthier so you can eat more nachos or buffalo fries or caramelized onion bacon dip. I'm looking out for you.
If you want next level ranch, go ahead and dip those suckers in ranch. Go wild. I thought they were flavorful enough without it but my aforementioned ranch loving husband went for the dip.
As I say to my kids, "do your thing chicken wing." I like to rhyme and give them weird pet names. Man, I'm really going to embarrass them someday.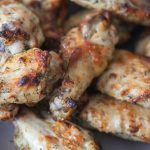 Print
Baked Ranch Wings
Ingredients
2

lbs.

chicken wings

1/2

cup

pickle juice

2

Tbsp.

dry ranch mix

1/2

Tbsp.

dill weed

1/4

tsp.

pepper

2

Tbsp.

olive oil
Instructions
Place chicken wings and pickle juice in a large resealable plastic bag. Marinate in refrigerator for 4 hours or up to overnight.

Preheat oven to 400 degrees F. Line a baking sheet with foil. Place a greased, oven-safe baking rack over the prepared baking sheet. Set aside.

In a large bowl, combine ranch mix, dill, pepper and olive oil. Stir to make a paste. Set aside.

Remove wings from pickle juice and pat dry with paper towels. Add to bowl with ranch seasoning mixture and toss to coat wings evenly. Place wings on the prepared rack, making sure they aren't touching to ensure crispiness.

Bake for 40 to 45 minutes, flipping after 20 minutes.