All the tasty flavors of my favorite candy bar combine to create this Almond Joy Iced Coffee. The perfect way to start a summer morning.
Let me set a scene for you. Once upon a time there was a woman that didn't drink coffee. Then she had a kid. She still managed to not drink coffee. Then another kid entered the world. Then the woman started falling asleep, sitting up, in the middle of conversations. Literally. Then the woman started drinking coffee and has never looked back. Spoiler: I'm that woman.


I don't know how I lasted so long without but now if I miss my morning coffee you probably want to stay at least 10 feet away from me. And all those meme's about not talking to someone until the cup is empty. Guilty.
Iced coffee is my go to beverage every morning, no matter the weather. I know that seems crazy in the dead of a Nebraska winter but I just really prefer cold coffee.
I can get behind a peppermint or salted caramel mocha but if we're talking straight coffee, I want it cold.


I took some inspiration from a favorite midwestern coffee chain that originated in my hometown when creating this Almond Joy Iced Coffee. They have a candy bar latte on the menu and you can request pretty much any candy bar that they turn into a latte. Fun right?
I'm not a big fan of latte's so I decided to use their method and apply it to an iced coffee that would be perfect for summer. Since this is my blog and I'm the recipe creator I picked my personal favorite candy bar, the Almond Joy, as my first attempt.
First, plan ahead for your coffee. You can either brew coffee and let it cool or make your own cold brew. I'm a fan of cold brew for sure for it's smoother, less acidic flavor so I always have some in the fridge.


The first step in turning your plain iced coffee into an almond joy masterpiece is a homemade coffee syrup flavored with chocolate, coconut and almond. Can you tell I'm obsessed with homemade coffee syrups?
The coconut flavor is amped up a drizzle of coconut milk. I like the full-fat stuff for added creaminess.
Then to make it fancy, drizzle some chocolate sauce around the inside of your glass before adding your coffee. You'll feel like you're at a coffee shop but without the price tag.


What other candy bars would you like to see turned into a delicious coffee treat? Let me know in the comments section below.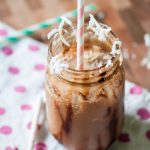 Print
Almond Joy Iced Coffee
Ingredients
For the Almond Joy Syrup:
1/2

cup

water

1/2

cup

granulated sugar

1

Tbsp.

cocoa powder

1/2

tsp.

almond extract

3/4

tsp.

coconut extract
For the Coffee Assembly:
1

cup

cold coffee

3

Tbsp.

coconut milk

3

Tbsp.

Almond Joy syrup

Ice
Instructions
For the syrup: Bring water, sugar and cocoa powder to a simmer until the sugar dissolves. Remove from heat and stir in almond extract and coconut extract. Allow to cool then store in the refrigerator in an airtight container.

To assemble the coffee: fill glass with desired amount of ice. Add coffee, coconut milk and syrup. Stir together and enjoy.