If you're looking for a way to get your family to eat more salad, this is the recipe for you. Chopped Pizza Salad turns your favorite pizza into a delicious salad. Easily customizable with your favorite toppings for a healthier, lighter summer meal.
I got back from Vegas late Thursday night and jumped right back into real life with a busy, fun-filled weekend with family. We went to the lake on Saturday and Sunday was spent celebrating Joel, eating all his favorite foods and watching Noah's baseball game.


Needless to say, after all the Vegas and Father's Day splurges I am ready for some detox around here. Turns out I can't eat like I used to and my body is screaming at me to eat some vegetables.
In comes this chopped pizza salad. I personally love a big salad for dinner but my family doesn't exactly share my sentiments so I have to get creative.


If there is one food the boys would eat every single day, it's pizza so I took all their favorite toppings and threw them on top of some lettuce and dubbed it the "pizza salad" to try to make it even more tempting.
I loved the pizza flavors without all the extra carbs and greasiness. Not that I'm against pizza, because, hello PIZZA. But sometimes (and by sometimes I mean after you turn 30) you just can't eat pizza all the time. It's a sad truth that I'm coping with guys.


I kept the toppings pretty basic so I wouldn't scare off the skeptics. Sliced pepperoni, mozzarella chunks, halved olives, mushrooms and diced red peppers adorn our salad but you can use whatever toppings you love on a pizza. I'm thinking my family would love a Hawaiian style pizza salad.
Since nobody in my family really cares for raw tomatoes, I chose to drizzle the salad with a tomato-y dressing to still get that tomato sauce vibe that's so important on a classic pizza. I made this French dressing which we loved. I think a Catalina dressing would be a great option as well.


Prepping a large amount of toppings makes simple meals you can toss together for an easy, stress free week.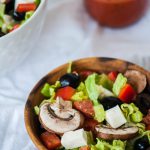 Print
Chopped Pizza Salad
Turn your favorite pizza into a delicious salad.
Ingredients
3

romaine hearts, finely chopped

1

red pepper, diced

6

ounces

pepperoni, sliced into rounds then into quarters

8

ounces

fresh mozzarella, diced into small chunks

1/2

cup

halved black olives

1

cup

sliced baby bella mushrooms

Tomato based dressing
Instructions
In a large bowl, toss together lettuce, peppers, pepperoni, mozzarella, black olives and mushrooms.

Drizzle with dressing of choice and serve.