I'm taking a childhood classic and putting a fun breakfast spin on it with this Peanut Butter and Jelly Biscuit Bake. Store bought biscuits are tossed with a peanut butter sauce and blueberries then swirled with blueberry jam before being baked into bubbly perfection.
I have a confession to make and you all have to promise you'll still love me after you hear it. I have never been a big fan of peanut butter and jelly sandwiches. There. I said it. I was an incredibly picky child and happily ate a turkey and cheese sandwich every day of my elementary and middle school years. I've just never really liked jelly or jam.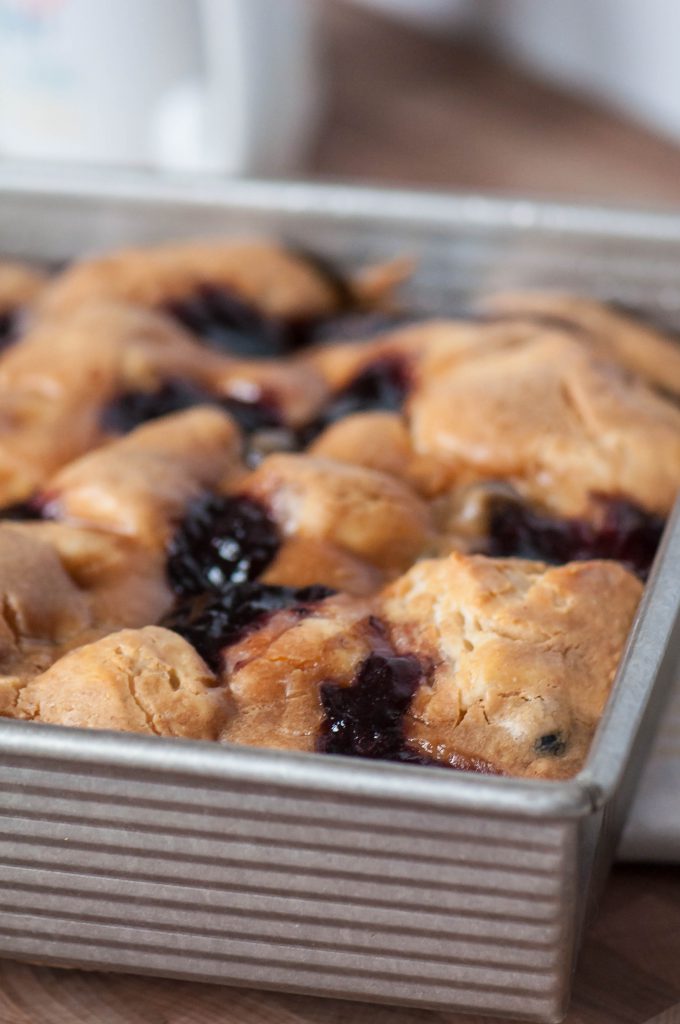 But in typical fashion, my kids are the opposite of me and love them so PB&J's. Not that I'm complaining. Super easy to make and we always have the necessary ingredients. One of their favorite breakfasts is peanut butter and jelly toast but I wanted to up the ante recently so I created this simple and fun Peanut Butter and Jelly Biscuit Bake.
This delicious dish starts with store bought biscuits, I'm talking the ones in the tube. I'm not normally a fan but for something like this dish they make sense. It keeps it simple and I don't think it would be worth the time and effort to make homemade just to smother them in peanut butter and jelly.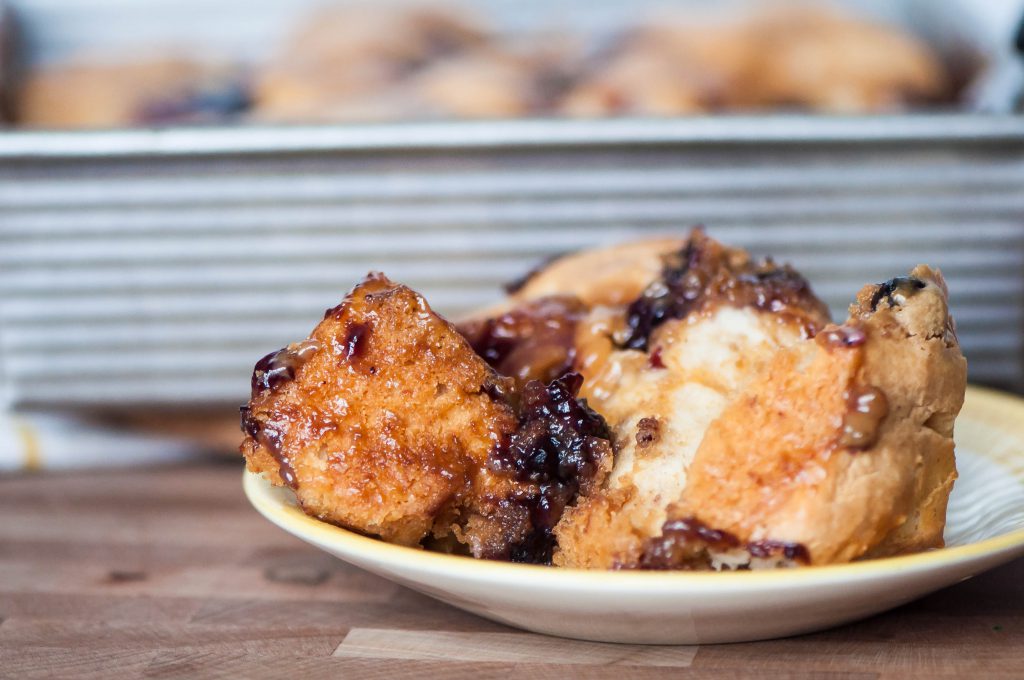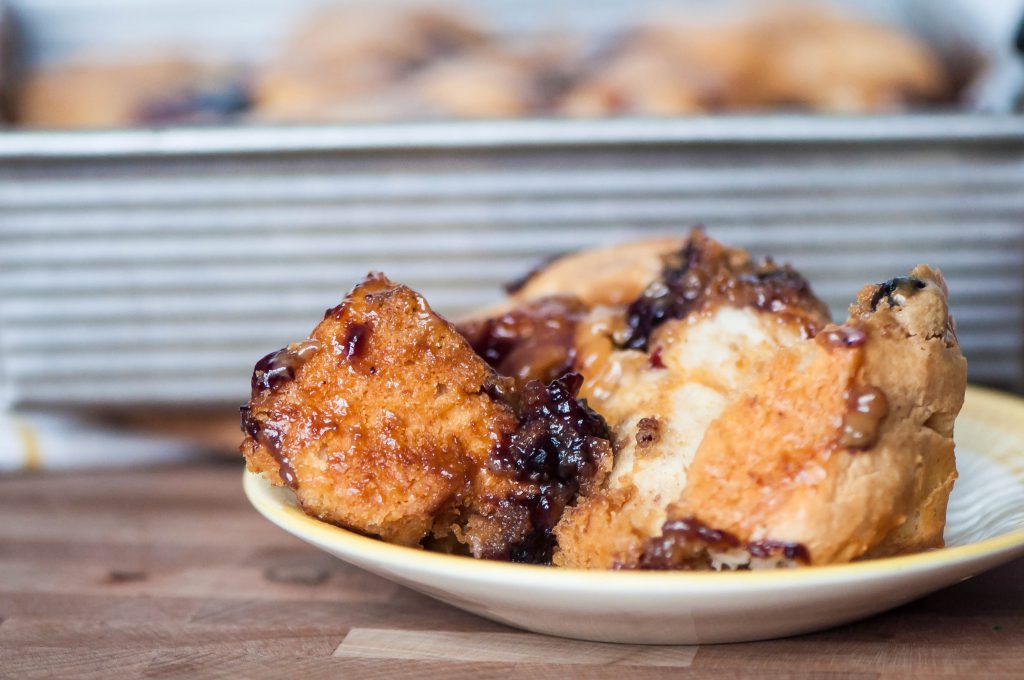 The biscuits are cut into fourths then tossed in a peanut butter sauce. Then is stirred in some fresh blueberries to amp up the fruity goodness. Lastly, it's topped with dollops of blueberry jam and swirled before being baked to golden perfection.
This Peanut Butter and Jelly Bake can be customized to whatever jelly you have or prefer. Raspberry jelly with fresh raspberries would be delicious too. Or the old classic, grape although I wouldn't add fresh grapes as they might bake up weird.
I haven't tried it but I'm betting it could be made up the night before and just baked in the morning. If anybody tries it, let us know how it works out in the comments below.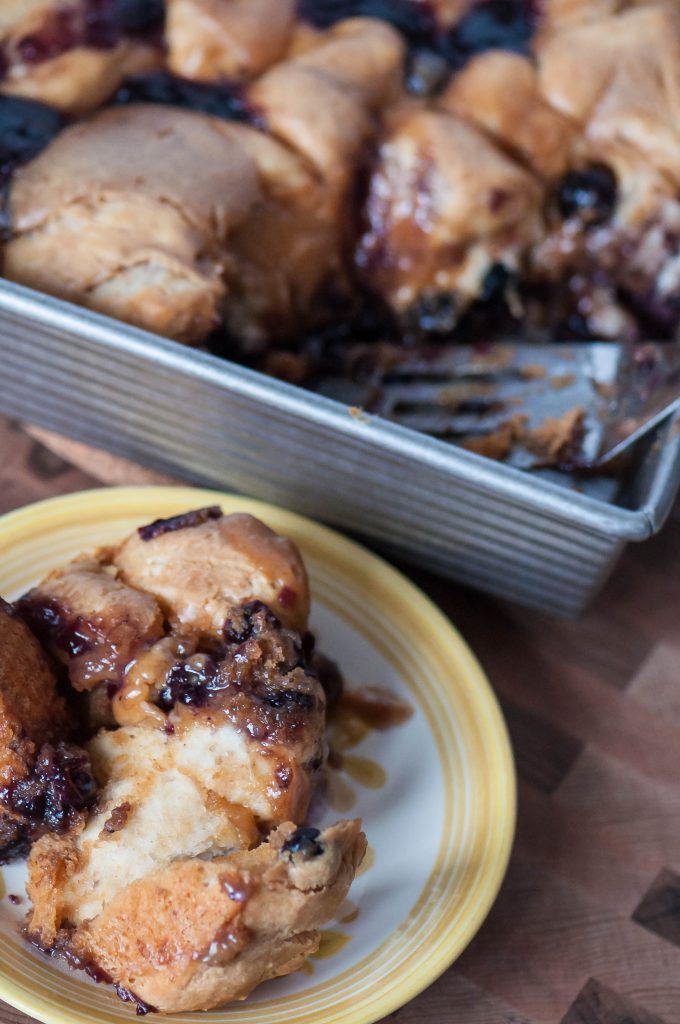 The kids and Joel loved this Peanut Butter and Jelly Biscuit Bakes as I suspected they would. And what about the professed peanut butter and jelly hater? I liked it just as much as the rest of my crew. I'm still more of a savory breakfast kind of person but if I had to pick something sweet this would be at the top of my list.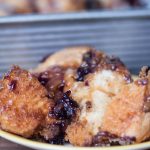 Print
Peanut Butter and Jelly Biscuit Bake
Ingredients
1

pkg. (8 ct.)

buttermilk biscuits, cut into fourths

(in the tube)

3/4

cup

peanut butter

I used Justin's

1/4-1/3

cup

powdered sugar

(if you use a natural peanut butter you may need the full amount listed

1/2 cup + 2

Tbsp.

milk

1/2

cup

fresh blueberries

1/4

cup

blueberry jam

Coconut oil or nonstick spray
Instructions
Preheat oven to 350 degrees F. Grease an 8x8-inch pan with coconut oil and set aside.

In a medium bowl, whisk together the peanut butter, powdered sugar and milk. Gently fold in the cut biscuits pieces and blueberries. Dump into prepared pan. Dollop with the blueberry jam and swirl slightly with a knife.

Bake for 30 to 35 minutes, until center is no longer doughy.