Blueberry muffins are classic and everyone has their own favorite recipe for them. But these muffins right here, they are the Best Blueberry Muffins ever. I promise.
**Edit: I have updated the text and photos in this post since it's original post date in 2011. This recipe was posted at the very beginning of my blogging adventure and well, the photos showed it. I hadn't quite found my voice yet so the text wasn't very compelling either.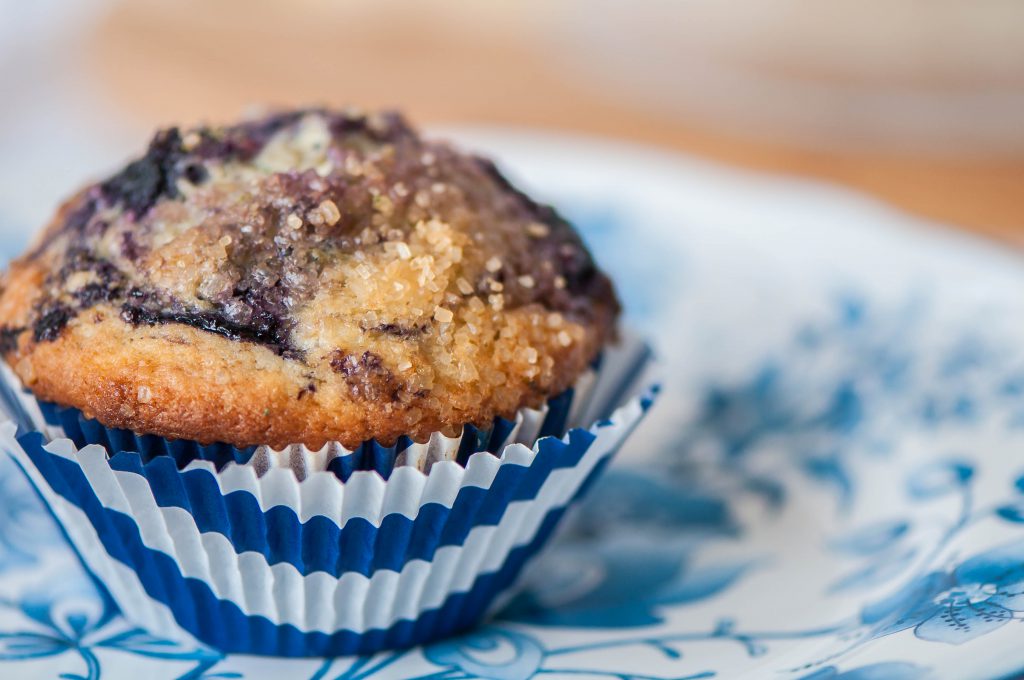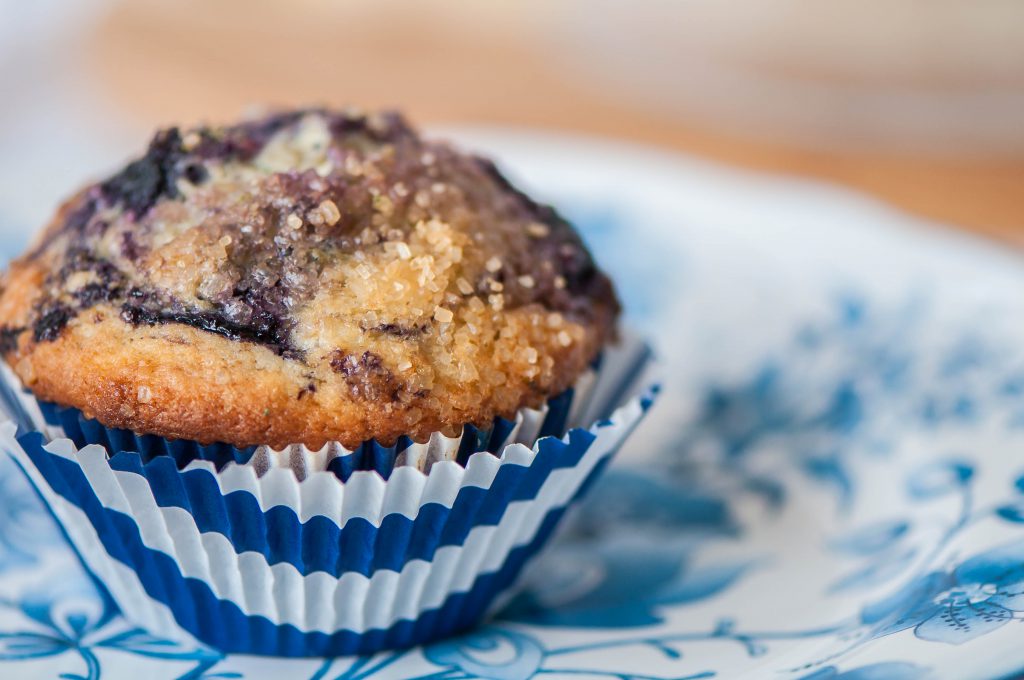 Like I said above, I originally posted this recipe all the way back in 2011 when I was a clueless blogger just posting recipes for my family and friends. It was simpler times people but goodness it was bad. But hey, we live, we learn, we update the darn photos.
From the very beginning I have been obsessed with muffins. They are an easy breakfast that I know my kids will eat and they can be made the night before. Bonus!
Finding the Best Blueberry Muffin
As you can see, the archives are packed with muffin recipes that we completely adore.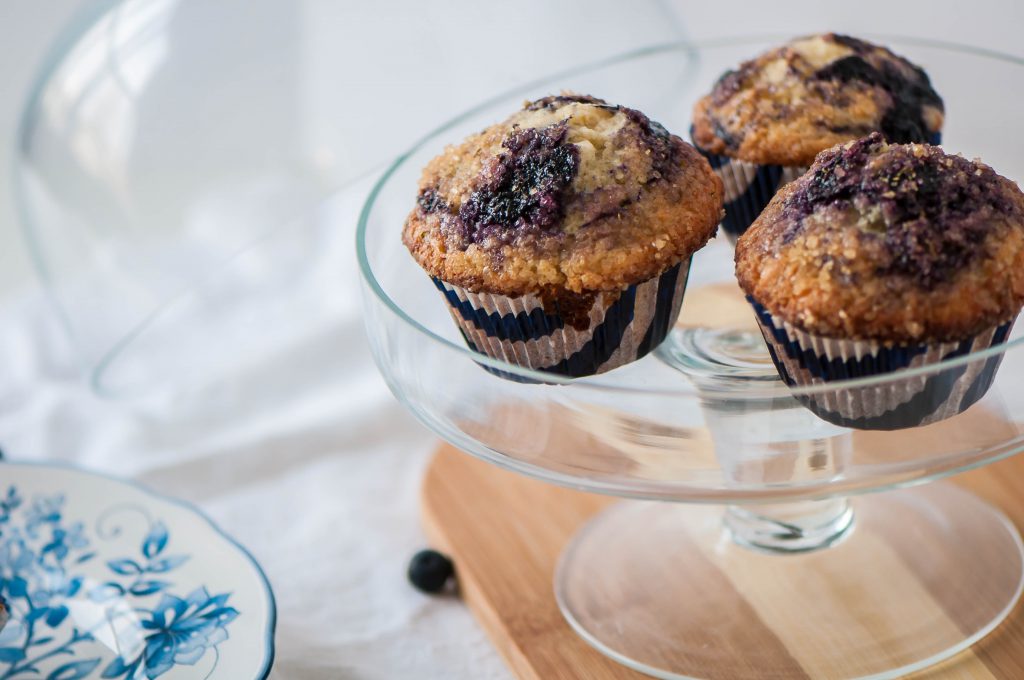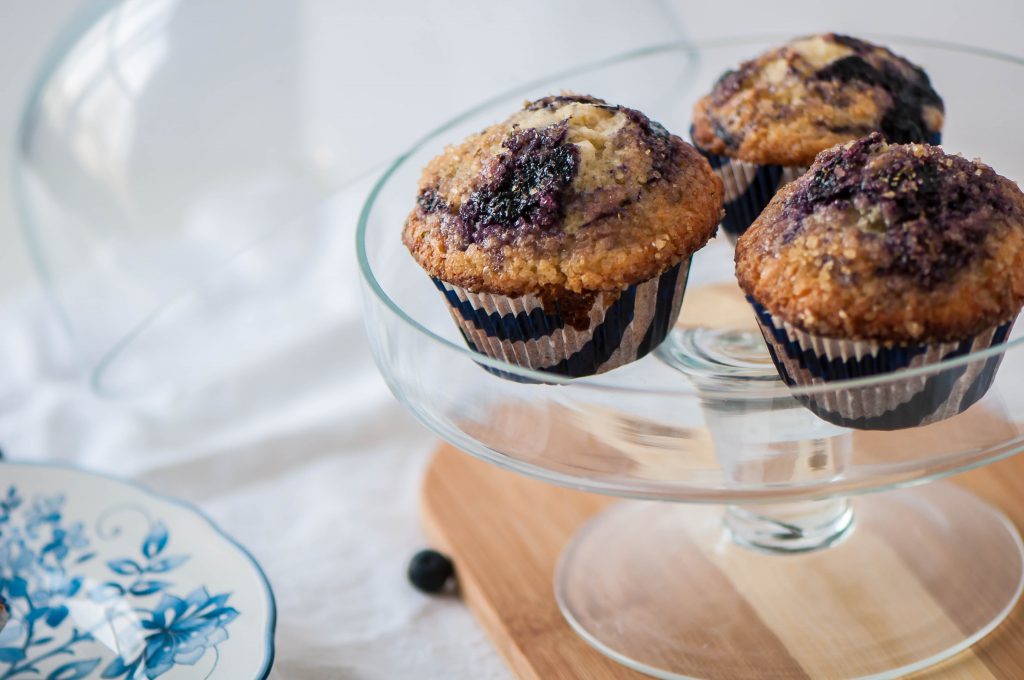 But, way back when I was really struggling to find the perfect blueberry muffin recipe. They were too sweet, not sweet enough, too dense and so on. But when I came across this recipe from Cooks Illustrated, that claimed these to be the best blueberry muffins ever I knew I had to give them a try. And turns out they know what they are talking about.
What makes these muffins special adds a little bit of extra time but it's completely worth it friends. Half the blueberries are folded into the muffin batter while the second half is simmer with a little sugar to make a crazy delicious compote that is swirled on top of the batter before being baked. This create a double punch of blueberry flavor that takes these from good to the best ever. I've made a lot of blueberry muffins in my day so you can trust me.
Another important step in the success of these muffins is whisking the eggs and sugar to make them light and fluffy. It's also important not to over-mix which would make them tough.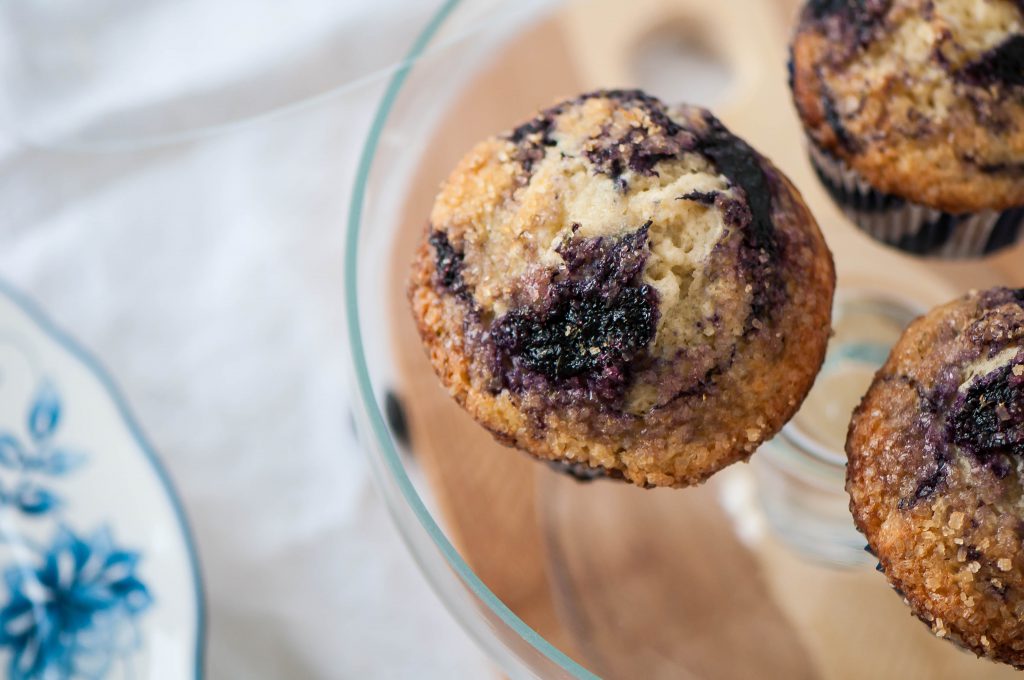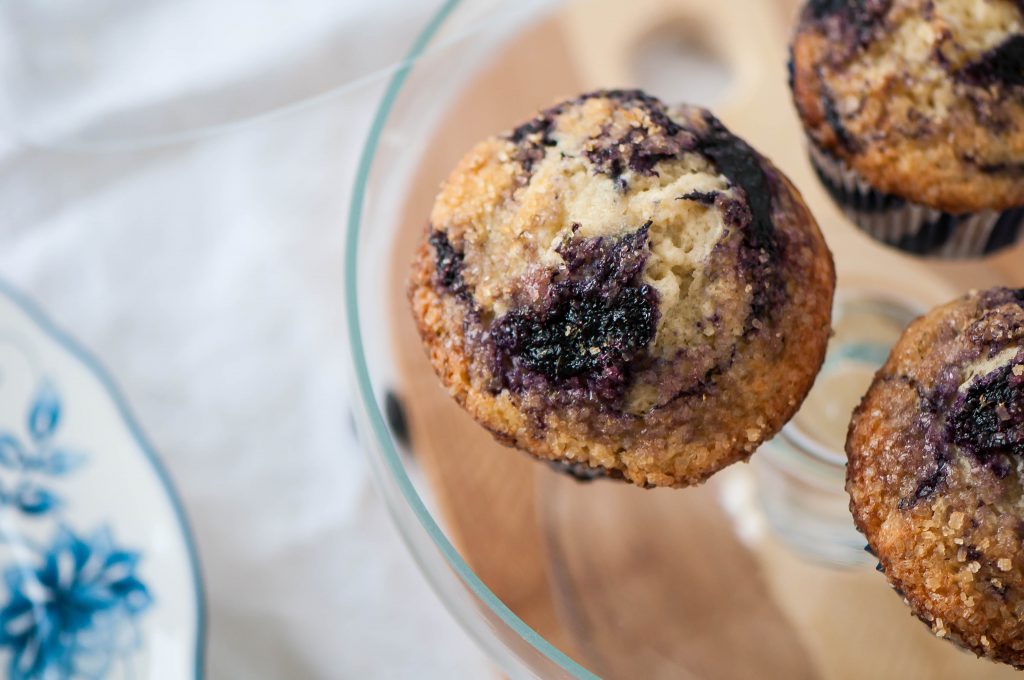 The final step is the coarse sugar and lemon zest topping that is sprinkled on after the homemade compote. It creates a bright, crunchy top that really adds to the final texture and flavor of the muffin. Plus, the coarse sugar makes them look sparkly.
So there you have it. If you try any muffin recipe on my blog these Best Blueberry Muffins.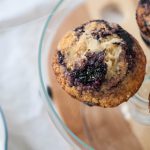 Print
Best Blueberry Muffins
Blueberry muffins are classic and everyone has their own favorite recipe for them. But these muffins right here, they are the Best Blueberry Muffins ever. I promise. 
Ingredients
2

cups

fresh blueberries, divided

1

cup + 2 Tbsp.

granulated sugar

2 1/2

cups

all-purpose flour

2 1/2

tsp.

baking powder

1

tsp.

kosher salt

2

large

eggs

4

Tbsp.

butter, melted and slightly cooled

1/4

cup

vegetable oil

1

cup

buttermilk

1 1/2

tsp.

vanilla extract
For Topping:
1/3

cup

coarse sugar

1 1/2

tsp.

lemon zest
Instructions
Preheat the oven to 425 degrees. Line muffin cups with muffin liners orspray with nonstick cooking spray.

In a small saucepan over medium heat, bring 1 cup blueberries to simmer.

Cook, mashing berries with spoon and stirring frequently, until berries have broken down and mixture is thickened and reduced to ¼ cup, about 6 minutes. Transfer to small bowl and cool to room temperature, 10 to 15 minutes.

In a large bowl, whisk together the flour, baking powder, and salt. In a medium bowl, whisk together the sugar and eggs until thick, about 45 seconds. Slowly whisk in butter and oil until combined. Whisk inbuttermilk and vanilla until combined. Using rubber spatula, gently fold egg mixture and remaining 1 cup blueberries into flour mixture until just moistened (do not overmix.)

For the topping: In a small bowl, stir together sugar and lemon zest; set aside.

Divide batter equally among prepared muffin cups (batter should completely fill cups and mound slightly). I had some leftover batter so I made some mini muffins too. Spoon 1 teaspoon of cooked berry mixture into center of each mound of batter. Using a toothpick, gently swirl berry filling into batter. Sprinkle lemon sugar topping evenly over muffins.

Bake for 17-19 minutes, or until muffin tops are golden and just firm. Cool muffins in muffin tin for 5 minutes, then transfer to wire rack and cool 5 minutes before serving.
Processing…
Success! You're on the list.
Whoops! There was an error and we couldn't process your subscription. Please reload the page and try again.