Whether you are looking for a quick and easy weeknight meal or a fun, flavorful party appetizer these Thai Chicken Fingers are just the ticket. They are coated in crispy panko breadcrumbs, coconut flakes and sesame seeds fried to perfection and dunked in a rich, sweet and spicy peanut sauce for the ultimate chicken finger transformation.
Perfect for Football
Are you all thinking about the Super Bowl yet or is it just me? And when I say thinking about the Super Bowl, I really mean thinking about what I'm going to eat while talking to my friends with the game on in the background. I'm totally not sorry about it either.
There's actually been a lot of football talk too since if so and so wins then the Chiefs will play so and so and they almost beat them earlier in the year and well, I think you can see how well I listen to that kind of Super Bowl talk. I sometimes feel a little sorry about the whole not listening thing but then I remember he totally didn't care when I was recapping how the last season of Scandal ended so I figure we can call it even.
When it comes to watching the Super Bowl or any big game, what I want to eat is pretty basic and predictable. Pizza, wings, nachos, chili, sandwiches….I could go on but you get the picture. All the unhealthy but delicious things that I don't make often but dream about daily. If you guys are still on your healthy eating kick, I'm sorry in advance. But the Super Bowl is only one day a year and it's ok to splurge every once and awhile right?
And ain't nobody coming to your house if you plan on serving grilled chicken and veggies. I mean, put out a veggie tray so people can pretend to make some healthy choices but that's not really what it's about.
These Thai Chicken Tenders would be a super easy and delicious option for the game or even a simple weeknight dinner. They are really quick to make, I'm talking less than 20 minutes from start to finish and they are so dang good.
Crunchy Goodness
I coated these tenders in panko breadcrumbs for an extra crunch factor, unsweetened coconut and sesame seeds. The coconut adds sweetness to the tenders and extra texture and crunch along with the sesame seeds.
To up the Thai influence they are served with a sweet and spicy peanut butter sauce that only takes a minute to whip up. It's rich and nutty which really compliments the chicken. Steam some broccoli and throw it on the side with a drizzle of the peanut sauce to make a meal out of them.
These hot, crispy, sweet and savory chicken tenders were a huge win in my house and I think they will be in yours too.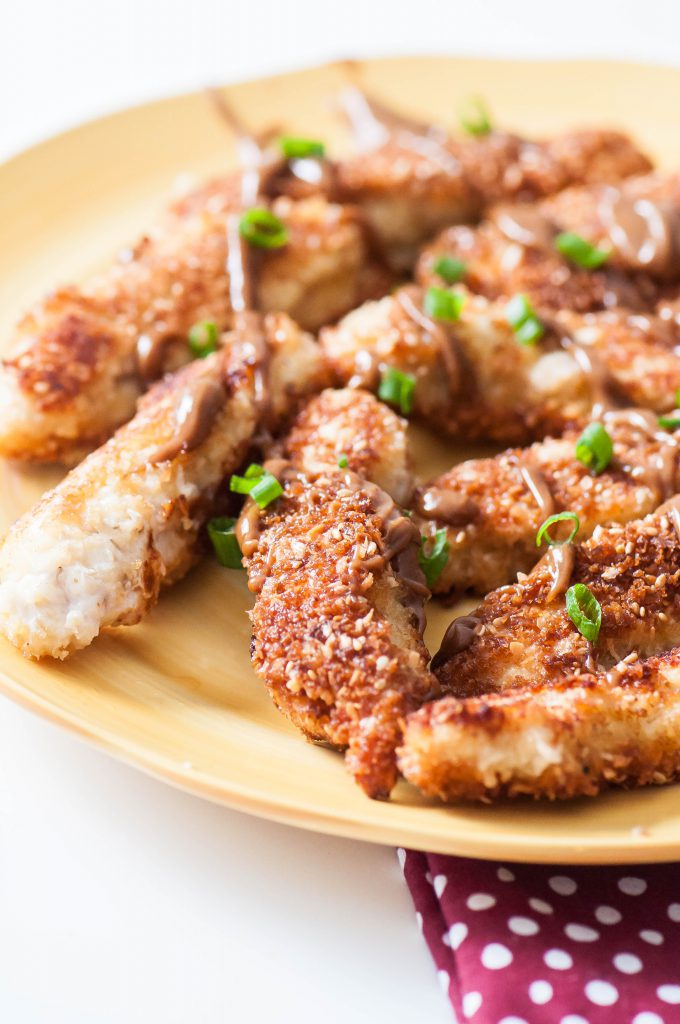 Thai Chicken Fingers
2017-01-09 16:38:17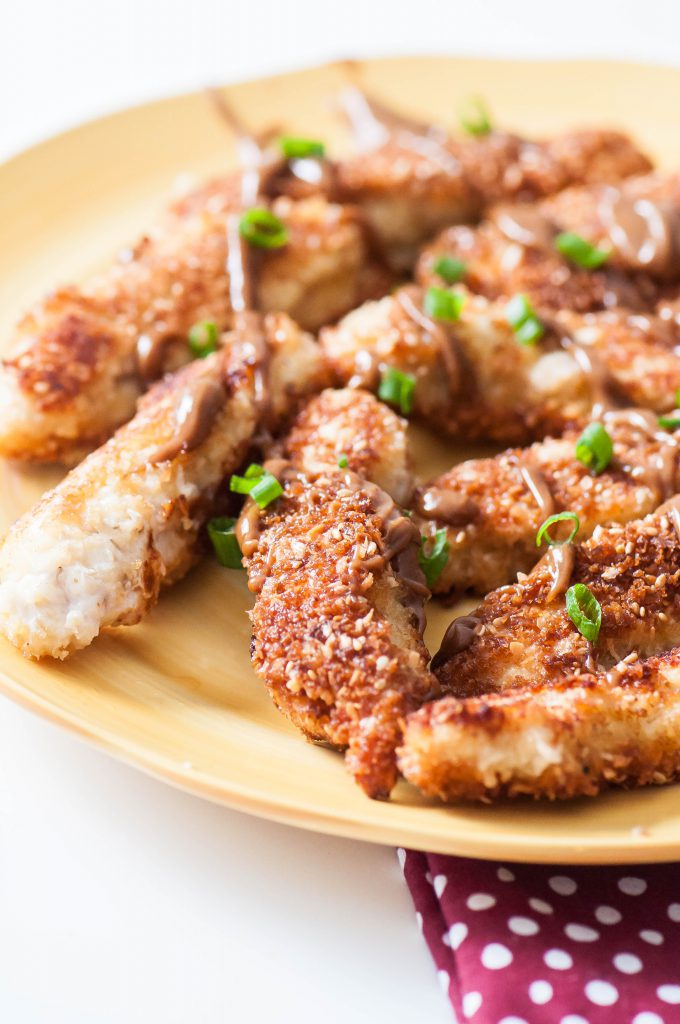 Ingredients
Peanut oil, for frying
2 lbs. boneless skinless chicken tenders
1/2 cup all-purpose flour
2 eggs
1 cup panko bread crumbs
1/2 cup unsweetened coconut flakes
1/4 tsp. sesame seeds
For the peanut sauce
3/4 cup peanut butter
1 garlic clove, finely minced
1/4 cup soy sauce
1/4 tsp. ground ginger
1 Tbsp. rice vinegar
1/2 tsp. sesame oil
1/2 tsp. red pepper flakes (or more if you like spicy)
3 Tbsp. hot water
Green onion, for garnish
Instructions
Fill a large skillet with a shallow layer of peanut oil, just enough to coat the pan. Heat over medium heat. Meanwhile, lay out three pie pans (or cake pans or even large plates). In the first pan add the flour and 1/4 teaspoon each kosher salt and pepper. In the second, whisk the eggs. In the third, combine the breadcrumbs, coconut, sesame seeds and 1/2 teaspoon each kosher salt and pepper.
Dredge the chicken in the flour, then the egg and finally coat in the breadcrumb mixture. Set aside. Continue until all the chicken has been coated.
Cook the chicken in the peanut oil, about 3 minutes per side or until golden and cooked through.
For the dipping sauce: whisk together all the ingredients except the water. Slowly drizzle in the water, whisking, until the desired consistency has been reached. Serve on the side for dipping or drizzle over the chicken tenders. Sprinkle with green onions.
Meg's Everyday Indulgence https://www.megseverydayindulgence.com/