Start the New Year off right with a healthy, simple and delicious dinner. These Balsamic Chicken and Veggie Farro Bowls are filling and satisfying and can be prepped ahead of time making it even easier to make smart choices. Nutty, chewy farro is topped with balsamic marinated chicken, roasted veggies and a drizzle of balsamic vinaigrette for the perfect lunch or dinner.
Happy New Years guys. Shall we talk about resolutions? Are you one to make them or do you feel like it just sets you up for failure? I'm definitely a resolution maker.
I like having a plan and goals to work towards. I haven't put as much thought into my resolutions this year as I usually do but I know I want to get into a better routine again in the new year.
Someone has been sick in my house since October which has created havoc and an inability to depend on our normal schedule. Fingers crossed we are over all the crud and I can get back into a better workout and food prep routine.
I also have some personal goals (30 books and practice mindfulness) along with some blog goals (hello sponsorships and reader growth).

I'm guessing that a lot of you are also choosing to focus on healthy eating to start the year off right. So today I decided to share my new favorite healthy meal, Balsamic Chicken and Veggie Farro Bowls.
I'm relatively new to farro and I have to say, I don't know what took me so long to jump on the bandwagon. It's similar to rice but with a chewier texture and a nutty flavor. This ancient grain is really filling and is rich in fiber and several vitamins.
I topped the farro with roasted balsamic marinated chicken, roasted vegetables, great northern beans and a drizzle of balsamic vinaigrette. You can use whatever veggies you like, broccoli, cauliflower, carrots, green beans.
I chose to make the balsamic vinaigrette, which doubles as a marinade and sauce, since it's super simple to do and it doesn't have any weird stuff the store-bought varieties do. This is the recipe I love (I leave out the shallot since we don't love the raw onion flavor). Just dump all the ingredients in a mason jar, close the lid and shake.
The chicken and veggies are all baked together on a sheet pan to make it simple and reduce clean up. The balsamic marinade for the chicken gets a little syrupy in the oven and makes the veggies even tastier.
I really want to get into meal prepping my lunches this year so that I always have something healthy and simple on hand during busy, kid filled days. These last few months I found myself reaching for not so great options at lunch just because they were easy and I was starving.
These bowls are great for meal prep as you can make everything ahead of time and it reheats well or they are even good cold. Simply portion them out into lunch sizes and you are good to go.
I so hope bowls stay trendy this year because they are so fun and versatile. Bowls for life.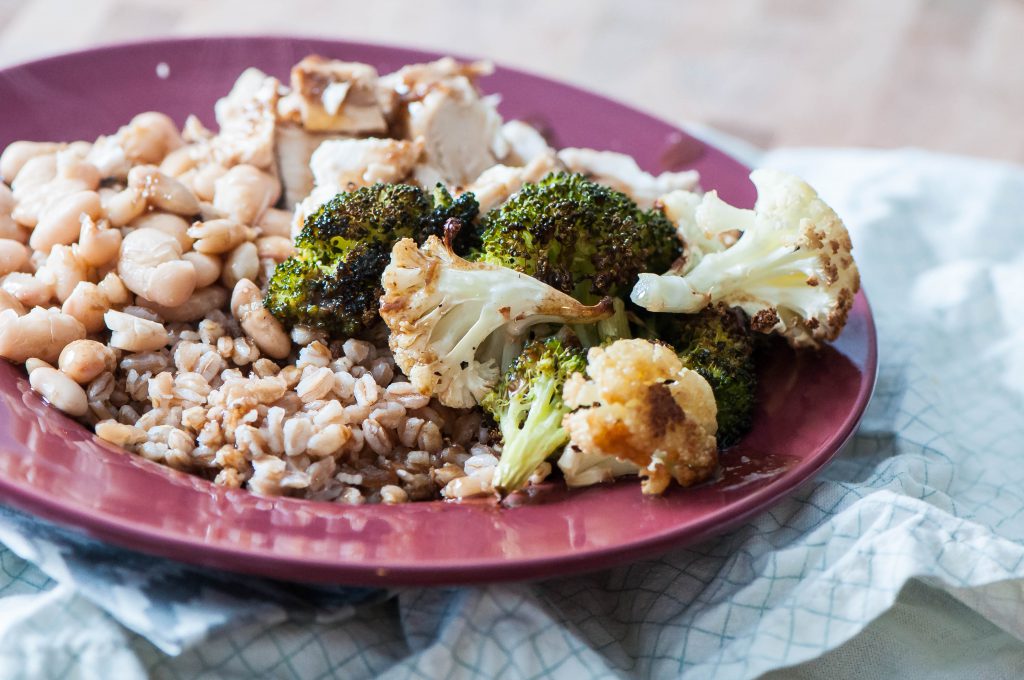 Balsamic Chicken and Veggie Farro Bowls
2017-01-03 02:40:45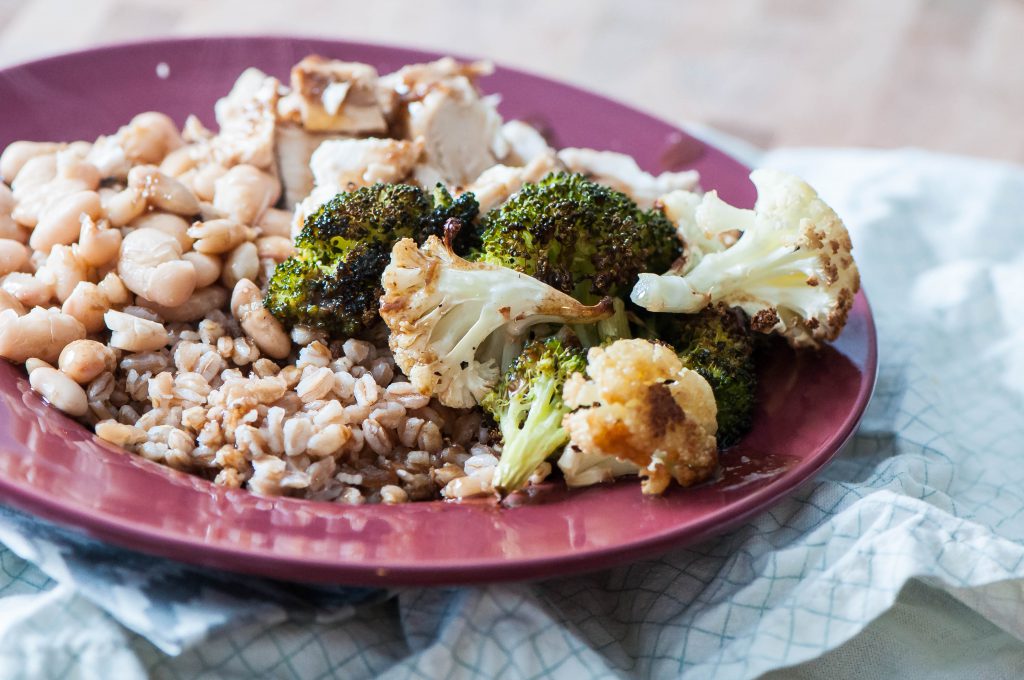 Ingredients
2 boneless skinless chicken breasts
3/4 cup balsamic vinaigrette*
1 1/2 cups dry farro
4 cups water
Pinch of salt
4 cups veggies, bite size
1 Tbsp. olive oil
1/2 tsp. kosher salt
1/4 tsp. pepper
1 (15 oz.) can great northern beans, drained and rinsed
Instructions
Place chicken in a ziplock bag. Pour 1/4 cup balsamic vinaigrette, squish around and place in refrigerator to marinate.
Combine farro, water and salt in a medium saucepan and bring to a boil. Cover, lower to a simmer and cook for 25 to 30 minutes, until tender with a bit of chew.
Meanwhile, preheat oven to 425 degrees F. Place chicken on half of a sheet pan. On the other side, lay veggies in a single layer. Toss with olive oil, salt and pepper. Bake for 30 minutes.
Allow chicken to cool for 3 minutes then dice into bite size pieces.
To assemble the bowls, divide farro evenly into 4 bowls. Top each bowl with beans, chicken and veggies. Drizzle each with balsamic vinaigrette and serve.
Meg's Everyday Indulgence https://www.megseverydayindulgence.com/