With Bowl games upon us, it's time to whip up all the football food. These Honey Garlic Chicken Sliders are sweet, spicy and handheld…all the important elements for snacking while watching the game. Plus, they come together in a snap in the slow cooker.
It's time for college football again guys. I'm just here for the food. Especially when the food consists of these Honey Garlic Chicken Sliders.
Our team is playing Tennessee in the Music City Bowl this year. That's about as much as I know on that front. And I may have had to google it.
I'm a loyal fan and I will always cheer for the Huskers (I mean, they took a lot of my parents money) but I'm not always informed. Well, Joel told me all this information but when he starts talking football (or computers) my eyes glaze over and I start daydreaming of other things. Like I said food > football.
So I thought it would be fun to share a totally munch-able, irresistible dish that could double as an appetizer for a middle of the day game or main dish for those fun, late night games.
How much do you love sliders? I adore them. They are easy, your friends can pile them up themselves and they are perfect for small or big appetites alike.
These sliders start with a sweet and spicy sauce that only takes a few minutes to prepare. Sautéed garlic, honey, ketchup, soy sauce, sriracha and sesame seeds simmer together in a saucepan for a few minutes resulting in a thick, glossy sauce.
Once it's prepped the chicken cooks away in the sauce in the slow cooker for a couple hours making this slider totally low maintenance. Then shred the chicken and throw it on some buns for the perfect game day nosh.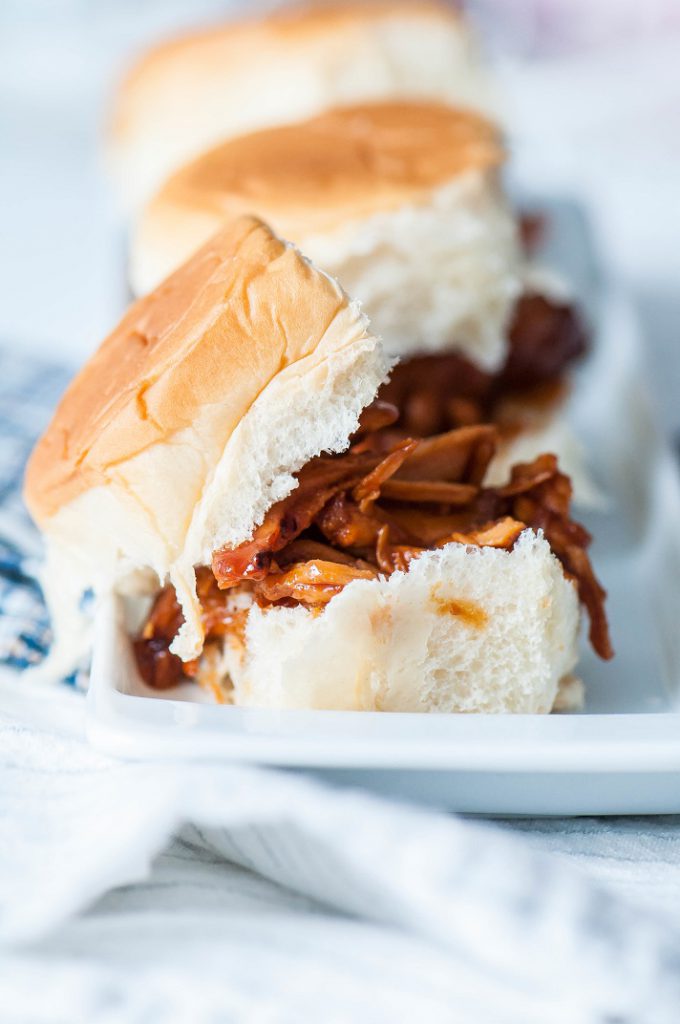 Honey Garlic Chicken Sliders
2016-12-16 16:45:30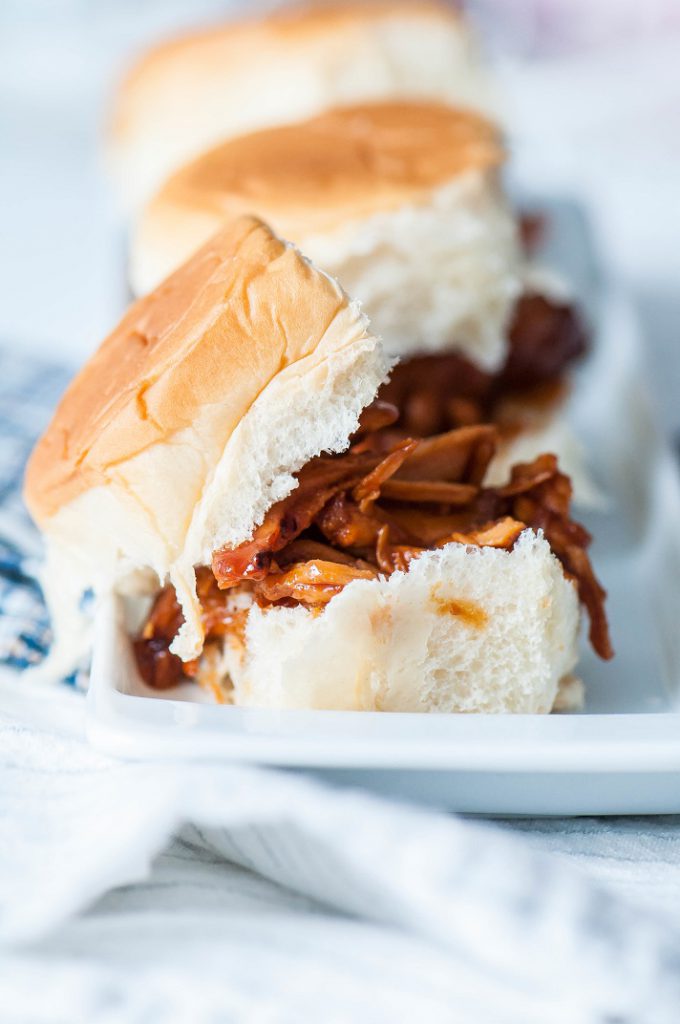 Ingredients
2 1/4 lbs. boneless, skinless chicken breasts (about 3 large)
4 garlic cloves, finely minced
1 Tbsp. butter
3/4 cup ketchup
1/2 cup honey
1/4 cup soy sauce
1 Tbsp. sriracha
1/2 Tbsp. sesame seeds
1/4 tsp. kosher salt
1/4 tsp. pepper
Slider buns
Instructions
Melt butter in a saucepan over medium heat. Saute garlic until soft and fragrant, 1 to 2 minutes. Add remaining ingredients (except chicken and buns) and stir well. Bring to a simmer and cook for 2 to 3 minutes until thickened and glossy.
Place chicken in a slow cooker. Pour sauce over chicken. Cook on low for 4 to 5 hours. Shred chicken and stir until completely coated in sauce. Serve chicken in slider buns.
Meg's Everyday Indulgence https://www.megseverydayindulgence.com/