These Bacon Wrapped Thanksgiving Pinwheels are everything you love about Thanksgiving, plus bacon, wrapped into one. They start with turkey cutlets that are stuffed with cranberries and stuffing then rolled up with bacon and cooked to perfection. A simple way to celebrate Thanksgiving with all your favorite flavors.
I am so excited to share this recipe with you guys today. It was one of those laying in bed, can't sleep, let's think about food creations. I'll let you in on a little secret, those are usually the best ones. I even keep a little notepad and pen on my nightstand for those moments.
Anyway, I was thinking how I didn't have a Thanksgiving main dish to share with you guys but I didn't really want to make a whole turkey since there's only 4 of us and 1 usually doesn't eat meat. And thinking about it more, realized a lot of you are probably in a similar boat for Thanksgiving.


So today I'm bringing a relatively simple turkey main dish that is perfect to serve to a small group this Thanksgiving, Bacon Wrapped Thanksgiving Pinwheels. They contain all the flavors of Thanksgiving in the perfect portion size for 4 and they are done in less than an hour from start to finish. That saves a lot of time and stress on the big day.
The pinwheels start with turkey cutlets rubbed with a herb blend then they are stuffed with cranberry sauce and stuffing before they are rolled up and wrapped in bacon. Serious Thanksgiving in a bite. I have a confession to make about these delicious pinwheels, I used Stovetop Stuffing. And I'm not ashamed. It makes this dish even more simple and saves time so you can spend it with your family instead.
Plus, since it's wrapped up with lots of other flavors, I honestly don't think you would be able to tell the difference if you used homemade. But to the rock stars out there, you are always welcome to go the homemade route. You know what else? I used canned cranberry sauce too. I chose to go with the whole cranberry sauce so there was some texture and more bursts of sweetness in your bites.


See what I mean guys? Super easy but still so dang tasty. I'm not one to mix my foods, or even have certain things touch on my plate, but this rule gets a pass on the holidays (except for salad, never salad…the dressing runs everywhere and touches everything, I don't want to talk about it).
The best Thanksgiving bite is a little bit of turkey, mashed potatoes, gravy, stuffing and cranberry for sweetness. Right? So, whip up some easy slow cooker mashed potatoes and take a bite of these pinwheels for all the flavors rolled up into one delicious bite covered in bacon.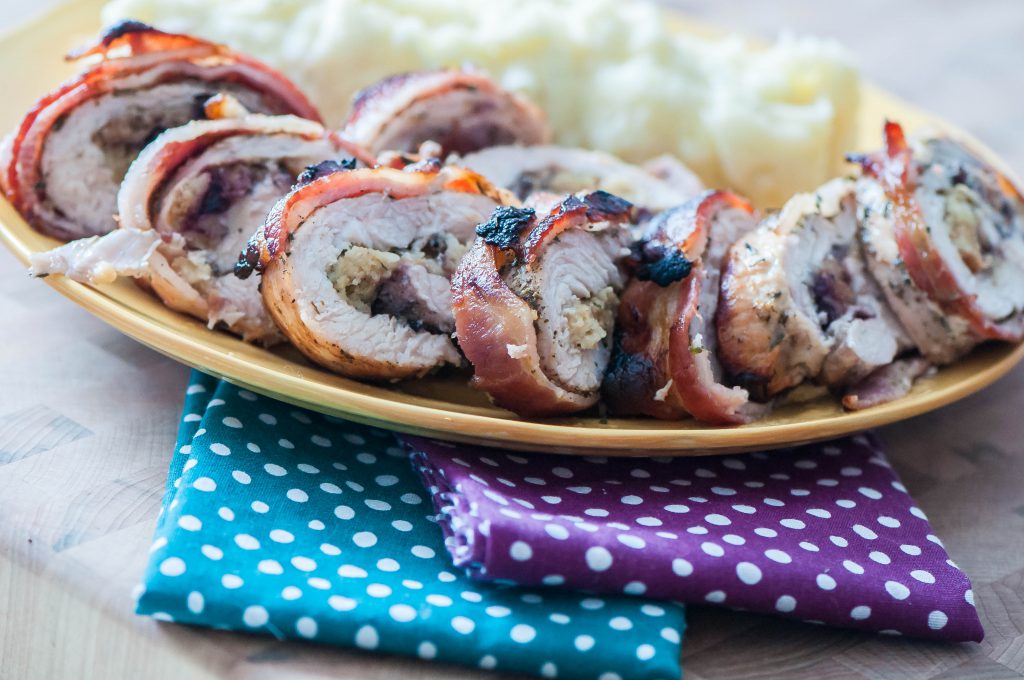 Bacon Wrapped Thanksgiving Pinwheels
2016-11-16 16:48:51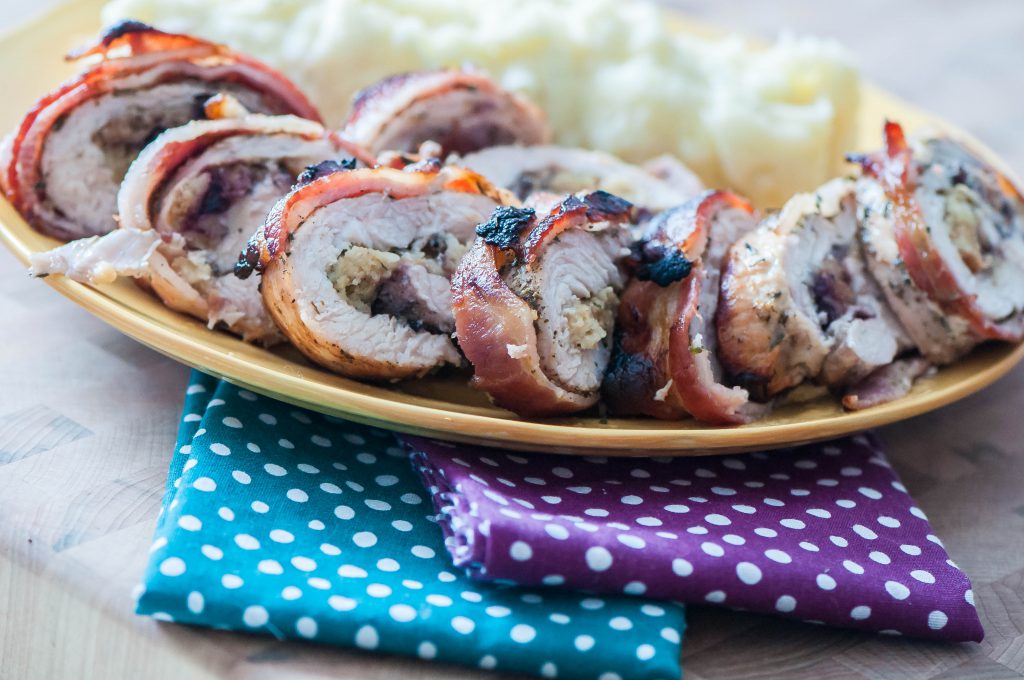 Serves 4
Ingredients
1/2 tsp. kosher salt
1/4 tsp. black pepper
1/2 tsp. rubbed sage
1/2 tsp. dried thyme
1/4 tsp. oregano
4 turkey cutlets
1 cup stuffing
1/4 cup whole cranberry sauce
8 slices thick cut bacon
Instructions
Preheat oven to 400 degrees F. In a small bowl, mix together the salt, pepper, sage, thyme and oregano. Lay the turkey cutlets on a cutting board. Rub each one side with the spice blend. Flip to the side that doesn't have any spices on it. Evenly spread 1/4 cup stuffing onto each turkey cutlet. Spread 1 tablespoon of cranberry sauce on top of the stuffing. Roll up the cutlets carefully Wrap each rolled cutlet with two pieces of bacon and secure with toothpicks.
Heat a skillet over medium heat. Sear the turkey cutlets for 2 minutes per side or until bacon is browned.
Place a wire rack onto a baking sheet. Place the cutlets onto the wire rack. Bake for 30 minutes or until internal temperature measures 165 degrees F. Remove from oven and let rest on a cutting board for 10 minutes. Slice into pinwheels and serve.
Meg's Everyday Indulgence https://www.megseverydayindulgence.com/