This Lemon Thyme Roasted Chicken is the perfect Sunday supper this fall. Covered in lemon thyme butter then roasted in a cast iron skillet atop onion and lemon slices, this chicken is chock full of lemony, buttery goodness.
Have the cool temperatures and breezes of fall hit you yet? We're still waiting for them to arrive in Nebraska and I've just about had it. It's October for goodness sakes and I just want to wear a sweater or scarf. Is that too much to ask?
I mean, we sometimes have to trick-or-treat in winter coats so it really needs to be a littler chillier by now. But the high for today is 77 degrees so I guess the scarf will have to wait.
This lemon thyme roasted chicken is a whole other story. It just couldn't wait. I made this when it was 85 degrees because I love you and wanted you to be able to make it on your cool evenings. It was totally worth the sweltering heat inside my house.
There aren't many things better than a roasted chicken on a Sunday night. Am I right? Especially one that is slathered in a lemon thyme compound butter then roasted in a cast iron skillet until golden brown and juicy. This chicken is especially flavorful due to a layering of flavors and double duty use of ingredients.
The lemons are used in three ways to really amplify the lemon flavor in this chicken. First, the zest is added to softened butter along with other ingredients to create a compound butter that is slathered over the chicken. The zest lemon is then sliced into quarters and stuffed into the cavity to flavor the chicken with lemony goodness from the inside out.
Lastly, another lemon is sliced and placed on the bottom of the cast iron skillet, along with onion slices, to act as a roasting rack and again add more lemon throughout.
Garlic is grated into the compound butter and whole, smashed cloves are placed in the cavity to infuse and add another layer of flavor.
Once all the prep work is done, the chicken goes into a blazing hot oven to roast away until golden and delicious. I know I've mentioned it before, but this digital thermometer is an absolute life saver when I'm roasting or grilling meats. Nobody wants a dry, overcooked chicken (or a raw one) so I always, always use a thermometer to ensure it's cooked to perfection.
The drippings from the chicken are packed full of lemony, onion flavor and are wonderful to spoon over the sliced chicken. Serve alongside some roasted veggies and mashed potatoes for the ultimate Sunday dinner.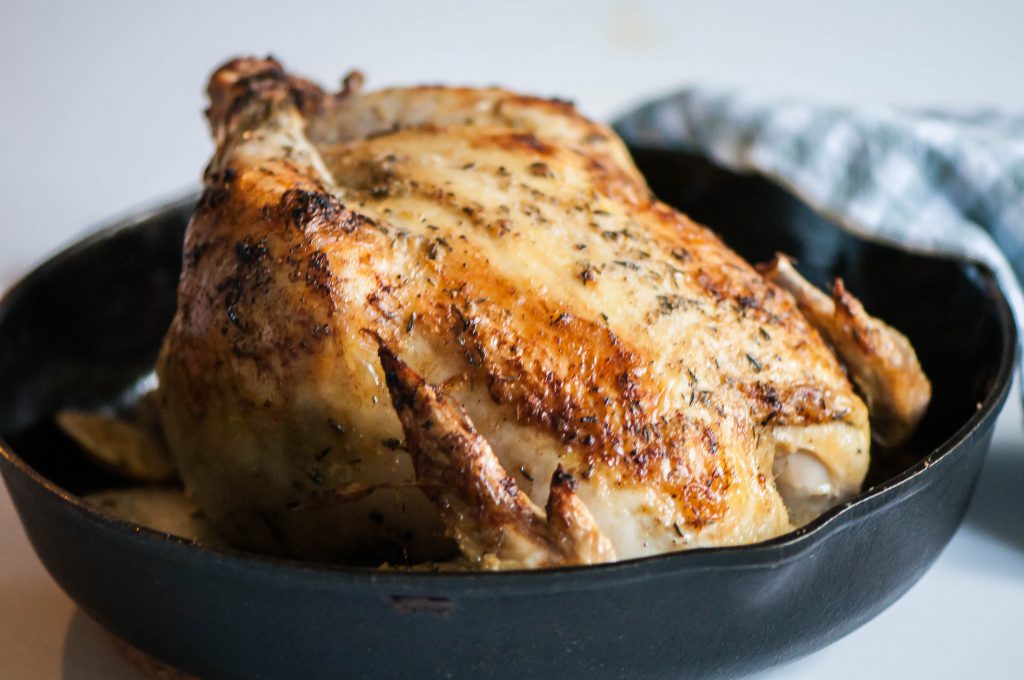 Lemon Thyme Roasted Chicken
2016-10-03 16:21:08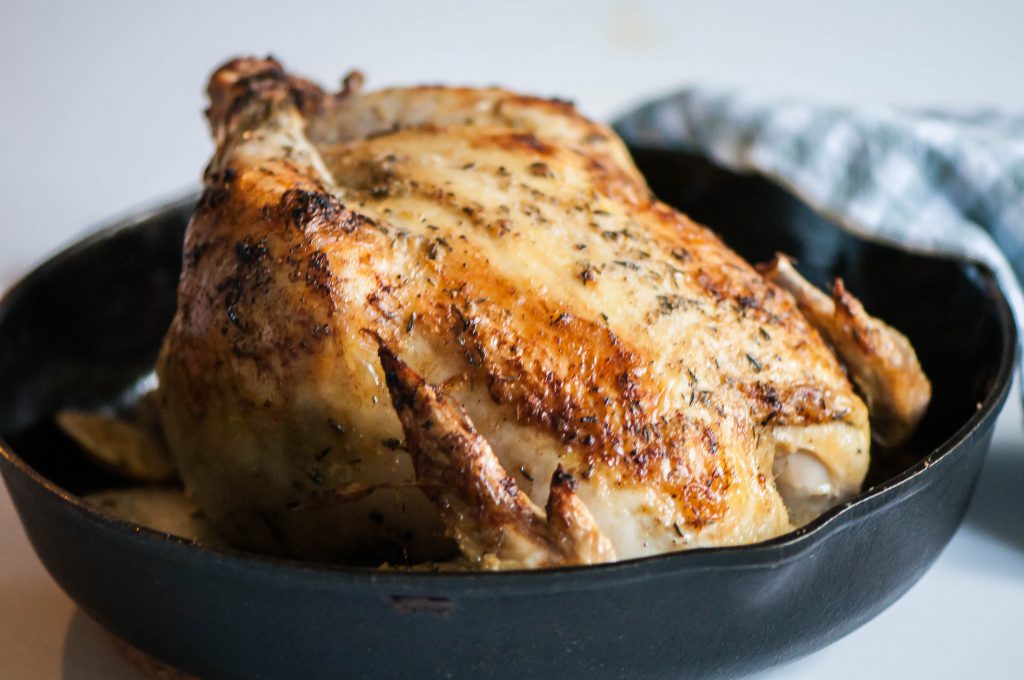 Ingredients
1 (3 to 4 lb.) whole chicken
4 Tbsp. butter, softened
2 lemons
1 yellow onion
4 garlic cloves
1/2 tsp. dried thyme
3/4 tsp. kosher salt
1/2 tsp. fresh ground black pepper
Instructions
Preheat oven to 425 degrees F. Slice onion into thick slices and lay on the bottom of a cast iron skillet. Slice one of the lemons in thick slices and lay out with the onion.
Combine the softened butter, zest of 1 lemon, 1 grated garlic clove and dried thyme. Pat chicken dry. Rub the butter mixture all over the chicken and place on top of the onion and lemon in the cast iron skillet, breast side up. Cut the zested lemon into quarters and place in the cavity of the chicken. Smash the 3 remaining garlic cloves and add to the cavity. Season both sides of the chicken with salt and pepper. Tie the chicken legs together with kitchen twine.
Put the cast iron skillet in the oven and bake for 20 minutes. Remove from the oven and baste with juices. Return to oven and bake another 20 to 25 minutes. Once a thermometer reads 165 degrees F in the thigh, remove from the oven. Let rest for 15 minutes before carving.
Meg's Everyday Indulgence https://www.megseverydayindulgence.com/