Chorizo Scramble – a simple, flavorful egg scramble with chorizo and crumble queso fresco cheese topped with crushed tortilla chips.
This is our last week of summer around here. The kids start school on the 15th so it's back to routines for us. Although we are trying to squeeze in as much summer fun as we can into this week.
We plan on hitting the pool, children's museum and a baseball game for our last little hurrah. Oh and haircut and new tennis shoes but he's not nearly as excited about that list.
I've been ready for school to start back up but now that it's here I'm a little bummed. I'm sure once I have a couple free hours a week that feeling will quickly float away.
Noah's open house is Thursday and we'll find out who his teacher is this week too. Since he's our first going through school we don't know the teachers but fingers crossed he gets a good one.
With school approaching I've been working on my breakfast game. I am so not that mom that gets up early and makes a huge, hot breakfast for my kids.
I mean, I get up early but not to make them breakfast. It's so I can have some alone time and drink some coffee so I can be pleasant when they wake up and start with the nonstop talking. Lord help me.
I'll make eggs and toast or throw some waffles in the toaster but that's my extent of morning cooking on weekdays. I'm more of a muffins the night before kind of mom.
This chorizo scramble is a pretty simple option for the morning though and it's super tasty. I even cook chorizo the night before so it's just scrambling eggs in the morning.
I was inspired by a delicious brunch item I inhaled in San Diego earlier this summer and decided to make my own simple version at home. The chorizo scramble consists of scrambled eggs, chorizo, crumbled queso fresco, crushed tortilla chips and a dollop of sour cream.
The original version I had at brunch also included red sauce and pico de gallo which you could add but I wanted to keep it easy for busy school mornings or a quick breakfast for dinner option.
I debated whether I should share this or not because well, the pictures aren't that appetizing. But I promise you it's so dang good. The eggs are fluffy and the chorizo packs some major spice.
I love the salty, creamy cheese and of course the sour cream helps level out the spiciness. Cilantro adds a fresh, vibrancy to the dish. Notice there is not green. I forgot the cilantro but it makes a big difference.
And probably my favorite part, because I'm kind of an addict, is the tortilla chips on top. Everything in the scramble is soft so the chips add a crunchy texture. Plus, chips make everything better. Even breakfast.
Serve it up with our favorite breakfast potatoes for a filling and tasty meal (make the potatoes the night before too my friends and heat them in the skillet to crisp them up again).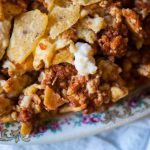 Print
Chorizo Scramble
This Chorizo Scramble will become your favorite new quick and ultra flavorful breakfast. Scrambled eggs, spicy chorizo, crumbled queso fresco and crushed tortilla chips. Top with a little sour cream.
Ingredients
6

large

eggs

3

Tbsp.

milk

1/4

tsp.

kosher salt

1/4

tsp.

pepper

9

oz.

chorizo sausage

1

tsp.

butter

1/2

cup

crumbled queso fresco

Chopped cilantro

Crushed tortilla chips

Sour cream
Instructions
Heat 2 skillets over medium heat. In the first skillet, cook the chorizo until cooked through. Remove to a paper towel lined plate to remove the excess grease.

Meanwhile, whisk together the eggs, milk, salt and pepper. Melt butter in the second skillet and add the eggs. Scramble the eggs. Once they are almost done, add in the chorizo and crumbled queso fresco. Stir until fully combined being careful not to break up the eggs too much.


Remove from skillet and top with cilantro, crushed chips and sour cream.