These Garlic Bread Pigs in a Blanket are going to be your family's new favorite weeknight dinner. Super simple and so delicious.
Do you ever slave over a dinner that you put tons of thought and care into just to have someone tell you it's yucky? Maybe it's not the whole family but there's always one person that has to go and rain on your parade. You think "hey, this was really creative and different and I think they are really going to love it" and they're all like "hey, this tastes disgusting."
Way to crush a soul man. This happens often at my house. It's called 2 and 5 year olds. Ruining peaceful dinner ideals one word at a time.
Then you go through the debate in your head of whether you make them eat the disgusting dinner you so lovingly made or give them the stupid yogurt they are begging to eat. The struggle is real. You eventually decide they need to eat what you made because you in fact are not a short order cook and then brace yourself for fallout.
Well, today my friends, I am sharing an amazing and simple recipe that will bring peace back to the dinner table. Nobody will complain about these Garlic Bread Pigs in a Blanket and they will probably even ask for seconds.
I combined two American favorites, pigs in a blanket and garlic bread, into one easy, handheld meal that the whole family will enjoy. Who wouldn't love a hot dog, wrapped in bread dough and slathered with butter and Italian seasonings? Ain't nobody. And you don't have to slave for hours to get them on the table.
These start with only a few simple ingredients, store bought crescent rolls, all-beef hot dogs, butter, Italian spices, parmesan cheese and pizza sauce for dipping. These Garlic Bread Pigs in a Blanket only take about 20 minutes from start to finish which makes them the ultimate dinner on a busy weeknight.
We made them on our weekly movie night to nosh on in while we watch The Little Mermaid. Noah was even able to make them on his own (with the exception of melting the butter).
So not only will your kids eat them, you can put them to work cooking them too. Put your feet up then dramatically complain later about how awful they taste. A little taste of their own medicine.
So keep these simple, family pleasing Garlic Bread Pigs in a Blanket in your back pocket for those days when life has been hard and you just don't need anything else bringing you down.
Nobody is going to complain when they get garlic bread AND pigs in a blanket. And it will be so quiet while they are gobbling them up that you may just get a piece of your sanity back for the night. Maybe. My kids never stop talking so I wouldn't know.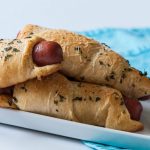 Print
Garlic Bread Pigs in a Blanket
Ingredients
Nonstick cooking spray

1

(8 oz.)

can crescent rolls

1

(8 count)

pkg. hot dogs

2

Tbsp.

butter, melted

1/4

tsp.

garlic powder

1/4

tsp.

dried basil

1/4

tsp.

dried parsley

1/8

tsp.

kosher salt

1/4

cup

grated Parmesan cheese

Pizza sauce, for dipping
Instructions
Preheat the oven to 375 degrees. Spray a baking sheet with nonstick spray.

Unwrap the crescent rolls and separate them along the perforated lines. Wrap each dough triangle around a hot dog and place on the prepared baking sheet.


In a small bowl, combine the melted butter, garlic powder, basil, parsley and salt. Brush evenly on the hot dogs. Sprinkle with grated parmesan cheese.


Bake for 10-12 minutes, or until golden brown. Serve with pizza sauce for dipping.