After 8 days in England and Ireland reality.is.harsh. No time to nurse that jet lag when there are kids to run after and the husband is still in jolly old England. But the break was so unbelievably nice and refreshing. I got to do what I wanted, eat what I wanted (and not share) and sleep as late as I wanted (7:30, haha). And now it's back to that daily grind.
I was a little MIA last week due to the trip. I totally planned on writing a post while on vacation but I ran hard all day seeing all the things so I pretty much fell into bed and passed out every night. Plus, the wifi was almost nonexistent (even with the international phone plan). Boo.
It was kind of amazing though to unplug and not be attached to my phone. I sure did miss you all though.
So, it's time to get back into the swing of things. Oh and Father's Day is this weekend so there's that too. Nothing screams Father's Day more to Joel than a cheeseburger. That's almost always his dinner request on his day, usually this crazy one. But this year I decided to change it up a bit and share a classic yet favorite burger around our house, the patty melt.


Sweet, caramelized onions (the obsession continues), juicy beef, sharp cheddar cheese and burger sauce all get sandwiched between crisped sourdough bread to make the ultimate dinner to celebrate all the awesome dad's in our lives.
It tastes just like the classic patty melt you order at the local, greasy spoon diner just as it should. Serve them with homemade fries or bacon cheeseburger macaroni salad to really up the manly flavors. Calories don't count on special occasions. At least that's what I keep telling myself.
You can make the caramelized onions and burger sauce ahead of time, giving you more time to relax and celebrate rather than slaving in the kitchen. Even if you don't make anything ahead of time, these classic patty melts really comes together quite quickly.


If you have a countertop griddle, that will speed up the process but these could easily be made in a large skillet as well. Not much is better than a delicious meal that is super simple to make. Winner winner classic patty melt dinner.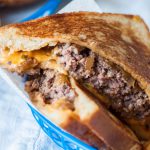 Print
Classic Patty Melt
This classic patty melt is the perfect way to celebrate the dad's in your life. Loaded with caramelized onions, cheese and burger sauce.
Ingredients
1

large

onion, thinly sliced

5

Tbsp.

butter, divided

1

lb.

ground beef (preferably 85/15)

Salt and Pepper

4

slices

sharp cheddar cheese

Classic burger sauce*

8

sourdough

slices
Instructions
Heat a skillet to medium heat. Melt 1 tablespoon butter then add onions, stirring to coat. Cook for 5 minutes, stirring often. Season with salt and pepper and continue to cook, stirring so that they don't burn, for about 20 minutes. Set aside. Meanwhile, prepare the burger sauce.

Preheat a griddle or large skillet over medium heat. Form beef into 4 patties, a little larger than the size of your bread. Season the burgers with salt and pepper. Cook burgers, 3 to 4 minutes per side, until cooked through but still juicy. Top with sliced cheddar and allow to melt.


Assemble the burgers. Butter one side of each slice of bread. Slather the insides of the bread with burger sauce then place cooked patties on the bread, divide onions between each burger and top with the additional bread. Wipe off any excess grease from the griddle or skillet and cook patty melts (butter sides) until bread is golden and crispy. Cut in half and serve.