Grilling is one of my very favorite parts of summer. Marinating slabs of meat, throwing them on the grilling and eating a healthy meal in a matter of minutes is totally my jam on relaxing summer days. It couldn't get much easier and doesn't dirty up the kitchen. Because when there's no school and the weather is nice, I don't want to be stuck in the kitchen for hours preparing and cooking dinner.
We aren't usually big pork chop fans around here but I pick them up occasionally when they are on sale to see if I can convert the family. I think the big problem is they are so easy to overcook, turning them dry and difficult to chew.
I've found using a thermometer when I cook pork (or any finicky meat/poultry) has made a major difference in the end product. Now that I have a better cooking method, pork chops have become a more common occurrence and these Spicy Orange Pork Chops are a new favorite.
I love an orange sauce but sometimes they lean towards the sweet side which I'm not a fan of so I decided to add some chili flakes to give it a little spicy kick.
<
The sweet, spicy, salty sauce does double duty in the recipe as a marinade and a glaze brushed on the chops as they are grilling. This makes for a bit more work than just marinating and throwing on the grill but the extra step is definitely worth it in flavor and juiciness.
Another bonus, we always have the marinade ingredients on hand so I can whip this up any time. It's great on chicken as well (especially chicken thighs) so if you don't have pork chops laying around you can still give it a go with tasty results.
To keep this meal a total cinch, slice zucchini into rounds, brush with olive oil and season with salt and pepper. Throw them on the grill alongside these tasty Spicy Orange Pork Chops for a quick, healthy and mess free side dish.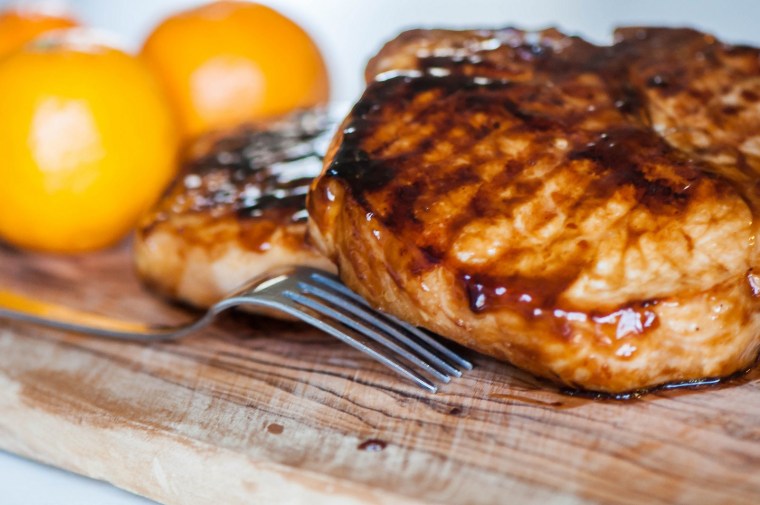 Spicy Orange Pork Chops
2016-05-23 01:04:50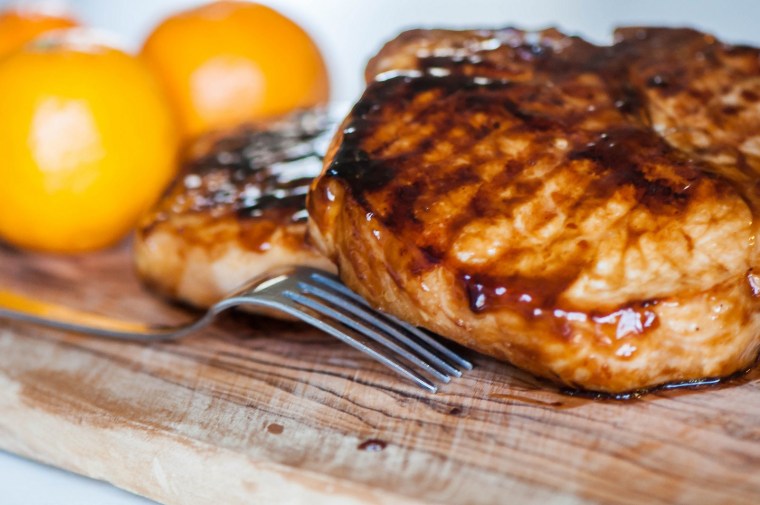 Ingredients
2 bone-in center cut pork chops
1 1/2 Tbsp. soy sauce
2/3 cup orange juice, freshly squeezed
1 garlic clove, grated
1/2 tsp. red pepper flakes
1/2 Tbsp. honey
2 Tbsp. cold water
1/2 tsp. cornstarch
Instructions
In a small bowl, combine soy sauce, orange juice, grated garlic, red pepper flakes and honey. Place pork chops in a ziptop bag then pour half the marinade into the bag. Smoosh it around until the pork chops are fully coated then place in the refrigerator to marinate for 1 to 4 hours. Reserve remaining marinade for later use.
Heat a grill over medium heat. Grill pork chops, flipping after 3 to 4 minutes. Meanwhile, pour reserved marinade into a small saucepan and bring to a simmer. Whisk water and cornstarch in a small bowl then dump into the simmering marinade. Whisk until glossy and slightly thickened.
After flipping the pork chops, brush them with the thickened marinade. Cook another 3 to 4 minutes, until grill marks appear and flip again, brushing once again with the marinade. Cook until pork chops register 145 degrees in the center. Remove from the pan and allow to rest for 5 minutes. Drizzle any remaining marinade over the cooked pork chops.
Meg's Everyday Indulgence https://www.megseverydayindulgence.com/
*Links in this post contain affiliate links.