I decided to go Eastern European this month and attempt something I've always wanted to try making at home, pierogi. I've only ever had the frozen variety so I was super excited to see how delicious a homemade version would taste.
The difference is incredible, as I had predicted, and I can't wait to make them again.
For my first attempt at these delicious pockets of goodness, I went with the classic cheese and onion pierogi. Of course I had to caramelize the onions because I'm officially addicted (and probably driving you guys crazy).
Then they just have to be topped with crispy bacon bits and dunked in sour cream. We may have eaten these for dinner with a salad on the side. Appetizers for life.


The dough comes together easily in a mixer, or by hand if you have time, like to go old school or don't have a stand mixer. Once mixed, it needs to rest for 30 minutes then it will be ready to be rolled out, cut and filled.
It's incredibly soft and pillowy, complimenting the creamy potato filling and crisped exterior.


The filling consists of boiled, mashed potatoes, two types of cheeses, caramelized onions and spices. I like to work on the filling while the dough is resting.
Once all the components are assembled, roll out the dough thinly and cut using a round cookie cutter or a wide mouth wine glass (insert praise hands emoji here). Fill with up to a tablespoon of filling and seal closed.
They are then boiled and if you choose you can crisp them in a pan on one side to add some texture. I'm all about that crispiness so the extra step, which only took a few minutes, definitely happened.


The process takes some time and is probably not ideal for a weeknight, oops, but definitely worth the time. Next time around, I plan on doubling the recipe and freezing half the batch so we can have fresh, homemade pierogi whenever the craving strikes.
If you want to freeze them. After forming them, place them on a parchment lined baking sheet and place in the freezer for 2 hours. After they have been flash frozen, place them in a labeled zip top freezer bag and keep up to two months in the freezer.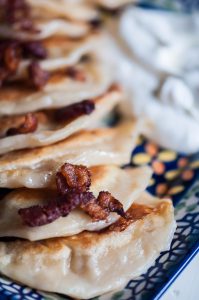 Cheese and Caramelized Onion Pierogi
2016-05-16 01:01:13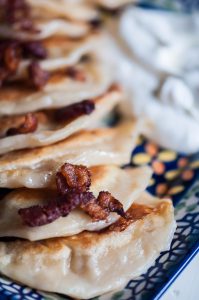 For the dough
3 cups all-purpose flour
1/2 cup warm milk
1 Tbsp. butter, melted
Pinch kosher salt
1/2 to 3/4 cup water
For the filling
3 medium size potatoes, peeled and diced
4 oz. Monterey jack, shredded
2 oz. sharp cheddar cheese, shredded
1/4 tsp. onion powder
1/4 tsp. garlic powder
1/4 tsp. kosher salt
1 onion, cut in half and thinly sliced
3 Tbsp. butter, divided
For the toppings
4 slices bacon, cooked and crumbled
Sour cream, for dipping
Instructions
For the dough: combine the flour, salt, milk and butter in the bowl of a mixer. Turn on low and mix until combined (it will look shredded). With the mixer on low, slowly add the water until dough just comes together and a ball forms. Remove dough from mixer and place on a floured surface. Cover and allow to rest 30 minutes.
Meanwhile caramelize the onion. Heat a skillet over medium heat and melt 1 tablespoon of butter. Add the onions and stir to coat in butter. Cook, stirring every few minutes. After 10 minutes, add some salt and pepper. Continue cooking the onions, stirring once they start to stick and brown (don't let them burn). If the onions are starting to burn quickly, lower the heat to medium low. Cook for a total of 30 minutes to an hour (I cooked mine for about 45 minutes). Remove from pan and allow to cool.
Boil potatoes until tender. Drain well and mash. Stir in cheese, salt, onion powder and garlic powder. Set aside.
Bring a large pot of water to a boil. Meanwhile, on a floured surface, roll out the dough thinly. Using a round cookie cutter or wide rimmed wine glass, cut out circles of dough. Wet the edges of the circle with water and place almost a tablespoon of filling in the center. Fold over and pinch to seal.
Once all the pierogi are formed, place them in the boiling water. Once they start to float, cook for one additional minute then remove from the water. If you want to crisp them on one side, heat a large skillet over medium high heat and melt 1 tablespoon of butter. Cook in batches until golden and crisp on one side. Add last tablespoon of butter if needed. Serve with bacon crumbled on top and sour cream on the side for dipping.
Adapted from Innocent Delight
Meg's Everyday Indulgence https://www.megseverydayindulgence.com/