After our weeklong Spring break last week we're finally get back into the swing of things around here. I got a little glimpse into what summer is going to be like with these two crazy kids and it actually wasn't so bad. We'll see when it's more than a week into it, haha.


I put them to work last week helping me make this Pan Haggerty. We figured since it's almost St. Patrick's Day this was the best time to share another Irish recipe. And this is so good that it shouldn't just make an appearance in March but all year long.


Pan Haggerty is a traditional Irish dish that consists of thinly sliced potatoes layered with caramelized onions and bacon then topped with handfuls of shredded sharp Irish cheddar cheese. It's cooked on the stove top in less than 20 minutes then broiled to crisp it up and melt the cheese but will taste like you slaved over it all day.
I wasn't totally sold on it upon reading the recipe as it's cooked in chicken stock rather than a creamy sauce like scalloped potatoes or these beauties but my goodness is it good.
The bacon and caramelized onions totally make the dish. Oh yeah, and the gobs of cheddar cheese totally help too.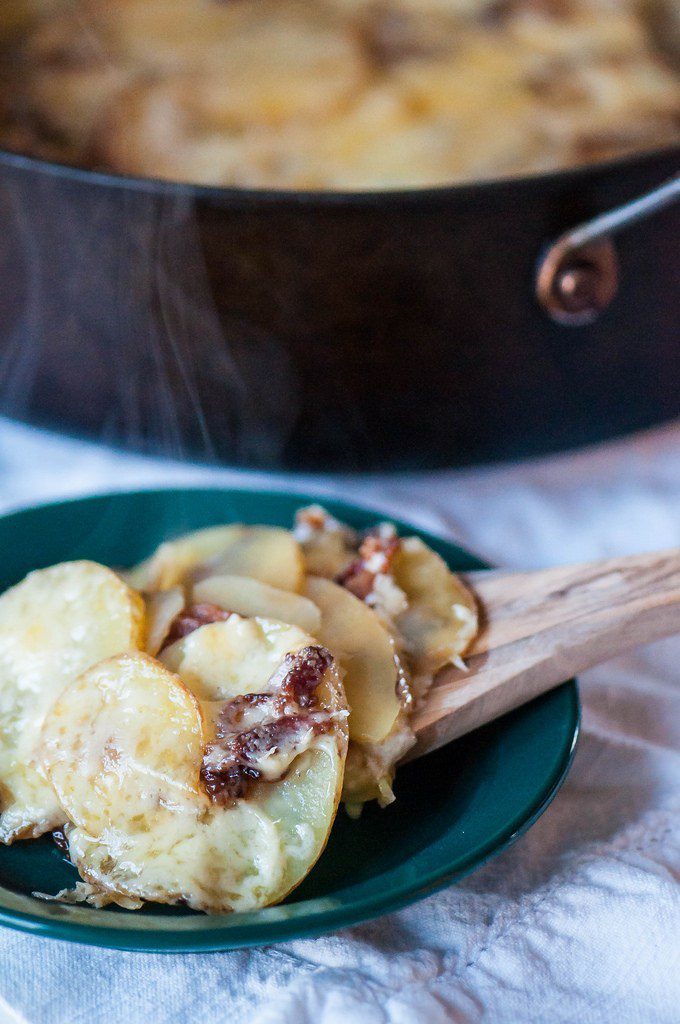 Pan Haggerty
2016-03-13 18:14:08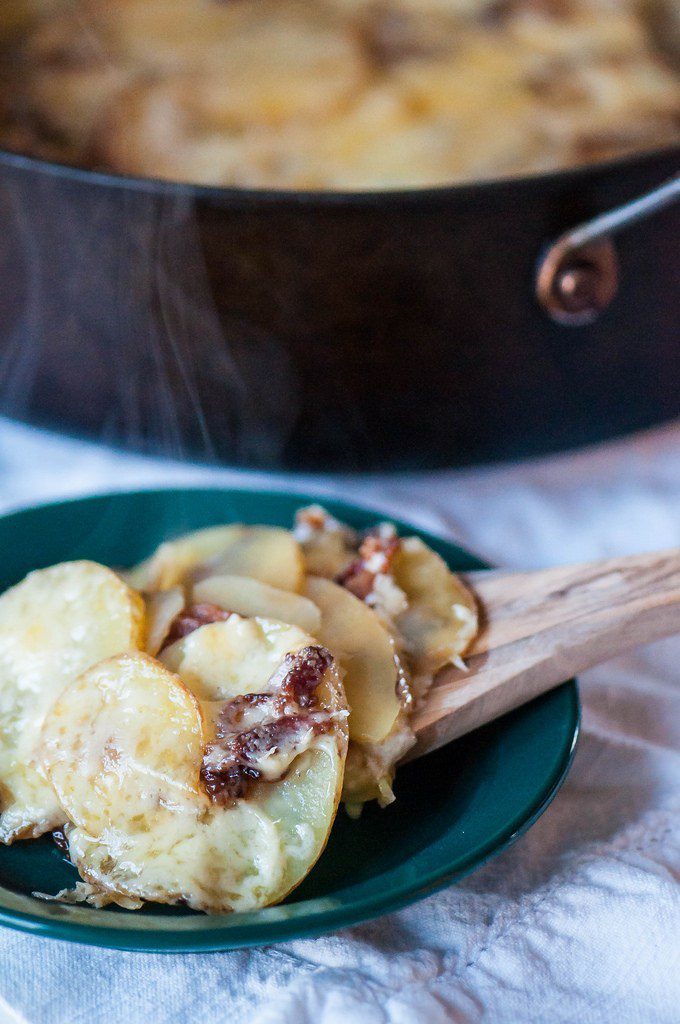 Ingredients
3 - 4 sliced bacon, diced
1/2 Tbsp. butter
1 medium yellow onion, sliced or diced
1/4 tsp. sugar
5-6 Yukon Gold potatoes, thinly sliced into rounds
1 - 1 1/2 cups chicken stock
Salt and freshly ground black pepper
2 cups shredded sweet Irish cheddar cheese (I used Kerrygold)
Instructions
In an ovenproof skillet over medium heat, cook the bacon until crisp. Remove from skillet to a paper towel lined plate. Add butter to skillet, leaving bacon fat in the pan, then add onions. Cook for 2 to 3 minutes until softened. Add sugar and cook another 10 minutes until caramelized. Remove from skillet and combine with bacon.
In the same skillet, arrange a layer of the sliced potatoes in the bottom of the pan. Sprinkle with 1/3 of the onion/bacon mixture. Add another layer of potatoes and another 1/3 of the bacon/onion mixture. Season lightly with salt and pepper (remember the chicken stock will add some salt to this dish, as well). Add another layer of potatoes and the final 1/3 of the onion/bacon mixture. Top with a final layer of potatoes. Pour about a cup of chicken stock over the potatoes. It should cover the bottom and come up the sides just a bit. You may need a bit more than a cup if your skillet is larger.
Up the heat to medium-high heat and bring the stock to a boil. Cover the pan, lower to a simmer and cook for 15 to 20 minutes, or until a knife goes through the potatoes easily.
Heat the broiler. Remove the lid from the pan and place under the broiler for 5 minutes, or until browned. Top potatoes with cheddar then place back under the broiler until it melts and browns a bit.
Adapted from Seasons and Suppers
Meg's Everyday Indulgence https://www.megseverydayindulgence.com/