You know the book Alexander and the Terrible, Horrible, No Good, Very Bad Day? We had one of those days yesterday. Everything went wrong and we just couldn't get out of our funk. It wasn't pleasant. We got takeout which made it better though. I really need to stop using food to make me feel better. Or maybe not. I love food. Emotional eater for life.


Speaking of delicious food that makes me feel better, these Sweet Potato Breakfast Bowls are kind of everything. They are my go to meal about three times a week. I actually eat them more often for lunch than breakfast because I usually have a little more time to put them together. Plus, it gives me energy to finish out the day strong. But no matter when you eat this delicious bowl, you'll be happy you did.


When I plan on having one of these bowls for lunch, I literally dream about them all morning. I watch the clock, hoping it will be time to eat soon. The sweetness, the gooey egg, the spicy hot sauce and creamy avocado. Seriously drooling right about now. I've been making these for over a year now and they truly are one of my favorite things to eat. I'm kicking myself that it's taken this long for me to share them with you.
And aren't they just so pretty? I definitely eat with my eyes first so these bowls make me especially happy. Ignore the slightly burnt browned sweet potatoes….I forgot to bump the temperature down after baking something else right before. But I have made them lots of time so the temperature listed in the recipe won't yield such a dark color. Trust me. I was going to redo the photos but that egg look so delectable so I just went with it.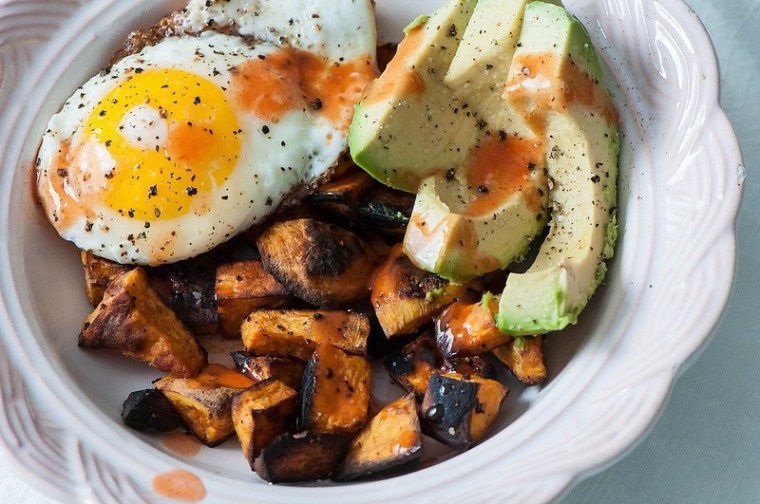 Sweet Potato Breakfast Bowl
2016-01-23 20:29:52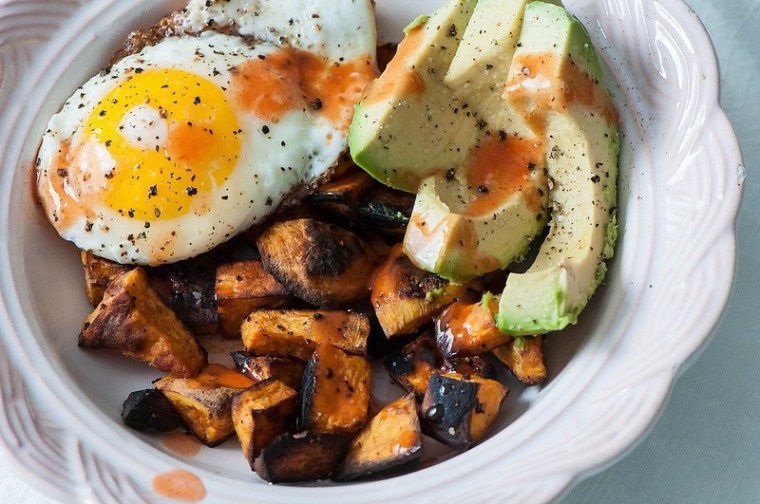 Sweet Potato Breakfast Bowls will start you day off hearty and healthfully. Packed with good for you sweet potatoes, avocado and a simple egg.
Ingredients
1 large sweet potato, peeled and diced in 1-inch chunks
1/2 tsp. kosher salt
1/4 tsp. freshly ground black pepper
2 1/2 tsp. extra virgin olive oil, divided
1/2 avocado, sliced
1 egg
hot sauce
Instructions
Preheat oven to 400 degrees. Place sweet potatoes on a baking sheet and toss with 1 1/2 teaspoons olive oil. Season with salt and pepper. Bake for 24 minutes, flipping halfway through.
Heat a small skillet over medium heat. Add 1 teaspoon olive oil to the pan. Crack egg into pan, season with salt and pepper and cook to preference. I like to let it get crispy on the bottom.
Place cooked sweet potatoes in the bottom of a bowl. Top with fried egg and avocado. Add a few shakes of hot sauce.
Meg's Everyday Indulgence https://www.megseverydayindulgence.com/